---
Celebrity News / Designer Jewelry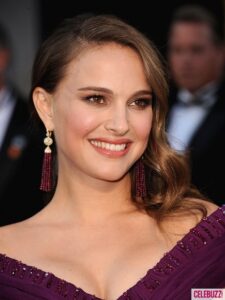 The amazing acting star Natalie Portman has drawn a great deal of attention lately—whether for her stunning performance in the movie Black Swan, her recent pregnancy, or her engagement to her Black Swan co-star.  With her recent rise to super stardom, many people are starting to notice her alluring sense of style that is elegant, fun, but still subtle at the same time.  There is no wonder that her personal fashion includes the perfect complementing accessories in order to make her truly sparkle and shine like an actual star instead of just a metaphorical one.
To really shimmer, Natalie has taken to white diamonds so that the sparkle will not be dulled in the slightest by color.  When she recently won her own special award (Best Actress in a Drama Motion Picture) at this year's Golden Globes ceremony, diamonds were truly the word of the day on which she focused her alluring style and total outfit for the super special occasion.  Her diamond necklace really stood out on its own—comprised of seemingly hundreds of sparkling stones that were strung together in a mesh-like design to add balance to her very open upper body in her strapless dress.  Wearing her hair up meant that earrings were a must have.  Yet, in order to keep her necklace as the centerpiece attraction, she decided to go with large but still wonderfully classy diamond stud earrings.  We cannot talk about Natalie's jewelry fashions without mentioning her new engagement ring though.  The beautiful circle within a circle design setting is completely encrusted with tiny diamonds which catch the light at every angle to amaze everyone who has seen it.

About Allurez
Allurez is the premier designer and retailer of high quality fine jewelry with a brand name known to royals as well as to the rich and famous. We are committed to providing you with the largest and the finest selection of engagement rings, wedding bands, bridal jewelry, fine fashion jewelry, and certified loose diamonds. Go ahead, browse our store, and find your perfect jewel!