---
Bracelets / Designer Jewelry / Gift Ideas / Necklaces / Unique Jewelry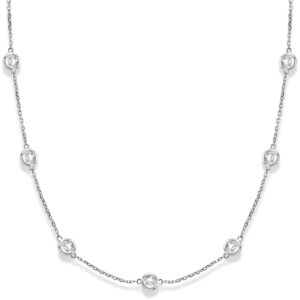 If you have been planning to add that extra zing to your diamond collection and have not laid your hands on the amazing diamonds by the yard, it is time that you rethink your decisions on buying piles of diamond jewelry because whatever you may accessorize your dresses with, nothing can beat the charm of these diamond by the yard bracelets and necklaces. The best thing about these types of necklaces is that they will highlight your upper body, your figure, your hairstyle and most importantly your beautiful features. Diamond by the yard is the latest piece of luxury jewelry that you will love to invest in.

The basic and very unique style of creating this diamond by the yard necklace is setting the chunks of diamonds on a single piece of metal chain that can be made from gold, platinum, white gold or any such precious metals. Once the diamonds are set on 'station' style platform, the chain is pulled and the diamonds get clustered together to present the view of an exquisitely designed shimmering sequence of diamonds. The sizes and cuts of the diamonds may vary depending on the overall design of the product. This stylized setting is hard to achieve and in addition to this craftsmanship, the prices of so many chunks of diamonds make these necklaces a very pricey affair.

This same style of creating diamonds by the yard necklaces only leads up to the creation of another amazing type of garlanded necklace called diamond station necklace. If you are ready to shell out for an amazing diamond collection, it is only suggested that you make an investment in these necklaces. This diamond encrusted necklaces are available in a variety of lengths ranging from as much as twenty inches, eighteen inches and sixteen inches. You can take your pick from any popular jewelry store or online store.

About Allurez
Allurez is the premier designer and retailer of high quality fine jewelry with a brand name known to royals as well as to the rich and famous. We are committed to providing you with the largest and the finest selection of engagement rings, wedding bands, bridal jewelry, fine fashion jewelry, and certified loose diamonds. Go ahead, browse our store, and find your perfect jewel!