---
Birthstone Jewelry / Gift Ideas / Rings / Stackable Rings / Unique Jewelry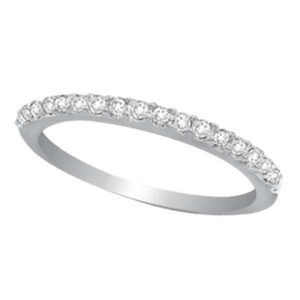 Rings are one of the most ancient forms of personal adornment. Within that format, stack rings are not exactly a new idea when you think about the total lifespan and overall age of sparkling personal jewelry. Specific circlets which are later placed together within a single stack on an individual finger and maybe even actually melded together with only the separating lines have been created all throughout certain eras of history. There is really no actual way of knowing how many people ended up wearing these types of separated rings which were merely layered on top of one other for every day wear or possibly even for special events. No one should not feel cut off from this style of finger adornment as it really spices things up. However, you should make sure that you are really receiving what you ultimately desire with these stackable ring piece since it takes intensive work to figure out how you are going to put together certain choices. You can choose multiple circlets for these stackable rings according to your own personal desires, requirements, and of course fashion based admiration.

Yet, if you do not particularly enjoy the overall concept of a simple circle with only an individualistic design or even just a simple base coloring, you should not kept away from the stackable ring trend. There exist multiple varieties of gemstones which are being incorporated in many stacking bands. All you really need to do is choose the special gemstone mix and match combo that you enjoy the most. Diamond stackable rings can be very appealing in basic looks without seeming to be too flashy as long as you make sure to wear gemstones of the ideal karat size in a simple and subtle setting so that it does not overwhelm any of the other bands in your stacking selection. Rather than a large centerpiece diamond stone with an array of several accentuating diamonds like you would wear as a fashion diamond band, diamond stackable rings actually tend to embrace a single smaller stone that is embedded within a boldly colored or even uniquely designed style within band. This unique format is not kept only to diamonds however since you can pick from other kinds of colored gemstones for which you happen to have a deep passion. Lovers of verdant green shades would enjoy emerald stackable rings while those who are crazy about blue should investigate a sapphire stackable ring set. Yet, if you want something more fun and flirty, you might love a pink sapphire stackable ring instead.

About Allurez
Allurez is the premier designer and retailer of high quality fine jewelry with a brand name known to royals as well as to the rich and famous. We are committed to providing you with the largest and the finest selection of engagement rings, wedding bands, bridal jewelry, fine fashion jewelry, and certified loose diamonds. Go ahead, browse our store, and find your perfect jewel!