---
Bridal Jewelry / Gift Ideas / Jewelry Tips
The gift for a bride on her wedding day is a very personal one, but we hope some of these ideas can help get you started in picking out your perfect gift. So first things first, you need to ask yourself some simple questions to start your search.
1. Do you want to be romantic or funny?
2. Buy or DIY?
3. What is your budget? 
For the romantic on a budget:
A personalized piece or custom jewelry like our Engravable Bar Pendant is a romantic and simple gift that won't stretch your romantic heart's budget too much.

 For the romantic with no budget: 
If price is no object, consider a piece which will also be an investment. Perhaps dazzling diamond earrings, unlike any she has ever laid eyes on before, like our  Chandelier Diamond Earrings which will surely compliment your dashing bride on your wedding day.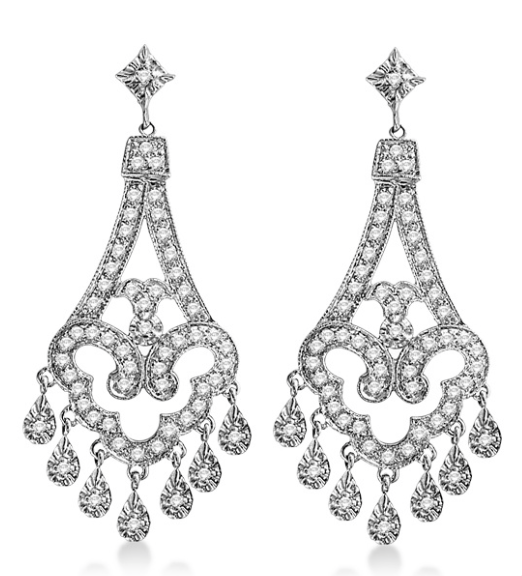 For the crafty romantic:
If your have a knack for crafts your possibilities for a unique gift are truly endless. A wonderful idea which will be sure to wow your bride is custom scrap book filled with notes and memories of your lives up until your wedding. You can even leave blank pages at the end …titling them to be filled with all our future memories.
For the silly and romantic:
Fill a basket with all her favorite things…like candy, warm socks, and her favorite bottle of wine. Label each item with a funny or romantic note. A gift basket is a great way to be funny and creative.
For the silly and crafty:
For some time up until your wedding day, snap cute but perhaps embarrassing pictures that you love of your future wife, without her knowing of course. Then on your wedding day, share the collection of these silly photos with her. She will be speechless with uncontrolled laughter and her heart filled with love and joy. She will realize your admiration for her as you notice even the small funny details in your day to day lives. You can have the pictures printed and fill them in a beautiful box tied with a blue ribbon and a note.
We hope these gift ideas helped get your idea train rolling. Above everything remember the easiest and most touching thing you can do is write a beautiful card. Just go with your gut and your heart…you can't go wrong!  Be sure to check out Allurez.com for many more gift ideas. 
Congratulations on your wedding! 
Love,
Allurez Diamonds & Fine Jewelry