---
Designer Jewelry / Unique Jewelry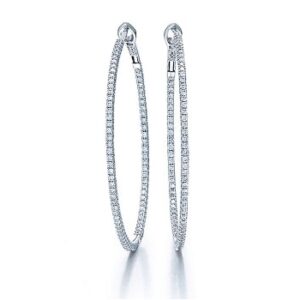 Where should you go for your next jewelry purchase, and which jewelry designers should you trust to produce quality styles at an affordable price?  An easy first place to look is at the designer jewelry of Hidalgo since the company makes sure everyone knows that their motto includes high quality, alluring fashion for a reasonable cost.  Hidalgo jewelry may not be the most common household name for the time being, but it is really gaining momentum that will soon rocket it to the top.  Searching for the perfect fashion or even engagement ring is made easy with the help of Hidalgo rings as they have a huge variety of choices concerning color (from their numerous shades of enamel), gemstone (from the classic selection of precious stones), and shape (any width, design, or thickness you can imagine) built into their outrageous collection.  Hidalgo stackable rings have really made a name for themselves though as the countless assortment of bands available have a tendency to fit very well together and work as one whole piece no matter how you mix or match them.
Hidalgo micro pave jewelry is the branch of the jewelry designer that is gaining most notoriety in the business itself though.  Their micro pave technique is one of the most reliable ways to focus on a very large gemstone with only very slight, delicately designed metal to the point where the allure of the gem really pops.  That fact being said, Hidalgo micro pave rings have a habit of drawing a great deal of attention since they are the jewelry type which benefits most from this technological advancement.  Hidalgo hoops should not be discounted though since they too have had a boost in popularity due to micro pave because of the appearance of the hoops as being completely covered in gemstones with no obvious metal setting to hold them in place.
As authorized dealers of Hidalgo, at Allurez we carry the finest Hidalgo jewelry collection.

About Allurez
Allurez is the premier designer and retailer of high quality fine jewelry with a brand name known to royals as well as to the rich and famous. We are committed to providing you with the largest and the finest selection of engagement rings, wedding bands, bridal jewelry, fine fashion jewelry, and certified loose diamonds. Go ahead, browse our store, and find your perfect jewel!