---
Designer Jewelry / Engagement Rings / Gift Ideas / Proposal / Rings / Stackable Rings / Unique Jewelry / Wedding Bands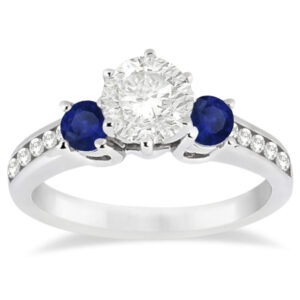 Allurez Online Jewelers is a great place to shop and design your own jewelry online. You can design your own engagement ring, buy diamond earring jackets, palladium wedding bands, emerald stackable rings and more. Allurez is an established online retailer of fine jewelry that backs products with a 30-day money back guarantee.
When you create your own engagement ring at Allurez, you can set a center stone diamond or gemstone of your choice carat weight and shape. But Ruby, sapphire, and emerald engagement rings are more than just a trend at Allurez. They are an ever growing part of the jewelry site's inventory. You can even build engagement ring settings with colored diamonds.
As far as Allurez's other jewelry are concerned, Allurez jewelers' diamond pendant necklaces, diamond earrings, diamond earring jackets, diamond rings, and diamond bracelets are all high-end. Allurez uses at least G-H/SI quality diamonds for much of their white diamond products.
Allurez jeweler's colored gemstone's are all natural and genuine. So you can be rest assured that the May Birthstone, July Birthstone, or September Birthstone gems you get are real and untreated.
But it's nearly impossible to make an informed decision about anything without having the right information. This is why having a jewelry education section is important. It's also something that Allurez provides is customers. Allurez knows that if a consumer is informed about a purchase they are making, they are more likely to make the right decision. Many illegitimate online jewelers lack this option.
Free shipping, easy returns and secure online shopping are all benefits to anyone who chooses to buy online at Allurez. That's because Allurez knows that consumers need a way to get their merchandise fast and hassle free. Allurez also knows that customers have issues, such as incorrect ring sizes, that require a simple return policy. Secure online shopping gives everyone the added benefit that their information is safe.
There are other benefits you get when you shop online at Allurez jewelers. Allurez jewelers' diamond right hand rings, diamond anniversary rings, diamond wedding rings and all other diamond products are part of the Kimberly Process. This means that the diamonds you receive have been acquired by ethical means.
Allurez is BBB accredited and has customer service reps that operate with the highest degree of professionalism. If you need to be more convinced about the reputation of Allurez, read some Allurez online reviews. Also, remember that shopping at Allurez is simple. Allurez jewelers has an easy-to-navigate site with eternity rings, yellow diamond rings, Diamonds by the Yard Necklaces, Diamonds by the Yard Bracelets, and more, all conveniently categorized.

About Allurez
Allurez is the premier designer and retailer of high quality fine jewelry with a brand name known to royals as well as to the rich and famous. We are committed to providing you with the largest and the finest selection of engagement rings, wedding bands, bridal jewelry, fine fashion jewelry, and certified loose diamonds. Go ahead, browse our store, and find your perfect jewel!