---
Designer Jewelry / Proposal / Unique Jewelry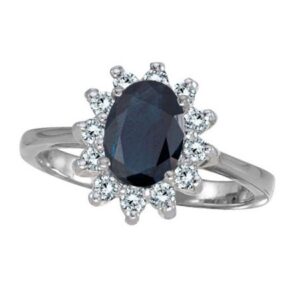 Every little girl wants to be a princess at some time in her life—whether she simply wants a tiara for her third birthday or if she is a lifetime princess with a fascination for all princess related things.  One little girl who has now grown into a young woman will finally get her wish.  When Kate Middleton marries Prince William, a new generation of girls will swoon and sigh at the thought of becoming a princess.  If you still want to be a princess without the issues of paparazzi and rigid rules, you can at least get engaged like one with a very unique ring that oozes with allure.
Originally, it was Prince Charles who gave Lady Diana the gorgeous blue sapphire and diamond ring that was hand crafted by the royal jewelers, but the band has now passed on when Prince William gave Kate his late mother's engagement ring to seal their proposal of marriage.  The "Lady Di ring" as it has been called was the envy of many women with the couple first married and has now become the prime example for alluring engagement rings for the current group of teenage girls and twenty-something young women.  If you want a Princess Diana ring for yourself, there are a few key aspects to look out for when engagement band shopping.  The most eye catching part of the ring according to most fans is the combination of royal blue sapphires and near colorless diamonds.  These two gems mixed together are becoming a fashion staple in the designer jewelry world since they highlight the most beautiful qualities of each other's colorings to make the blue even deeper and the clear even brighter.  Blue sapphire and diamond rings really make for wonderful engagement bands.  Be sure to double check that you have found your dream prince in addition to your dream ring though!
At Allurez.com we carry a wide selection of Lady Diana Rings. Visit http://www.allurez.com/index.php?file=product_list&track=head&keyword=lady+diana+ring to find the one you like.

About Allurez
Allurez is the premier designer and retailer of high quality fine jewelry with a brand name known to royals as well as to the rich and famous. We are committed to providing you with the largest and the finest selection of engagement rings, wedding bands, bridal jewelry, fine fashion jewelry, and certified loose diamonds. Go ahead, browse our store, and find your perfect jewel!