---
Designer Jewelry / Gift Ideas / Rings / Rose Gold / Stackable Rings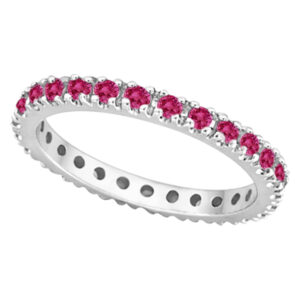 No matter where you look these days, countless numbers of advertising and marketing agents are trying to get you put forth your best look and fashion image with the help of some type of scientific breakthrough or a chemical based medical procedure.  With this almost constant assault on both our minds and our self-esteem, it is extremely easy to see why most people have a strong tendency to overlook several of the most basic and simplest ways to improve and accent our natural appearances without having to go under a knife or flex an insurance plan—like with the aid of a perfectly tried and true jewelry makeover.  The sultry and almost sexy depth of a vivid pink is always a great color to bring new life into your fresh  look and can help in adding a very youthful attribute to the wearer.  Also, the luscious coloring of pink sapphires in any setting can quickly achieve these goals of looking better and more fashionable as it acts of the epitome of just how alluring a bright pink can be.  It is really the combination of the unique coloring and the native attributes of sapphires which make this particular gemstone so very special.  As the strength of the sapphire gemstone can allow for a large variety of cut shapes, sizes, and settings, the multitude of bejeweled types are almost completely open to holding one of these amazing stones.
Yet, pink sapphire rings are clearly the best option for a fun and flirty accessory.  You can use these specialized shimmering pieces to show off your combined fashion sense with your love of alluring prestige concerning high class sapphires.  A pink sapphire ring is very much known for its overall versatility as well as its ability to exist in a multitude of fashionable styles, stunning shapes, and almost endless mixes which can make any passersby stop in the middle of their path to stare.  A great new fashion to remember involves the new with the classic in the form of a pink sapphire and diamond ring as you should not be afraid to combine this bold and bright pink gem with the traditionally stylish crystal white diamond since this particular mix can bring out the most shine in both of them.  Nonetheless, pink sapphire bands would be the perfect complement to your jewelry collection in any of their formats.  The fun and funky coloring of the special pink sapphire band is always trendy in its own special way.

About Allurez
Allurez is the premier designer and retailer of high quality fine jewelry with a brand name known to royals as well as to the rich and famous. We are committed to providing you with the largest and the finest selection of engagement rings, wedding bands, bridal jewelry, fine fashion jewelry, and certified loose diamonds. Go ahead, browse our store, and find your perfect jewel!