---
Birthstone Jewelry
"You can't ever go wrong with pearls. Perhaps pearls are a girl's best friend after all." – Ki Hackney
Every woman deserves to wear pearls and if you were born in the month of June, then you've got the perfect excuse. As well as being the birthstone for June, it's also the anniversary gemstone for the 1st, 12th and 30th years of marriage. But you don't have to be celebrating a birthday or anniversary to enjoy the luster, mystery and sophistication of pearls.
Unlike diamonds, what makes a pearl so special are its imperfections. Natural pearls begin their formation in an oyster, where a mucous-like substance known as nacre is released and held while it hardens over a long period of time. This is often in response to a tiny irritant becoming stuck, such as a grain of sand. A good sized pearl can take between five to eight years to form. That can be the entire life of the oyster!
Celebrities in Pearls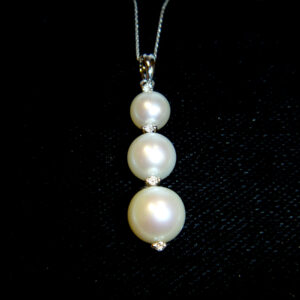 For anyone born in the month of June, guess what? You share the same birthstone along with the likes of Marilyn Monroe, Prince, and the twin sisters Mary Kate and Ashley Olsen.
Pearls are timeless fashion jewelry that will always make a stylish statement. One of the hottest styles is wearing multiple strands of pearls – Rihanna pulls this off brilliantly. Marilyn Monroe wore cultured Akoya pearls that were given to her by her husband, baseball legend Joe DiMaggio, on their honeymoon. Sarah Jessica Parker can frequently be seen flaunting pearls on the hit TV show Sex in the City. A few more celebrities with an affinity for elegant pearl accessories include Elizabeth Taylor, Angelina Jolie, Sandra Bullock, Taylor Swift and Lady Gaga.
Style
Pearls come in a number of different shapes and sizes with perfectly round pearls being the hardest to find. In addition, they come in a wide variety of colors. Pink pearls are extremely popular, and can spruce up any outfit – whether it be with a formal dress or the classic sweater look.
Pearls are the kind of jewelry you can have fun with – mix different lengths of pearls or incorporate other gemstone jewelry with pearl bracelets, earrings, and even rings to spruce up your look. There's also always the classic strand of pearls, which will never go out of style. The combinations are endless.
Fun Facts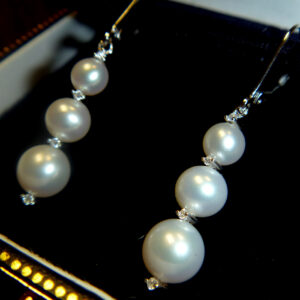 The pearl is associated with loyalty, faithfulness and friendship. From a metaphysical standpoint, pearls represent modesty, chastity and purity. They are said to be effective for health problems relating to the heart, spleen, stomach, intestine & ulcer problems.
To send you off, here's an interesting anecdote:  Cleopatra won a bet that she could provide Marc Antony with a banquet costing more than the assets of a country. She took off a pearl earring, dissolved it in wine and drank it. Talk about going to great lengths to win a bet, huh?

About Allurez
Allurez is the premier designer and retailer of high quality fine jewelry with a brand name known to royals as well as to the rich and famous. We are committed to providing you with the largest and the finest selection of engagement rings, wedding bands, bridal jewelry, fine fashion jewelry, and certified loose diamonds. Go ahead, browse our store, and find your perfect jewel!