---
Birthstone Jewelry
We have been seeing a trend towards the return of the opal gemstone this fall. The season's moody shades in fashion and beauty make wearing opal jewelry especially easy, with some Hollywood trendsetters pairing opal with jewel tone fashions. Chrome is always big in beauty during fall and we are seeing it pair with shade-shifting opal. Its unique appearance makes it popular with brides, as well as trendsetters who want to layer it with other gemstone jewelry.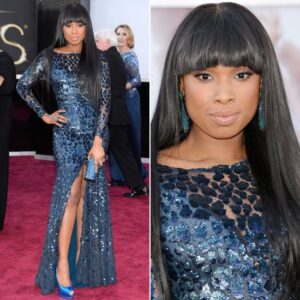 This year, we saw celebrity songstress Jennifer Hudson wear boulder opal earrings at the Oscars. She made a stunning appearance in a matching blue sapphire dress. A combination that made her outfit pop. Our fine opal earrings are a great way to add the gemstone to your wardrobe.
Nail design has become somewhat of an accessory in fashion. This season there is a shift to holographic colors, plus metallic shades of green, purple and blue. An opal gemstone ring would add flare to this nail trend.  At Allurez.com you can find beautiful opal rings.
White opal is often layered with diamond accents for extra sparkle. It also looks nice paired with other gemstone jewelry such as sapphire, ruby, emerald and amethyst to bring out the different colors unique to each stone.  Even layering with gemstone bangles would create a trendy look.
Make-up eye shadow palettes named after opal are also popular this fall. They have a glittery sheen just like the stone. When worn, these colors set off a pair of yellow or white gold opal earrings. The rest of the face is neutral, putting the main focus on this enigmatic gemstone. An opal gemstone necklace would also pair nicely with this look. Allurez Jewelers has an alluring collection of opal earrings and necklaces available for customization.
Buyers of all occasions are drawn to this mesmerizing stone, even those who will be soon making their vows. Opal promise rings, engagement rings and wedding bands in contemporary, vintage or antique settings are on the rise. Popular designs include halo, solitaire, double and single shank bands.
Opal is a rising star in jewelry design.  It's being seen more and more in fashion and beauty. It's not just for an October birthstone present anymore. Women of all ages are wearing it everyday. Opal is a diverse stone that will be carried into jewelry and accessories for spring and summer 2014. You can find more about opal jewelry and view our stunning collection at Allurez.

About Allurez
Allurez is the premier designer and retailer of high quality fine jewelry with a brand name known to royals as well as to the rich and famous. We are committed to providing you with the largest and the finest selection of engagement rings, wedding bands, bridal jewelry, fine fashion jewelry, and certified loose diamonds. Go ahead, browse our store, and find your perfect jewel!