---
Engagement Rings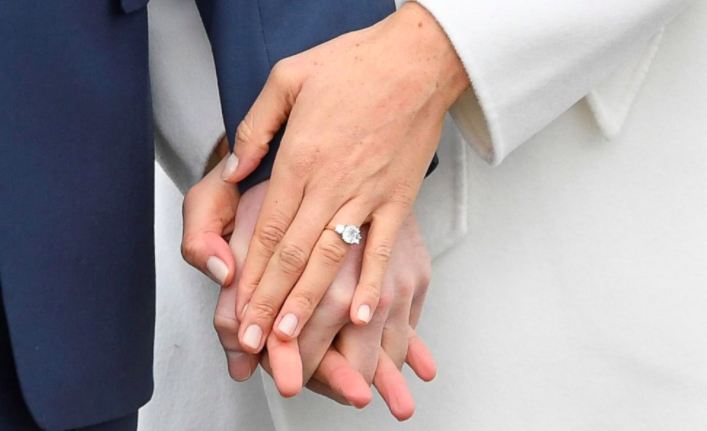 The moment American actress Meghan Markle and Prince Harry announced their engagement this week, jewelry lovers around the world were asking themselves "What does the ring look like?!" The couple dated for a year and a half strong so people knew a proposal was coming up and when it happened, a whole lot of talk circulated around the big rock that Prince Harry proposed with. Meghan's three-stone engagement ring has been getting quite the buzz and here's all you need to know about it.
Meghan's ring is 3-stone yellow gold setting – Meghan's favorite, according to Prince Harry – with a cushion cut diamond
Prince Harry custom designed the ring using two diamonds from the personal jewelry collection of his late mother, Princess Diana, to make the engagement ring for his fiance. (Prince Harry's brother, Prince William, also gave Kate Middleton a 18-carat sapphire and diamond ring that once belonged to his mother).
The diamond engagement ring was made by the queen's jeweler, Cleave and Co.
 The center cushion-cut gem was sourced in Botswana, a country that is special to the couple. Prince Harry traveled to Botswana while growing up and went there with Meghan a few weeks after they met.
TIME magazine cited experts that estimate the ring has 6.5 carats in total, with the center diamond at roughly 5 carats. If the ring included perfect diamonds, it could cost between $300,000 to $350,000. If using mid-range diamonds, it would cost closer to $35,000 to $40,000. But due to the ring's connection to Princess Diana, many agree that it's "priceless."
Meghan said in an interview that she was so excited during the proposal that she wouldn't even let Prince Harry finish proposing and that she completely forgot about the ring!
Meghan called the ring "beautiful" and "incredible," and said she was touched by its connection to Princess Diana. She said, "I think everything about Harry's thoughtfulness and the inclusion of [Diana's stones] and, obviously, not being able to meet his mom —it's so important to me to know that she's a part of this with us. It's incredibly special to be able to have this, which sort of links where [Harry comes] from and Botswana, which is important to us. It's perfect."
The couple confirmed they will be getting married in May. Meghan was previously married to talent manager Trevor Engelson from 2011 to 2013.
Prince Harry and Meghan want to have a intimate wedding and will have their ceremony at St George's Chapel at Windsor Castle, where the Queen and Prince Philip reside, according to Entertainment Tonight.
The publication The Sun revealed that Meghan and Prince Harry may in fact be 17th cousins. A US researcher who specializes in finding the American descendants of British monarchs said the actress is a direct descendant of King Edward III, who ruled from 1327 until 1377.
For three-stone engagement rings similar to Meghan's click here.