---
Category 2 / Designer Jewelry / Gift Ideas / Rings / Unique Jewelry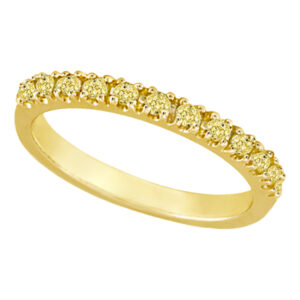 It is a widely accepted fact that diamond rings are currently and will always be a forever favorite in the world in general. The realm of fashion jewelry loves them a great deal. Fine jewelry loves them as well. In fact, it has become very difficult to find an individual who does not at least acknowledge the special shine that is associated with diamond stones against the setting of a precious metal band that is worn on someone's finger. Despite this deep love of diamonds, like all things within the jewelry world, both fashion and fancy jewelers have the habit of always seeking out something new and bold. In the realm of diamond rings, colored diamonds were able to fill the void which jewelers had in their collections. However, with almost countless varieties of colors and shades, many jewelry lovers can feel overwhelmed with the thought of a highly elegant diamond coming in a wide array of colorings. If you simply make the effort to narrow your focus of the jewelry search on the other hand, yellow diamond bands will most definitely be able to steal the entire show due to their naturally bold color, sassy sparkle, innate shimmer, and fundamental allure. It should just be noted that they can be a bit on the expensive side of things as natural yellow diamond is very hard to find. Still, the glow which comes with every single yellow diamond cannot be denied. They have the ability to instill an innate sense of warmth to anyone wearing them, and this characteristic can be a very practical reason to purchase this greatly cherished gemstone as well.

It is the combination of ass these exceptional reasons and traits which result in yellow diamond rings making amazing gifts to your all close loved ones or even for your own collection! However, you should know that it is the different shades of these special yellow diamonds that really are what makes them a unique favorite when looking for items which represent their own element of allure. Brilliantly tinted yellow diamond rings can be spectacular fashion statements all on their own, such as the fabulous canary yellow diamond rings. Named for the canary bird of brilliant yellow plumage, yellow canary diamond rings come from some of the rarest varieties of diamonds in the world. Due to their outstanding shine, high appeal, and otherworldly shimmering traits, they are well worth the effort to discover them. Canary diamond bands truly do look like a slice of the sun safely strapped to your finger, making them completely irresistible to any real lover of fine jewelry and modern fashion admirer.

About Allurez
Allurez is the premier designer and retailer of high quality fine jewelry with a brand name known to royals as well as to the rich and famous. We are committed to providing you with the largest and the finest selection of engagement rings, wedding bands, bridal jewelry, fine fashion jewelry, and certified loose diamonds. Go ahead, browse our store, and find your perfect jewel!