---
Jewelry Tips
How to Store Jewelry: 11 Tips for Jewelry Storage
Whether you've spent decades creating a jewelry collection that speaks to your personality and lifestyle or just bought your very first piece of fine jewelry, learning the right way to store and take care of your accessories is essential if you want them to stand the test of time.
Here are 11 expert jewelry storage tips to help you get organized, prevent accidental damage to jewelry and maybe even liven up your home decor in the process.
1. Keep an Eye on Humidity and Temperature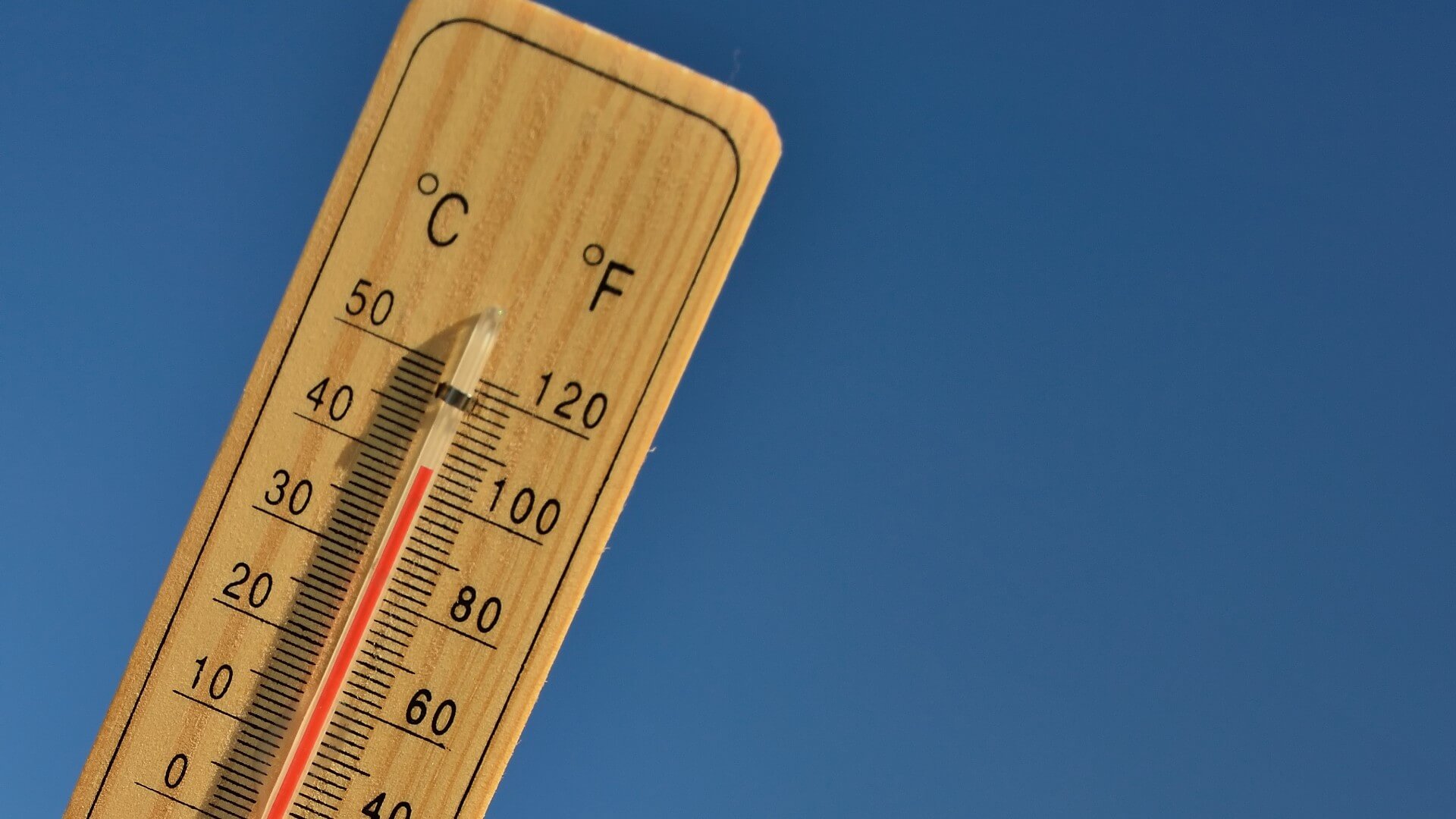 Surprise! Your jewelry isn't always comfortable just because you are. You probably know to take off your jewelry in a spa or sauna to prevent moisture and heat from damaging the metal and stones, but even a closed bathroom with average ventilation can be too humid for your jewelry to survive unscathed.
Here's an example of how easy it is to overlook basic jewelry care instructions: People often forget that gold is a very soft metal. Wearing your anklet to the beach definitely creates a fashionable look, but it could leave your jewelry vulnerable to everything from salt-related erosion to scratches from rocks and sand.
If you can help it, keep your more delicate accessories away from heating sources, direct sunlight, moist environments and places where temperatures might fluctuate widely and/or frequently (such as near windows or vents). This means your basement and attic are probably automatically off-limits for long-term storage. For those who are okay wearing their favorite pieces 24/7, putting extra care into jewelry cleaning and maintenance will be even more important.
2. Clean Pieces Regularly and Keep Them Polished Before Putting Them into Long-Term Storage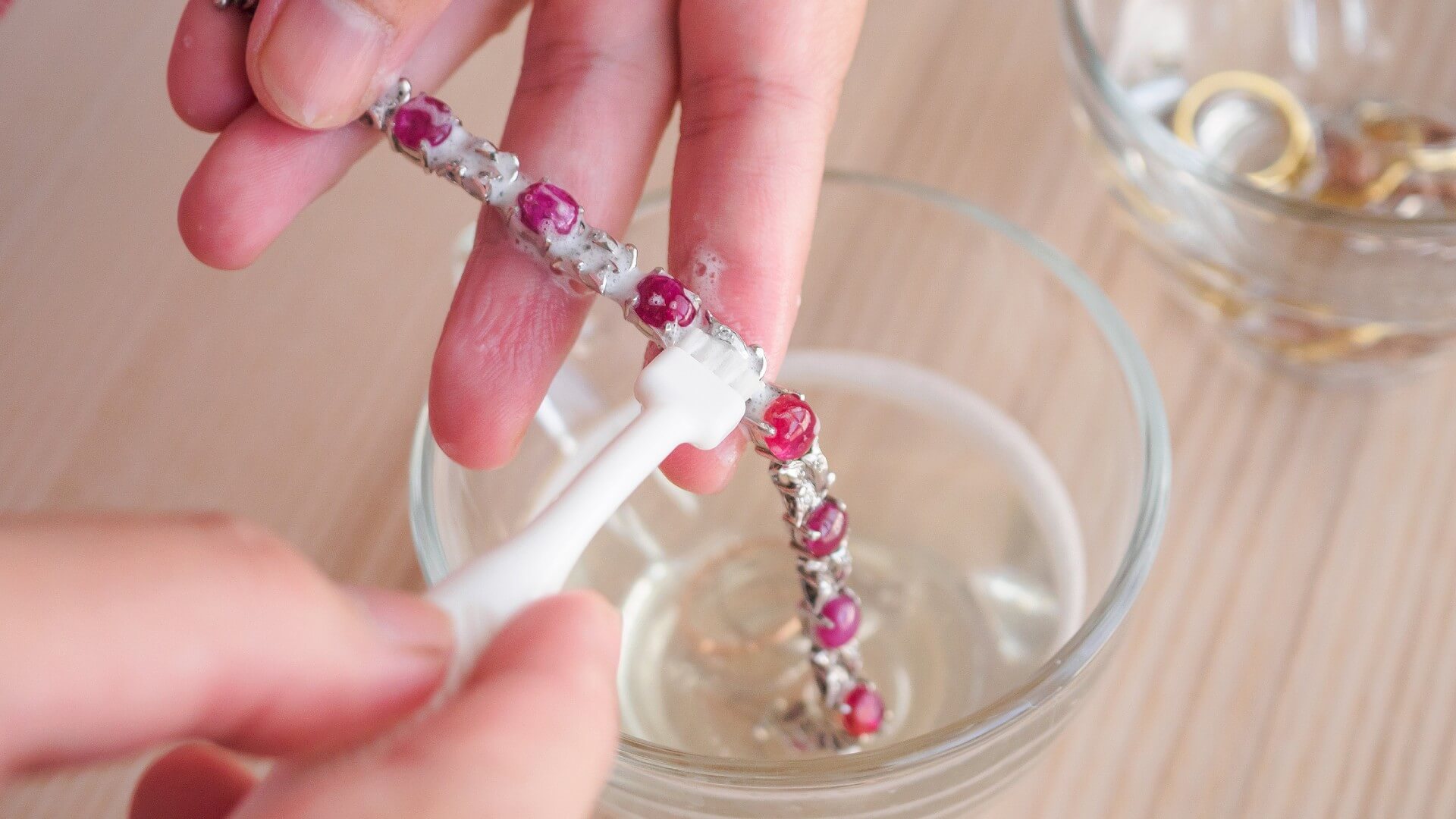 The longer your jewelry sits subject to chemicals or debris, the more likely it becomes that those chemicals and debris affect the finish or even durability of your pieces. Every time you wear a necklace, ring, bracelet or pair of cufflinks, you're exposing them to everything from cologne and hairspray to lotion and commercial hand soap. Repeated exposures could lead to buildup that dulls the shine of your precious gems and could possibly tarnish certain metals — thus the importance of regular jewelry cleaning.
Your best bet is to use a professional cleaning agent to periodically remove buildup and restore shine. You can also bring your pieces to a trusted jeweler for an expert cleaning, during which you'll probably also get a checkup on your settings to make sure the diamond in your engagement ring is still safe and secure.
If you don't have time to do a thorough cleaning after every wear (and honestly, who does?) it's fine to occasionally resort to a quick wipe down with a jewelry cloth instead. Look for one that's 100% cotton and lint-free to avoid leaving annoying fuzzies behind or accidentally scratching the finish.
3. Use the Right Container for the Right Jewelry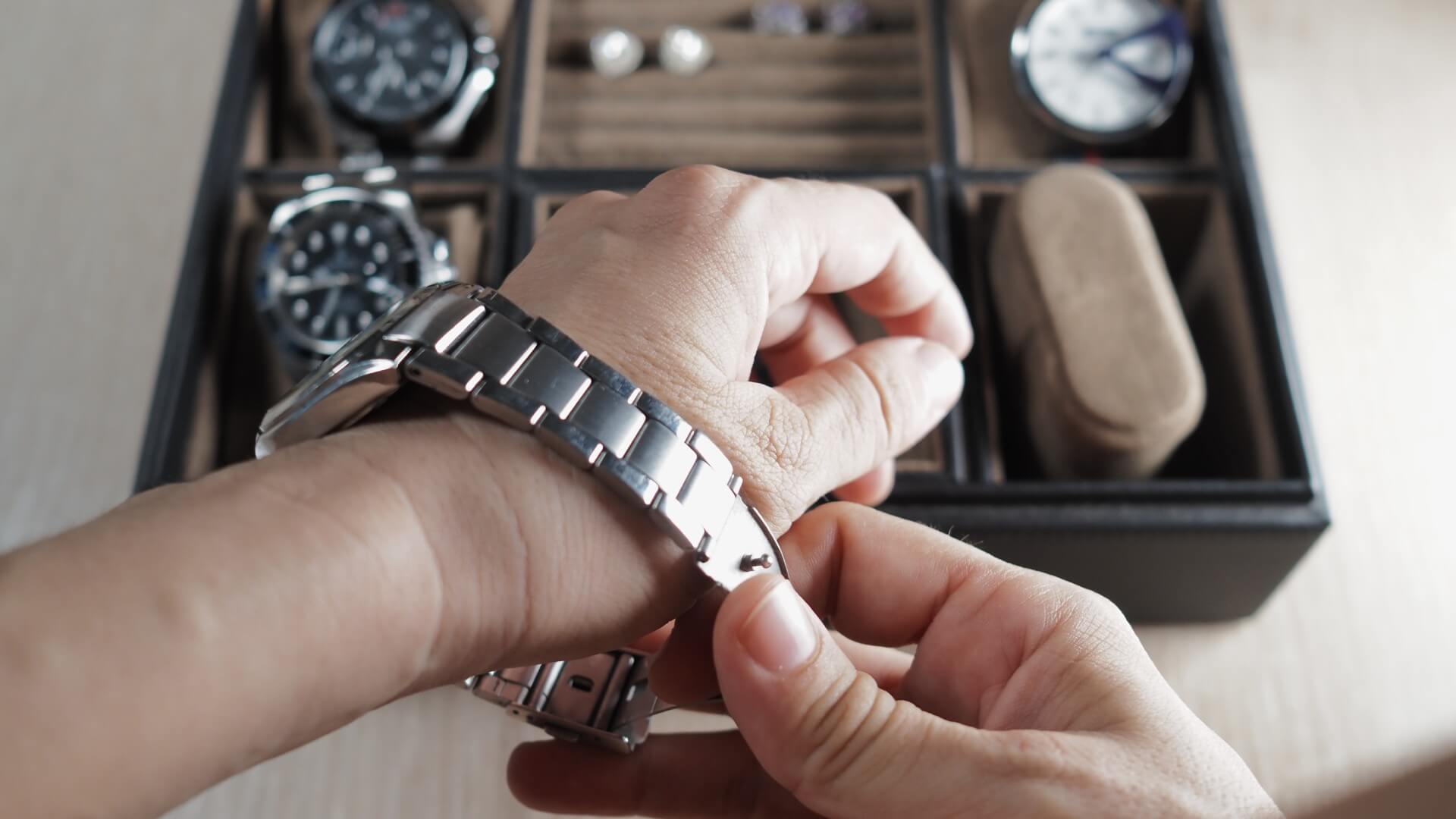 There's a reason that manufacturers produce jewelry storage options designed to safeguard specific pieces. The right container or display unit can prevent necklaces from tangling and protect delicate jewels and metals from clanking against each other and getting scratched. It also serves as an organizational tool; it's a lot easier to find your favorite pair of special occasion earrings if they're tucked together side by side into the velvet folds of your jewelry box.
Watch boxes are another example of a case made for a specific type of jewelry. You can get a single-watch box to keep an heirloom timepiece safe generation after generation or invest in a multi-compartment box that has a glass top for display purposes and a built-in lock, so the kids don't take off with one of your more expensive accessories.
4. Make the Most of Small Spaces by Incorporating Wall Storage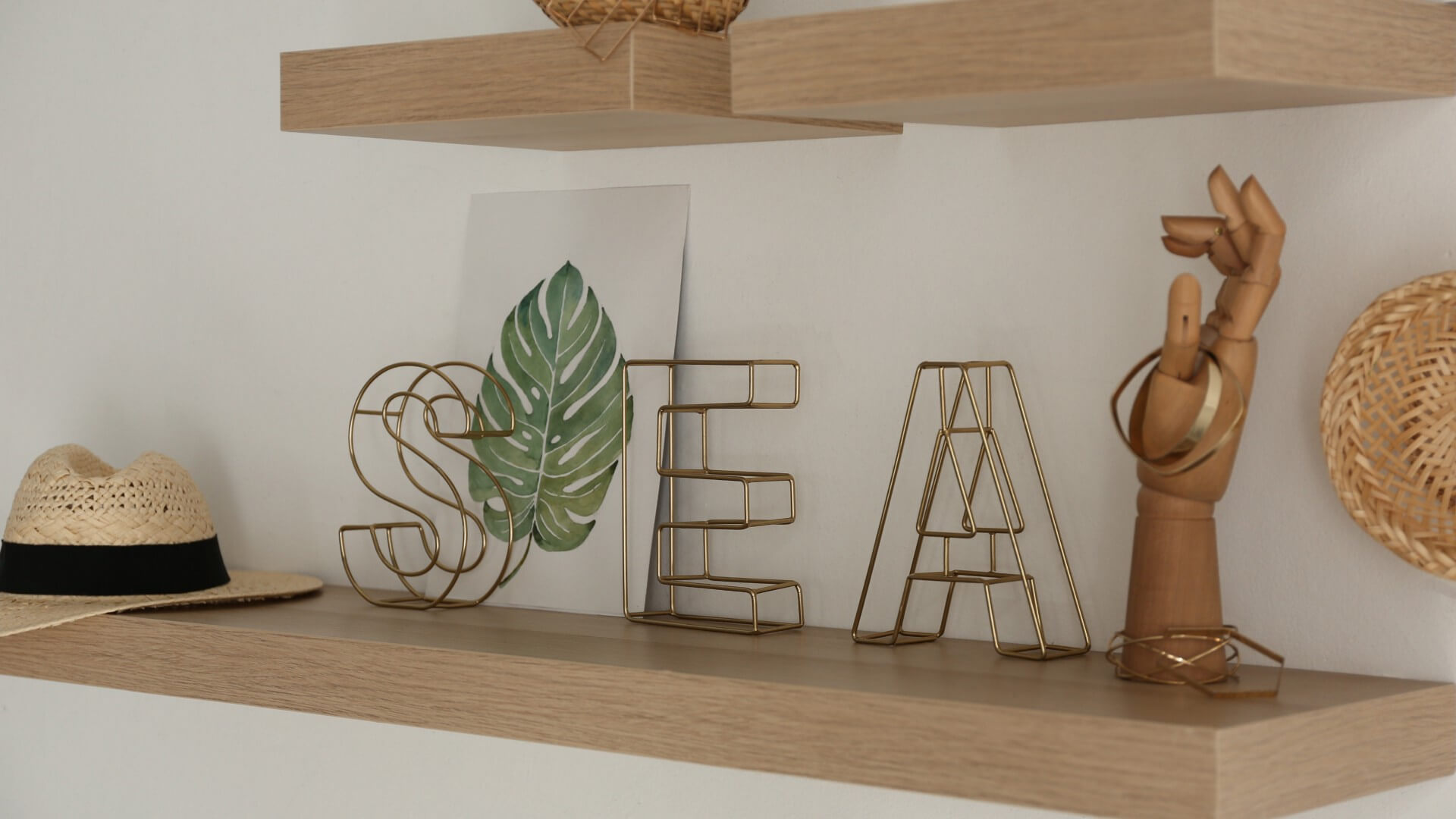 Sometimes the best thing you can do for your jewelry and your busy schedule is to hang your go-to pieces right on the wall for storage. You can line up a series of hooks in your closet or bedroom and arrange necklaces, eyeglass chains, bracelets and even your scarves or head wraps according to color, style or whatever other criteria suit you best. Padded horizontal rods work well for cuff bracelets and bangles, while slimmer dowels arranged horizontally can hold your entire collection of dangly earrings and smaller pieces of costume jewelry.
There are also wall-mounted mirrors that swing open to reveal a full-length jewelry storage system; you can check out your outfit and then grab the perfect accessories to finish your look.
Wall storage checks multiple boxes, keeping your items organized while also serving as DIY home décor. Imagine coming home and seeing your strands of colorful beads and polished chains adding life to an otherwise ordinary wall. You'll also likely appreciate that those necklaces aren't taking up real estate in a dresser drawer or on your bathroom counter, where they could become tangled or even get damaged by water, sunlight or an accidentally dropped hair straightener.
If you do choose to use wall storage for some of your jewelry, try to hang pieces that will be okay when exposed to the elements. Heirloom jewelry and more delicate pieces should still be tucked away in a dedicated box or case. It's also good to stick to one or two necklaces per hook to avoid tangling.
5. Take Advantage of Empty Drawers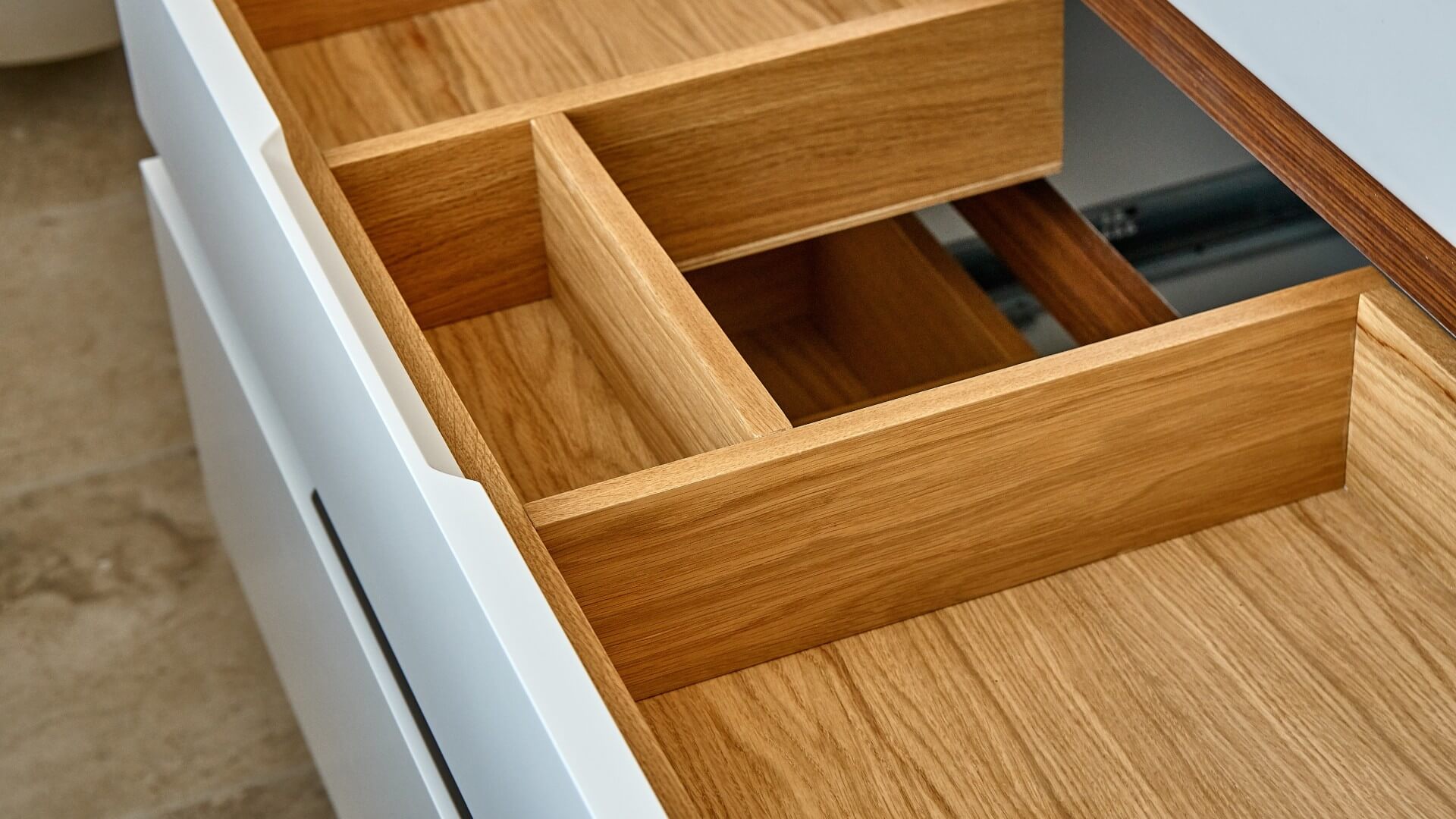 Another idea for jewelry storage when space is at a premium is to place partitioned trays in your top dresser drawer or in a vanity drawer — assuming the vanity is in a room with ideal jewelry storage conditions (e.g., low humidity). Velvet-lined compartments are ideal for delicate metals that could scratch if they bump up against bulkier pieces, and you can find trays with long compartments to accommodate necklaces laid out neatly in between wears.
This method works best for pieces that aren't prone to tangling. Unless you're extremely careful to open and close your drawer slowly every time you access your items, you'll likely cause the contents of the tray to move around. Put too many pieces in one tray compartment and you might end up spending your evening trying to get them separated again.
6. Place Smaller Storage Options in Convenient Spots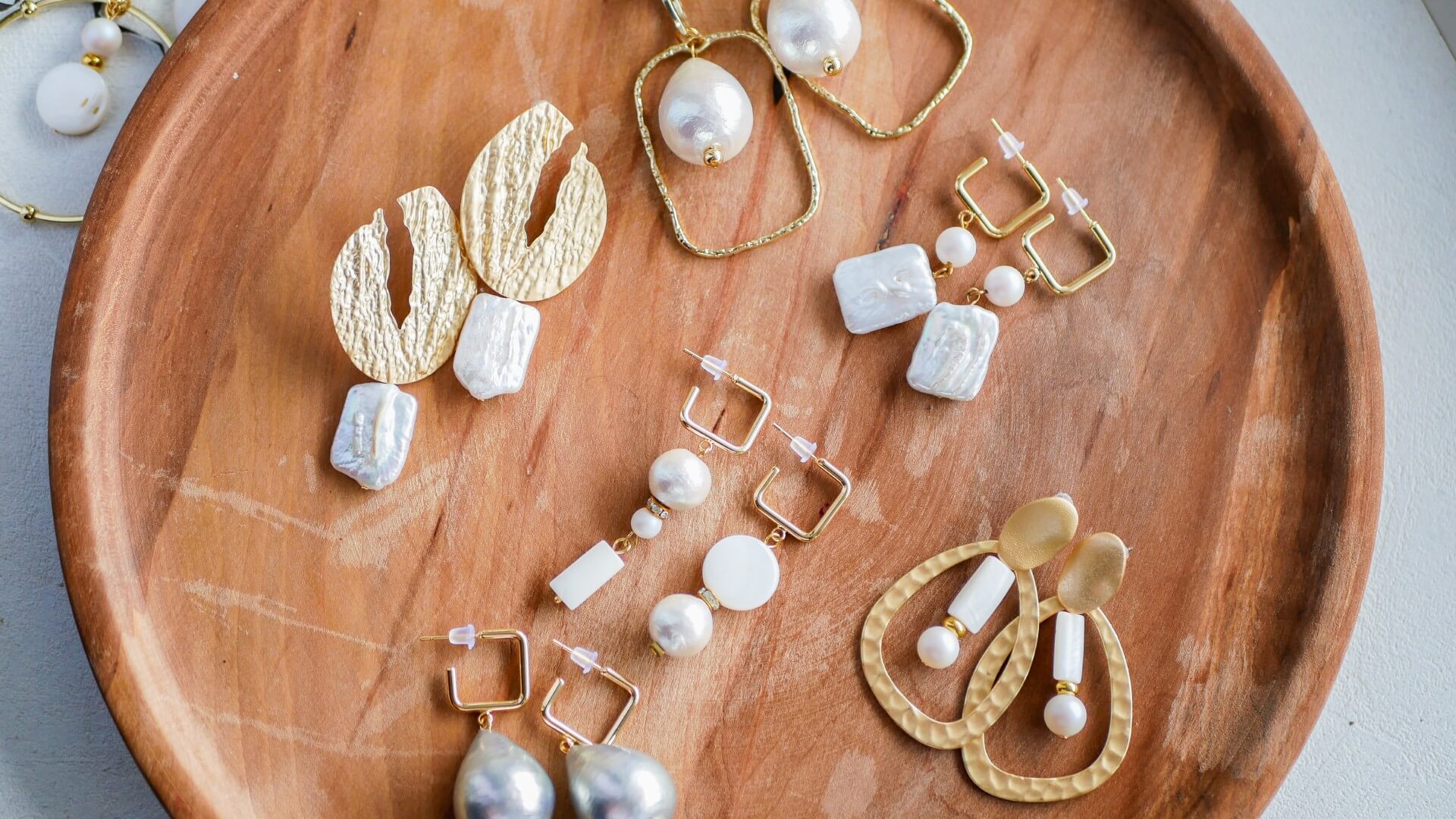 We all have those moments when we're bone tired and take off our earrings without fully thinking about where we're leaving them. That's how you wind up spending hours trying to find lost jewelry. To prevent loss and keep smaller pieces like stud earrings and cufflinks secure, put a small decorative dish or bowl near places you might otherwise leave jewelry loose while washing your hands, changing your child's diaper or working in the yard.
Some ideas include:
Next to the bathroom and kitchen sinks
In your baby's nursery (high up on a dresser or shelf where your little one doesn't have access)
On the console table in your living room or entryway
Next to your hand lotion or sanitizer
It's also smart to think ahead and leave a small pouch or even a plastic zip-closure bag in your purse or briefcase in case you need to take off your jewelry while you're out and about. Sometimes you forget to leave your diamond engagement ring at home when you head to the community pool or the gym, and it's better to place your ring in a dedicated container while you work out or swim than to toss it in a locker or the bottom of your duffle bag.
7. Keep Special Pieces Under Lock and Key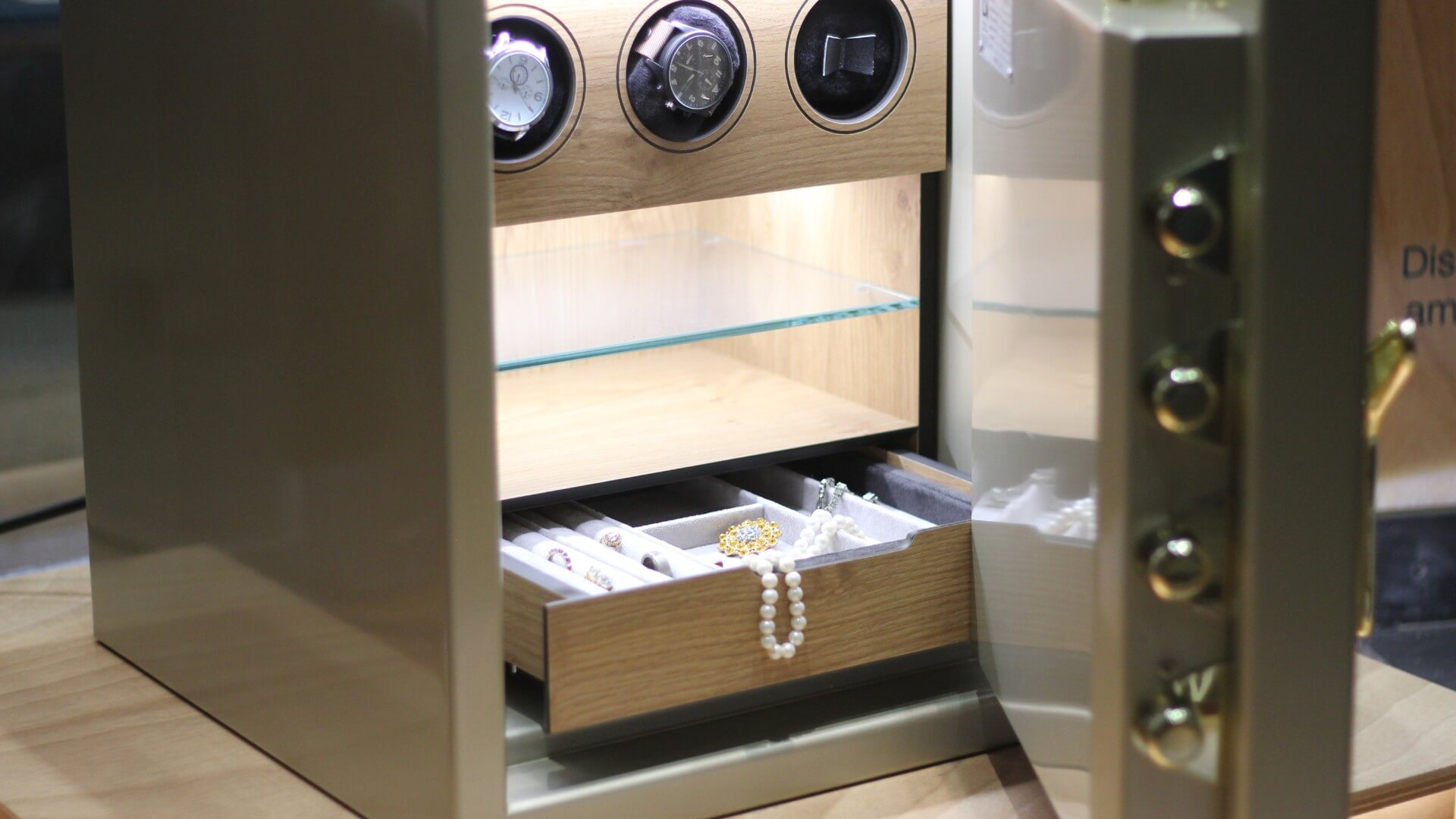 Perhaps you're lucky enough to own a priceless family heirloom, like a cameo that's been passed down from generation to generation. Or maybe you rarely wear your solitaire engagement ring, preferring a sleeker eternity band unless it's a special occasion. Keep pricey and irreplaceable jewelry somewhere secure. This could be a safe in your own home or a safe deposit box at a bank. The same general storage tips apply here — put jewelry in a protective case before placing it inside the safe — but now you'll have an extra layer of security between your jewelry and would-be thieves or curious kids.
Bonus Tip: Jewelry that's expensive enough to warrant being under lock and key should also be insured. You may be able to add a few pieces of jewelry to your rental policy or homeowner's insurance, but many jewelers offer their own insurance policies for purchase or can direct you to partner companies that have a good track record. If you're storing your jewelry at a bank or other type of storage facility, be sure to ask for their insurance policy in writing so you know what's covered and what isn't.
8. Store Like Items Together
The bigger your jewelry collection, the harder it will be to quickly locate a specific piece unless you have some type of organizational system in place to make it easier. Consider storing similar pieces together in the same jewelry box, tray or dish. You can group according to style, such as boho or cocktail, or according to color or material. The system you choose should make sense to you — if you always wear a certain necklace and earring set together, they should be stored together.
9. Opt for Tiers or Layers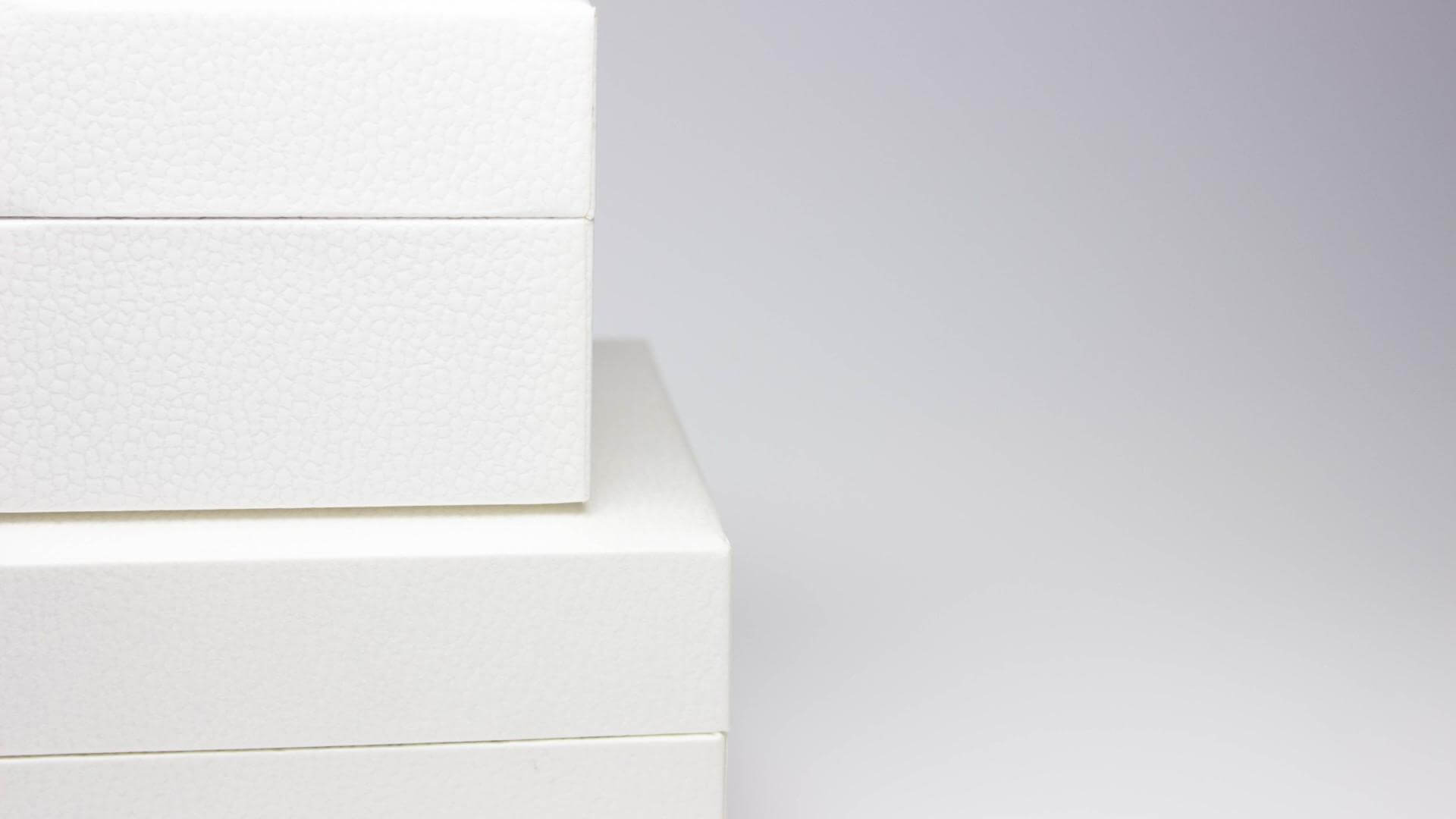 Nesting baskets or stacked bowls can help you maximize space. Simply lift off the top level to reach the contents in the next basket down. You can separate according to style or color, as mentioned above, too.
You can stack jewelry boxes, too. It keeps jewelry safe and secure, but you're also creating your own home decor in the process. Coordinating hand-painted nesting bowls creates a beautiful look even if no one actually knows what's tucked away inside.
10. Get Creative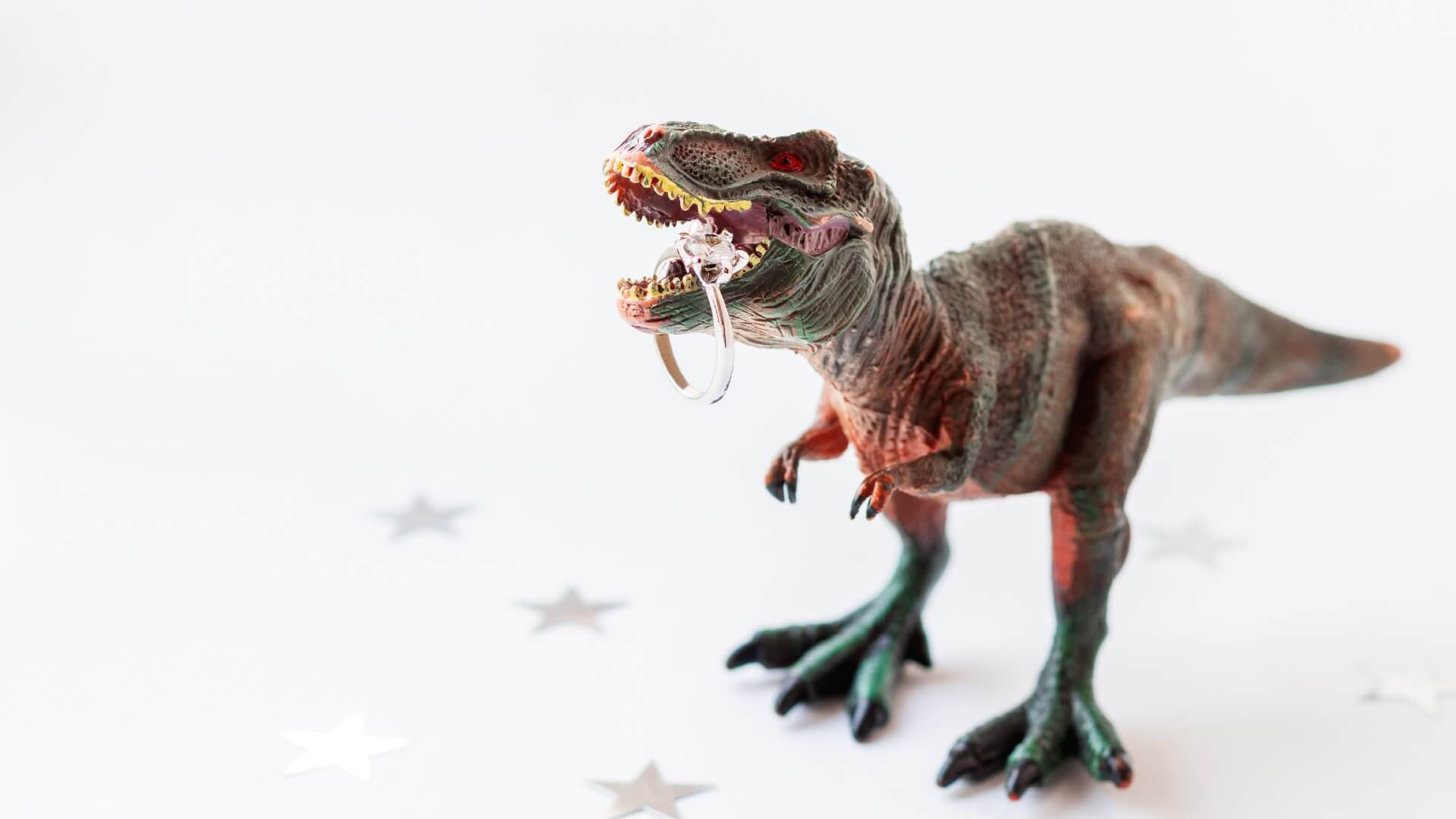 Visit the thrift store and pick up a few old busts or even a full mannequin. Then dress up your bargain-basement body with your favorite beaded necklaces, a few bracelets or cuffs, and maybe some of your hats and scarves. It's the perfect marriage of form and function as a jewelry storage option.
Other wacky and fun ideas include:
Using a dino figurine you got from the National History Museum to hold your boho stackable rings — just slide them onto the dinosaur's neck or tail!
Hanging a piece of driftwood and hammering in nails or hooks to hold earrings and necklaces
Stretching wire caging across a reclaimed picture frame and hang your less valuable pieces there
11. Rotate Your Jewelry Based on the Seasons
It's not unusual to have some pieces of jewelry that you wear day in and day out. In addition to your wedding rings, this could be a treasured necklace and pendant, a tennis bracelet or simple yet stunning diamond studs. But there are also those pieces that you only wear at certain times of the year.
Holiday jewelry is a great example of this. You might have a collection of brooches and pins for Fourth of July, Easter, Thanksgiving and Christmas. Other pieces might be best suited to summer or winter — you probably wouldn't wear a snowflake pin in July. Organize your jewelry into mini-collections and store them in separate jewelry boxes. Then you can rotate them in and out of storage, even if that just means swapping the box currently on your dresser for one you stowed in the back of your closet.
Ultimately, how you choose to store your jewelry depends on the space available, the type of jewelry you have, and your personal preferences. Feel free to combine several ideas to create a system that's unique to you.
For more tips on how to safeguard your fine jewelry and accessories, check out our How to Take Care of Jewelry guide.

About Allurez Tech

Twitter •