---
Designer Jewelry / Engagement Rings / Proposal / Rings / Unique Jewelry / Wedding Bands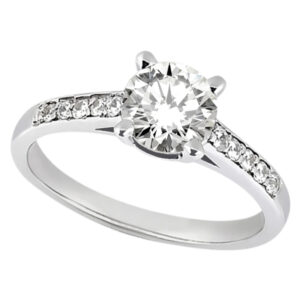 Before you design your own engagement ring, there are a few things you need to keep in mind. What kind of style do you want your engagement ring to have? What kind of metal would you like for your bridal ring? Do you know what type of center stone that you want? You should also be concerned with whether you can find a reputable jeweler that can handle custom orders.
When you create your own engagement ring, one of the first things that you should consider is style. Do you or does your spouse prefer the classic or traditional styles of engagement rings? Antique style engagement rings are very popular nowadays. Also consider whether you want simple or elaborate designs. If you are getting this item for your wife and want to be discreet, simply ask friends and family what she would prefer. If you already know, then this step is no problem. If all else fails, the traditional diamond solitaire engagement ring is a good option.
The next thing you should consider is the metal type that is to be used. Gold and platinum are the most popular choices for engagement rings. Metal type is an important thing to consider, because certain metals tarnish or fade easily while other metals are more versatile when it comes to forming jewelry designs.
Select the right center stone to fit your setting. The stone should be in the shape and carat weight you prefer. The most common center stone shapes are round, emerald, pear, princess, marquise, oval, radiant, heart, and asscher. When you select a diamond center stone, the color grade and quality are necessary things to consider before making a purchase.
As far as finding a reputable jeweler that will handle custom orders, Allurez is the best place to shop online if you want to build engagement rings your own way. Allurez offers the best engagement rings with free shipping, easy returns, and secure online shopping.
The most distinct quality of Allurez, when it comes to being able to create your own engagement ring, is that you can do it with nearly any type of stone. This means you can have a yellow canary diamond, fancy blue diamond, black diamond, emerald, ruby or blue sapphire birthstone instead of the traditional white diamond center stone. In fact, Allurez has an entirely new selection of engagement rings that have gemstones. Since Allurez is a jewelry designer as well as a retailer, you can find better deals with them than you can find elsewhere.

About Allurez
Allurez is the premier designer and retailer of high quality fine jewelry with a brand name known to royals as well as to the rich and famous. We are committed to providing you with the largest and the finest selection of engagement rings, wedding bands, bridal jewelry, fine fashion jewelry, and certified loose diamonds. Go ahead, browse our store, and find your perfect jewel!