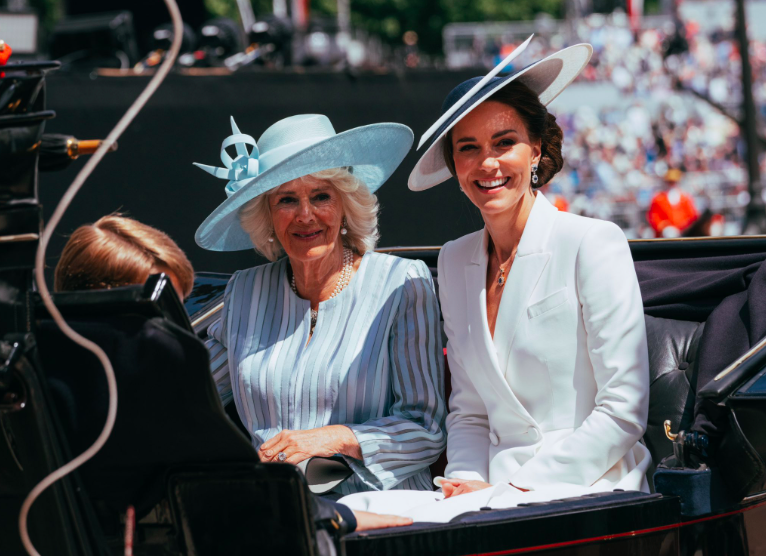 Earrings Inspired by Those Kate Middleton Wore and Previously Owned by Princess Diana
The Duchess of Cambridge, Kate Middleton, attended the 2022 Trooping the Colour parade on Thursday, to celebrate Queen Elizabeth II's Platinum Jubilee, and wore for the special occasion a piece of jewelry owned by her late mother-in-law, Princess Diana.
Trooping the Colour is the first of many events set to take place in the United Kingdom this weekend to mark Queen Elizabeth II's 70 years on the throne.
Middleton paired a custom white blazer-style dress by Alexander McQueen and a navy and white fascinator by Philip Treacy with sapphire and diamond earrings that once belonged to Princess Diana.
"This is the first time we've seen Kate wear this pair of earrings in public," Lauren Kiehna, writer of The Court Jeweller blog, told People magazine. Kiehna has been writing about jewelry worn by the British royal family for 14 years.
The double-drop sapphire and diamond earrings were a favorite of Princess Diana's, according to Town & Country. She wore the gemstone earrings with a sapphire and pearl chocker when she visited Ottawa, Canada, in 1991, and again to the Met Gala in New York City in 1996. Both times she wore a navy gown with the earrings.
In May 1986, Princess Diana wore the earrings with a sapphire and diamond headband at a dinner hosted by Emperor Hirohito in Japan. She again donned a navy embellished gown for the occasion.
The giant sapphire was originally a brooch. It was given to Diana by the Queen Elizabeth II as a wedding present, according to People. It later became the focal point of the seven-stranded pearl necklace that Diana favored and wore several of times.
Middleton has worn another pair of sapphire and diamond earrings in recent years, which is also believed to have been previously owned by Princess Diana, but those earrings feature just one drop. She wore the single drop earrings during a visit to the Prince's Foundation in London in February 2022 and again to the annual Commonwealth Day Service at Westminster Abbey in March 2022. The Duchess of Cambridge has paired the earrings with a sapphire and diamond necklace, and wore the matching set for the first time to meet the president of Ukraine in 2020.
One sapphire piece of jewelry that Middleton always wears is her sapphire and diamond cluster engagement ring, which also belonged to her late mother-in-law. The gemstone engagement ring, which Prince William proposed with in 2010, has a central faceted oval Ceylon sapphire that is estimated to be 12 carats and is surrounded by 14 round diamonds.
According to Kiehna, there's a significance to Middleton wearing the double drop diamond and sapphire earrings on Thursday because they debunk rumors about the earrings.
For the past ten years, Middleton has only worn the smaller pair of sapphire and diamond earrings and it was widely believed that the smaller pair was made using the same pair Middleton wore for Thursday's parade. The original pair of earrings have not been seen in public since Princess Diana's death so people believed the rumor — until now.
"The sapphires in Diana's earrings are cabochons, and the sapphires in Kate's smaller earrings are faceted. The claim has now been fully debunked as Kate has now worn the double cluster earrings," said Kiehna.
Scroll below to see diamond and sapphire earrings inspired by the pair Kate Middleton wore this week.