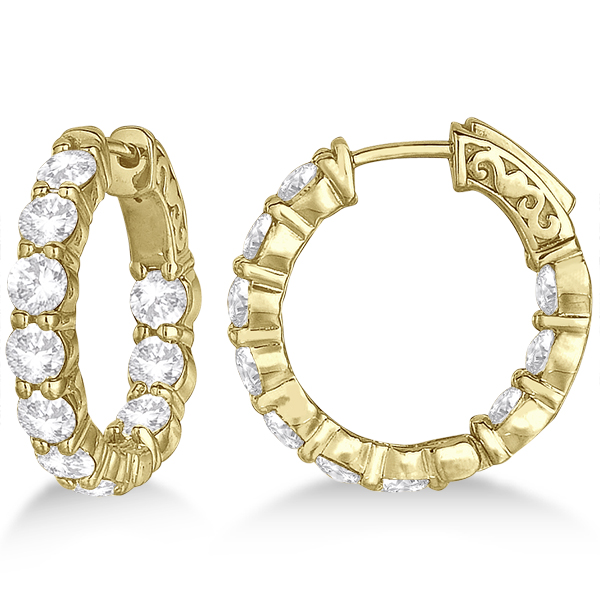 The Best Earrings to Help Accenture the Shape of Your Face
Just like different haircuts suit different face shapes, the same can be said for sunglasses, hats, and when it comes to jewelry — earrings.
Some jewelry can be very flattering, depending on the shape of your face. While many are picky in selecting what jewelry to buy and wear, most people don't focus on how an earring would look with their face. In the same way that it's good to find clothes that suits your body type and shape, it's fun to play around similarly with your jewelry to figure out which styles accentuate your facial proportions in the best way possible.
To determine your face shape, you need to examine three areas: the widest part of your face (forehead, cheeks, jaw), your jawline (round, square, pointy), and the length of your face (short or long).
Here are guidelines provided by Glamour magazine in the United Kingdom.
Round-shaped face
Someone with a round shape face has the sides of their face curve slightly outward, like a circle. Their chin is rounded and the cheekbones are the widest part of their face. Think Chrissy Teigen, Emma Stone, Elizabeth Olsen, Jennifer Lawrence, Ginnifer Goodwin and Selena Gomez.
According to Glamour, "For those with a round-shaped face, lengthening your facial silhouette – as opposed to widening it – tends to be the main objective. To achieve this it's wise to avoid rounded earrings, and focus more on long, dangling styles [like drop earrings] to create that illusion of extra length."
Square-shaped face
Do you have a square face? If so, the sides of your face are straight, your jawline is sharp and slightly angled, and your entire face is nearly as wide as it is long. So if you measured the length from your temple to where your jawline starts, it would be almost the same as the width from your left jaw to right jaw. Celebrities with square faces include Rihanna, Cameron Diaz, Angelina Jolie and Sandra Bullock.
The experts at Glamour said: "Square-shaped faces mean beautifully strong jawlines. Jewelry can help to flatter and soften your facial structure, with rounded, curved styles and flowing shapes – nothing too angular – proving the most impactful."
Oval-shaped face
People with oval faces have foreheads that are just a bit wider than their curved chin (like an upside down egg). Celebrities who have oval faces are Kelly Rowland, Olivia Munn, Kerry Washington and Blake Lively.
Glamour explained, "The oval face is the easiest to dress, with almost every style of earring suiting and flattering the proportional silhouette. It's better to avoid anything with too much of a drop in order to avoid over-elongation," but other styles, including stud earrings, huggies and hoop earrings, are great for an oval face.
Heart-shaped face
If your forehead is wider than your cheeks and you have a narrow or pointed chin, then your face is heart-shaped. Some people with a heart-shaped face may also have a widow's peak at their hairline. Celebrities who have heart-shaped faces include Sarah Hyland, Reese Witherspoon and Chloë Grace Moretz.
Glamour said "for people with a heart-shaped face balancing out the jawline with earrings that are wider at the bottom creates a super flattering look. Wide-based styles," such as teardrop earrings, "flatter the face and balance proportions perfectly."
Diamond-shaped face
Imagine drawing a line from the center of your hairline to your cheekbones and down to your chin. If it creates a diamond, you have a diamond-shaped face. Another factor is that diamond faces have pointed chins and high cheekbones. If you have a diamond-shaped face, your hairline will also be narrower than a heart-shaped face. Celebrities with this kind of face include Jennifer Lopez, Vanessa Hudgens and Ashley Greene.
Glamour explained, "For those with a diamond-shaped face – where the eyes are the widest part of the face and the forehead shape mirrors the chin – balancing out the angles can seem tricky. Wearing studs that are close to the ear works really well, while chandelier earrings that are wider at the bottom also flatter the face nicely."