---
Gemstone Jewelry
Gemstones have fascinated us for centuries. Countless legends and folklore have spun out of this fascination. Unusual powers related to mental and material wellness have been attributed to gemstones in various cultures. Read on to discover the mystical charms associated with gemstones.
Agate is considered to offer protection from bad dreams, stress and the draining of energy.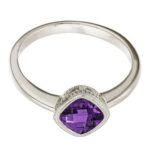 Amethyst is believed to be a stone of the mind which brings calmness, clarity and is considered useful to combat addictions.
Aquamarine is associated with release of anxiety and prevent seasickness.
Citrine is thought to promote optimism, attract abundance and wealth.
Diamond was worn as a detoxification tool as it is said to protect from poison.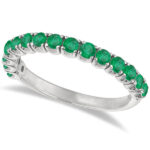 Emerald was traditionally believed to aid fertility, improve eyesight and relieve insomnia.
Garnet is believed to stimulate the senses, increase vitality and stamina.
Jade is traditionally thought to bring wealth, prosperity and bountiful harvest.
Black onyx is said to repel negativity in self and others.
Opals were thought to promote imagination, dreams and healing.
Peridot is believed to help understand relationships and alleviate negative emotions.
Ruby is famously known as a protector from misfortune and bad health and a promoter of vitality and leadership skills.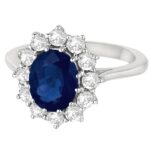 Sapphire has been long associated to dispel stress, elevate mood, bring peace and happiness.
Topaz is believed to balance emotions and increase mental clarity.
Turquoise is believed to attract money, success and love and is a stone of friendship in many cultures.

About Allurez
Allurez is the premier designer and retailer of high quality fine jewelry with a brand name known to royals as well as to the rich and famous. We are committed to providing you with the largest and the finest selection of engagement rings, wedding bands, bridal jewelry, fine fashion jewelry, and certified loose diamonds. Go ahead, browse our store, and find your perfect jewel!