---
Anniversary Ideas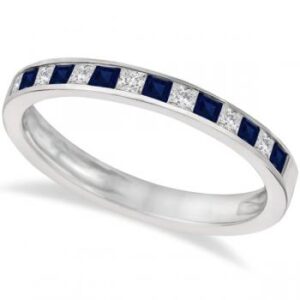 Beautiful anniversary gifts are one of the most interesting options to make the celebration all the more special for overjoyed spouses. The tradition of recognizing each year of wedlock in accordance with the uniqueness of specific gemstones has been followed since centuries. Jewelry and wedding forever go hand in hand. Hence, to make your marriage an everlasting journey and make it successful for the forthcoming years, there is no better way to spell love than surprising your beloved with anniversary jewelry flaunting gemstones representing each year. Every anniversary stone has its own significance. The following list of gemstones corresponds to each year of the wedding anniversary:
First: Freshwater Pearl, Gold Jewelry
Second: Rose Quartz, Garnet
Third: Crystal
Fourth: Amethyst, Blue Topaz
Fifth: Sapphire; (Blue sapphire anniversary band or pink sapphire anniversary ring)
Sixth: Garnet, Amethyst
Seventh: Onyx
Eighth: Tourmaline
Ninth: Tiger Eye, Lapis Lazuli
Tenth: Diamond (rings), Black Onyx
Eleventh: Turquoise, Hematite
Twelfth: Agate; Pearls, Colored Gems
Thirteenth: Citrine
Fourteenth: Moss agate
Sixteenth: Aquamarine and Peridot
Seventeenth: Amethyst and Citrine
Eighteenth: Opal
Nineteenth: Aquamarine and Topaz
Twentieth: Emerald (Anniversary Ring)
Twenty-first: Lolite
Twenty-second: Spinel
Twenty- third: Sapphire, Imperial Topaz
Twenty-fourth: Tanzanite
Twenty-fifth: Silver
Fiftieth: Crystal
In these modern times, the celebration of marriage has taken a new turn with weddings going south in numerous cases. However, you can never go wrong with a gorgeous token of love appreciating your spouse's efficiency, compassion, beauty, that at the same time expresses how much you are enchanted with her.
With so many gifting options for wedding anniversary flooding the market, you can always innovate and create original gifting idea for your partner. Jewelry remains one of the most favored gifts for wives and you can give a twist to the traditional notion of jewelries by astonishing her with a romantic gemstone corresponding to the year of celebration. A gemstone solitaire or a gemstone studded necklace or bracelet is attractive as well as ingenious, at the same time.
Instead of sticking to the regular gifting options, bring in some variation and spice to the celebrations. Surprising her with a solitaire on a night out for a candle lit dinner is enough to sweep her off her feet all over again. Usher in the charm, amazement, and zing into your relationship and make it an everlasting celebration of love, warmth, and care. There are plethora of online retailers and traditional jeweler that offer gemstones at a reasonable price and in a wide variety of design. However, ensure that you are purchasing only the genuine stones and jewelries from the authentic stores.
Here at Allurez, we only use 100 percent natural and real stones and never lab treated/enhanced or fake stones.

About Allurez
Allurez is the premier designer and retailer of high quality fine jewelry with a brand name known to royals as well as to the rich and famous. We are committed to providing you with the largest and the finest selection of engagement rings, wedding bands, bridal jewelry, fine fashion jewelry, and certified loose diamonds. Go ahead, browse our store, and find your perfect jewel!