---
Anniversary Ideas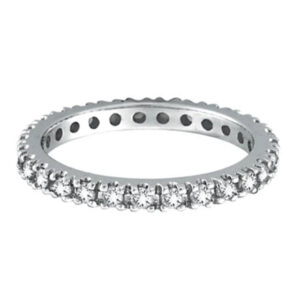 Whenever that special day of the year rolls around for both you and your beloved, already having a gift idea in mind becomes a great and highly favorable assess.  If you do not have something specific picked out and pre-packaged for your true love, there is no need to fret though.  Jewelry itself is always a very popular and likeable option.  However, rings in particular can be truly helpful in expressing your love and excitement over the past you two have shared and the future that is yet to come.  Which lovely and stylish band should you choose though?  For anniversary occasions a few rings made just for such celebrations really stand out.
An anniversary ring should really be a physical manifestation of all the times and emotions you have shared as a couple while being a promise for the future as well.  Since diamonds are the gemstone of choice when searching for a sparkling representation of that message, a diamond anniversary ring can really do the trick.  Bringing a sense of style and class to any piece of jewelry, the diamond is the only stone to embrace high fashion and forever togetherness to such an immense capacity.  Therefore, an eternity diamond ring which features a beautiful metallic band that is completely surrounded with a never-ending row of perfectly shaped diamonds made to fit against each other is a spectacular anniversary gift as it can ideally fit right next to a wedding ring without taking away from the prior band's elegance.  If you feel that your soul mate would prefer a ring that stands out a bit more rather than blending into previously attained bands, a pave diamond ring will be your solution as it focuses on having as little amount of metal as possible so that the centerpiece, large cut gemstone really pops.  Adding other gems to the diamonds of your choice can also make for a rather unique anniversary ring.  A sapphire and diamond ring looks wonderful on anyone, and both stones work together to make the other shine and sparkle brighter just the way you do as a couple.

About Allurez
Allurez is the premier designer and retailer of high quality fine jewelry with a brand name known to royals as well as to the rich and famous. We are committed to providing you with the largest and the finest selection of engagement rings, wedding bands, bridal jewelry, fine fashion jewelry, and certified loose diamonds. Go ahead, browse our store, and find your perfect jewel!