---
Wedding Bands
Allurez is so lucky to be a part of some of the most amazing wedding stories. We are so proud to be the symbol of ever-lasting love for so many beautiful couples.
When groom, Kevin, proposed to bride, Sarah, he chose a ruby and diamond ring. Sarah wanted to match it with an equally beautiful wedding band. In Sarah's words- "I was so excited when I found my ring through Allurez. I love that it is guaranteed authentic and conflict-free. I wear it proudly and will continue for the rest of my life. Thank-you!"
Allurez specializes in gemstone wedding bands and is proud to carry only the highest quality gems to perfectly complement and highlight engagement rings. The gemstone wedding bands are unique to Allurez and are one of our most popular sellers of the 2016 wedding season.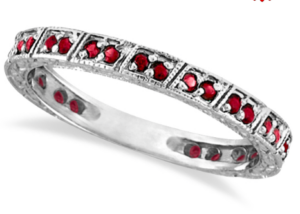 Sarah and Kevin wed on July 2nd at the Astor Theatre in her hometown of Liverpool Nova Scotia. Sarah was adorned with a Ruby and 14k White Gold Wedding Band from Allurez. The Astor Theatre is an 1800s opera house which Sarah had performed at countless times growing up. The theme was, as Sarah described, "basically: Fun!" Sarah further described how they chose their colors for the wedding, "We chose our colors based on our birthstones. Ruby for me(Sarah), Sapphire for Kevin and Amethyst representing a combination of the two and coincidentally for the month we got engaged!"
The day was filled with entertainment, laughter, dancing, and whimsical surprises.
Before the the ceremony there was a performance of an excerpt from a play Sarah directed a few years ago. After the ceremony, the couple surprised their guests with a marching band (The Mersey Band) which blocked off the whole street
and paraded them to their reception venue at Lanes Privateer Inn, just 500 meters away.
At the reception, guests enjoyed Nova Scotia specialties such as, mussels, planked salmon, and Digby scallops. To drink, they kept it local as well, toasting to favorites such as, Jost Tidal Bay wine, exclusive to Nova Scotia, and Hell Bay, a local craft beer from just down the street. Lastly, it must not go unmentioned, the
couples playful use of Simpsons' quotes throughout the wedding which surely shaped the night into one truly representative of Sarah and Kevin.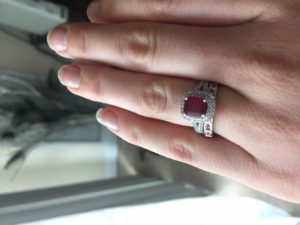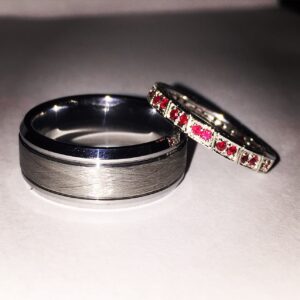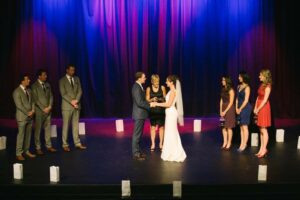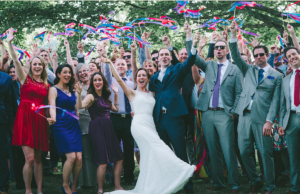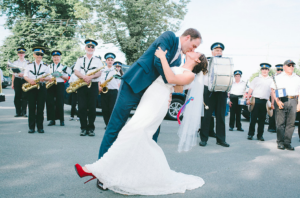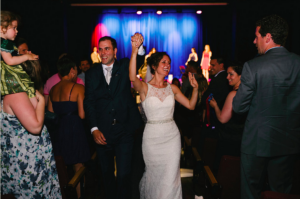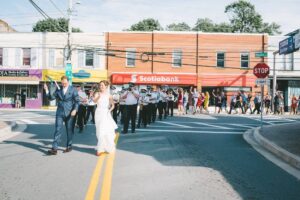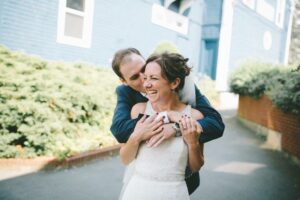 All photography from the wedding was by the phenomenal Callen Singer Photography.