---
Designer Jewelry / Rings / Unique Jewelry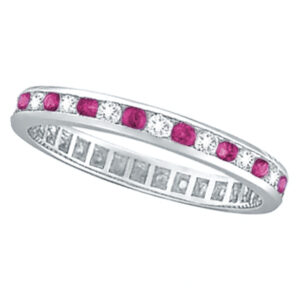 Girls love their jewels and they definitely love their pinks. And if these two are blended well, girls will surely love that cocktail. Pink sapphire is pretty rare and precious. Most of us knew that sapphires come in only one hue and that is blue. However, we were happy to learn that we were wrong. Sapphire that comes in any color other than blue is known as a Fancy Sapphire. Pink sapphire ring is definitely a fancy jewelry that anyone would like to possess.
Pink sapphire studded platinum ring will certainly add glamour, sophistication and a feminine touch to your persona. This beauty will surely draw attention and appreciation from all quarters. If you love to experiment with various jewelry designs and different gemstones, it is a good idea to combine pink sapphires with diamonds. The rosy hues of sapphire will beautifully complement the transparent shine of diamonds. And there is no better way to understand the fruitfulness of this amazing mishmash than buying you a pink sapphire and diamond band.
If you are a man and want to surprise your girlfriend with an unexpected proposal, this gorgeous band will absolutely do the trick. This ring can also be an excellent Valentine's Day gifting option. The magnificence, beauty and transparency of pink sapphires make it a close competitor of diamonds.
But if you are a diehard diamond aficionado and feel really reluctant to mix your jewels up, it is a good idea to invest in a pink sapphire band. A pink sapphire band is quite girly and pretty. You can never go wrong with this one if you combine them with your evening dress.
If you decide to get your pink sapphire bands 'tailored' to your fancy, let your imagination run wild. You can combine the pink sapphires with the blue or yellow ones. Undoubtedly, your band will make statements and just as they say, 'neighbor's envy, owner's pride'.
If you are planning to lend a touch of feminine elegance to your outfit, there is no better way than accessorizing with pink sapphire jewelry. It will turn heads and add magnificence to your looks.

About Allurez
Allurez is the premier designer and retailer of high quality fine jewelry with a brand name known to royals as well as to the rich and famous. We are committed to providing you with the largest and the finest selection of engagement rings, wedding bands, bridal jewelry, fine fashion jewelry, and certified loose diamonds. Go ahead, browse our store, and find your perfect jewel!