---
Designer Jewelry / Gift Ideas / Rings / Unique Jewelry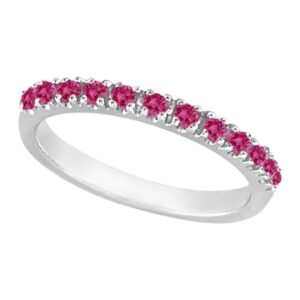 Think pink, think girls! Most women starts loving this soft and sweet color from their childhood and as we all know, love only grows with the years. And if there is a combination of pink and precious gem stones, women will surely have their way to grab that piece of magnificence. Even a few years back we did not know that common gems like diamond and sapphires existed in any color other than white and blue. However, both of these jewels can be found in the merry color of pink. If you have been planning to get an exceptional piece of jewelry, it is a good idea to invest in a pink sapphire ring.

But, if you are ready to go the whole hog and empower yourself with an expensive creation, look no further than a pink sapphire and diamond band. This unique masterpiece can be easily found in any popular store like Tiffany's. If you want to lay your hands on this pretty band, be ready to shell out a fortune for it. This statement piece can come on a base of platinum, the common 'golden' gold or white gold. The band can be created on a single ring or a stack of rings. There is no better way to gauge the beauty of the band unless you witness it from close counters. Therefore, waste no time and visit your nearest store to take a keen look at this beauty.

On the other hand, if you are one of those diehard sapphire devotees and hate to mix your jewels, a pink sapphire band is definitely a good bet for you. This sapphire band is exquisite and very girly. A big chunk of a solitaire pink diamond on a platinum band will surely turn heads in any party. The band is also another option to combine it as a statement piece with evening gown. You will turn out to be the talk point for that evening.

About Allurez
Allurez is the premier designer and retailer of high quality fine jewelry with a brand name known to royals as well as to the rich and famous. We are committed to providing you with the largest and the finest selection of engagement rings, wedding bands, bridal jewelry, fine fashion jewelry, and certified loose diamonds. Go ahead, browse our store, and find your perfect jewel!