---
Birthstone Jewelry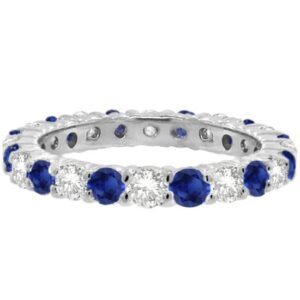 Rings are the most common form of jewelry, yet they are the premier trend setters in the industry. A stunning ring will make a statement. Though, if the ring is seriously trendy be ready for that particular design or gem to become a hit in the current or upcoming season. Some of the most popular metals for rings are the more traditional platinum and various golds. These metals are simply awesome and combined with a glamorous gem or multitude of gemstones, they will definitely become the 'it' piece of jewelry for both the glitterati, and the everyday jewelry wearer. Sapphire has been the favorite precious gemstone choice for jewelry since time immemorial. Jewelry aficionados across the world, including historic and mythic characters, have always incorporated this gleaming and mystic gemstone into their ornaments.
Sapphire rings are a particularly hot trend on the red carpet. Some of our most beautiful and elegant celebrities have turned heads with their oh-so-sublime sapphire rings. Sapphire, over the years, has been elevated to cult status and has never failed to regale with its azure glimmer. Yet, many novice jewelry buyers don't sapphire comes in a wide range of colors, including yellow! However, the azure blue has become synonymous with the stone for its exclusivity and uniqueness. Sapphire has been ruling the fashion circuit for quite a long time and over the years; it has made numerous appearances in fashion seasons. With their tremendous popularity, sapphire rings are set to become the rage of December.
This winter's collection of sapphire rings are ready to make a splash in the market. Keeping with this upcoming trend, famous and reputable jewelers – retail, as well as online – are currently showcasing their wide assortment of sapphire jewelry collections. Sapphire rings come in a wide range of shades yet blue has remained the most popular. This gemstone oozes with charisma, individuality, sophistication, and glamor. With a huge princess-cut sapphire ring on your hand, you will never fail to turn heads, and are sure to receive loads of compliments from your friends! If you are planning to become the talk of the town in this merry season, it is a good idea to pamper yourself with a sapphire ring.
To get the best deal for your investment, ensure that you check the opaqueness, the size and the cut of the stone. Make sure that you receive a certificate of authenticity. Voila! Now go and indulge in a sapphire ring.
If sapphire jewelry is your favorite, shop online with us at Allurez.com. We carry a full line of sapphire rings and jewelry. You can trust us because, at Allurez, we only sells natural, genuine and untreated stones. None of our stones are artificial or lab created. If you would like to know more about Allurez, visit us at: http://www.Allurez.com.

About Allurez
Allurez is the premier designer and retailer of high quality fine jewelry with a brand name known to royals as well as to the rich and famous. We are committed to providing you with the largest and the finest selection of engagement rings, wedding bands, bridal jewelry, fine fashion jewelry, and certified loose diamonds. Go ahead, browse our store, and find your perfect jewel!