---
Unique Jewelry
The Etruscans were an ancient civilization that inhabited the northwestern portion of Italy, now known as Tuscany, until they were assimilated into the Roman Republic during the first century before the Common Era.  The origins of this little known culture have been lost to time since they were so easily pulled into the fold of the Roman Empire during its early stages of take overs, but the fact they were remembered at all in spite of being so close to the Romans is a major feat.  The civilization itself was not the oldest, greatest, biggest, or most warlike.  However, the Etruscan culture holds a very firm place in our modern imaginations as many people have at least heard of these unique peoples.  There are two primary reasons for this endurance through such a long time—their unique language and their dazzling jewelry.  The influence of Etruscan jewelry spread as far as the Roman Empire itself since the Romans fell in love with it.  Modern jewelry designers cannot escape the simple yet still complex beauty of Etruscan adornment styles.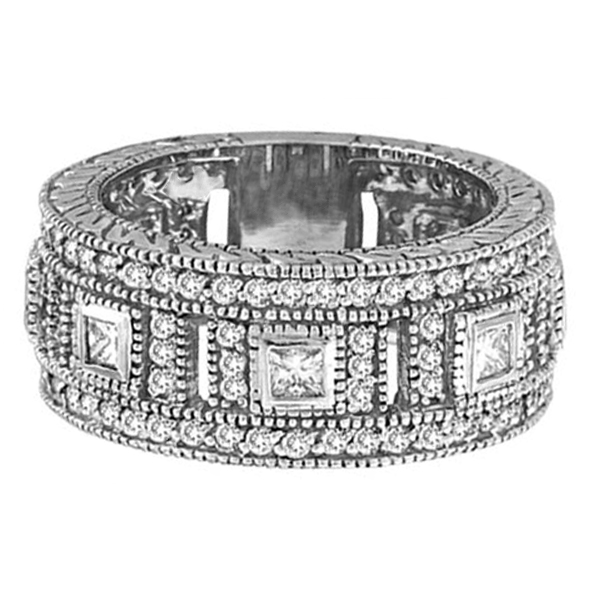 Some present day jewelers have taken on the difficult task of making straightforward reproductions from Etruscan museum jewelry pieces—going all the way out to create handmade pieces out of silver or gold with frequent usage of the gemstone amber.  Fine jewelry designers like to draw inspiration from these ancient pieces.  Etruscan rings in particular are a very great way to take these styles and modify them in a modern way.   The bands of these newly renovated pieces of jewelry keep to many ancient traditions such as having wider bands so that more intricate designs can be included on the ring.  Diamond Etruscan rings tend to place multiple diamonds along the ring itself to create a special and beautiful piece.  The historical feel of the band can even make for a truly unique wedding band for a very special representation of love for each other.

About Allurez
Allurez is the premier designer and retailer of high quality fine jewelry with a brand name known to royals as well as to the rich and famous. We are committed to providing you with the largest and the finest selection of engagement rings, wedding bands, bridal jewelry, fine fashion jewelry, and certified loose diamonds. Go ahead, browse our store, and find your perfect jewel!