---
Birthstone Jewelry
When you hold a precious opal up to the light, it can display an infinite parade of colors. Glittering reds, blues, yellows, whites, pinks and purples can dazzle simultaneously in front of your eyes. The variety is such that in the Middle Ages, it was believed these stones contained the curative properties of every gemstone whose color could be seen on their  reflections. It may not really have magical or medicinal benefits, but opals st
ill hold a great mystery: where do all these colors come from? It's almost like holding a rainbow in your hand!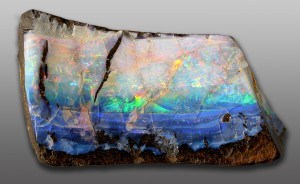 Of course, science has the answer. With the help of a powerful microscope, you can look at the gem's internal structure. While all opal is formed by hydrated silica, the silica spheres in precious opals are arranged in a tight hexagonal or cubic lattice. Just like crystal particles, they diffract the rays of light that pass through their structure.
The variety in colors depends on the size of the spheres and the distance between them. The space between two packs of silica spheres makes half the wavelength of visible light, and the spheres make the rest. For instance, the shortest distances, sizes and depths will display blue shades of light according to the electromagnetic spectrum. As distances get wider and layers get deeper, the stone begins to diffract green and yellow tones until, in the rarest examples, we can even see reds against black. Size-wise, small spheres produce blues and violets, while larger ones bring out reds and oranges. The direction (and nature) of incidental light and the angle from which you look at the stone also play a big role in the colors you can see. Just try to see what happens when you take a flash photograph of a genuine precious opal!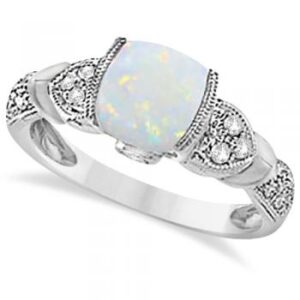 This phenomenon is known as "play of color" or iridescence. Many people wrongly call it "opalescence", a property that refers instead to the turbid and milky aspect of common opal. Known as "potch" in the mining scene, common opal does not show any play of color. Because they are less pure than precious opals and can contain materials including resins, wood and even shells, light can't travel through them as easily as it could.
If you are a gemstone collector, keep this information in mind. Play of color is the easiest way to find out how rare and pure your stone is. If you didn't understand this small science lecture, don't worry: just go for the cute iridescent opals and you'll be fine.
You can find opal jewelry at Allurez.com 

About Allurez
Allurez is the premier designer and retailer of high quality fine jewelry with a brand name known to royals as well as to the rich and famous. We are committed to providing you with the largest and the finest selection of engagement rings, wedding bands, bridal jewelry, fine fashion jewelry, and certified loose diamonds. Go ahead, browse our store, and find your perfect jewel!