---
Jewelry Tips
It's new, it's shiny and it's yours. A new piece of jewelry, a prized valuable bauble – they  make you bubble with excitement, pride and joy. From the first time you wear that new diamond necklace, to the umpteenth time you clip on your gemstone earrings, the care you give each piece of fine jewelry is ultra-important.
Now that you've spent the time selecting and purchasing your jewelry, learn how to keep it looking its best with these simple jewelry care instructions
Jewelry Storage
Prevent boo-boos by storing your jewelry in a fabric lined box. Be it a large jewelry box, or an individual case, the best way to avoid unnecessary scratching starts with the right case. If you want even more protection, wrap each piece of jewelry separately in tissue paper before storing it. And, of course, be sure to keep all laboratory reports in a safe, separate location for security and insurance purposes.
Jewelry Wearing NO-NO'S
You may like hand lotion, make-up, hair spray and perfume…but your jewelry doesn't. Take extra care when applying lotion, cosmetics, hairspray and perfume. It's best if you put these on before accessorizing with jewelry. And, when removing your jewelry, be sure to use a soft cloth to remove oils and perspiration which can have an adverse effect on jewelry.
Avoid wearing fine jewelry when doing physical work, such as cleaning (including dish washing), gardening or exercising.
Cleaning products are especially hard on jewelry settings and stones, as is the chlorine in swimming pools. Also avoid bathing and showering with your jewelry on- soap scum can build up on the jewelry, making it appear dull.
Cleaning Your Jewelry
Cleaning time can actually be a very dangerous time for your precious jewelry, especially if you do it in precarious spaces. Never clean your jewelry near the sink- you don't want it falling down the drain! Soaps and skin oils can build up on jewelry, causing them to look dull, so it's best to clean your jewelry often.
Cleaning Gold, Silver and Platinum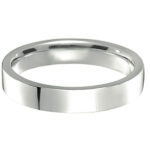 Keep your metal jewelry in tip-top shape. Gold, silver and platinum can be easily cleaned and made shiny with a jewelry polishing cloth. Every 24 months or so, white gold should be re-plated, platinum re-polished and prongs re-tipped as necessary. Have a professional clean and inspect your jewelry for worn mountings, loose prongs and general condition at least once per year.
Cleaning Diamonds/Sapphires/Rubies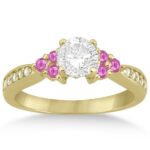 You didn't buy an expensive diamond or gemstone just to let it get dull on you- keep your bling as shiny as possible with routine cleaning. Soak diamond, sapphire or ruby jewelry in a warm solution of mild liquid detergent. Add just a touch of ammonia and water (the ammonia removes films and adds sparkle). Swish the items around in the water. Use a soft brush to remove dirt- a worn out toothbrush is fine. Rinse with warm water and dry with a lint free cloth. You can also use a blow-dryer to dry the jewelry.
Cleaning Emeralds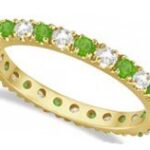 When it comes to cleaning, emeralds are a special breed due to the fact that they are oiled. Because many emeralds contain fractures, heat and light can damage them, and therefore steam and ultrasonic cleaning is not recommended. Clean emeralds by soaking in warm soapy water and gently scrubbing. Only soak the emeralds for the minimal amount of time it takes to get them clean. Emeralds should not be cleaned more than a few times per year, and need to be re-oiled at a jeweler's every couple of years. Hand soap, dish washing soap, and Woolite are ideal cleaners for emerald. Traditional "jewelry cleaner" solvents are not- they are too harsh for the emeralds and incompatible with the emerald's oil treatment.
Cleaning Opaque Gemstones
Just because it's a rock doesn't mean you can treat it any which way. Be extra careful with opaque gemstones such as opals, lapis, turquoise and malachite. Use only a moist cloth to gently wipe them clean. Opals may easily become brittle and if stored too dry or exposed to heat over a longer period of time, Opals will show fissures and their play of color will become paler. Opal jewelry should be worn as often as possible, so the gemstone will receive the needed humidity from the air and from the skin of its wearer.
Cleaning Pearls
That oyster that made your pearl didn't secrete years of nacre just for you to scrap it off by carelessly dropping them on the nightstand! Pearls are very fragile and need to be treated with extra care, as they can easily be scratched. Wearing your pearl jewelry often allows your body's natural oils to keep them lustrous. As soon as you take off your pearl jewelry, wipe them down with a soft, lint-free cloth. Clean them in a solution of mild soap and water. Depending on how often you wear them, pearls need to be re-strung every 3-5 years. Store each piece in a soft bag.
In closing remember, the more care you give to your jewelry, the more jewelry you will pass down for future generations to care for. The more it shines, the better you look and the prouder you can feel of your investment.

About Allurez
Allurez is the premier designer and retailer of high quality fine jewelry with a brand name known to royals as well as to the rich and famous. We are committed to providing you with the largest and the finest selection of engagement rings, wedding bands, bridal jewelry, fine fashion jewelry, and certified loose diamonds. Go ahead, browse our store, and find your perfect jewel!