---
Jewelry Tips / Necklaces
Trying to find the perfect necklace for your shape face? What about your height? Many factors need to be considered. But once you find it, the right necklace creates the perfect outfit and just the right fashion statement.
Learn more with the necklace size chart below to: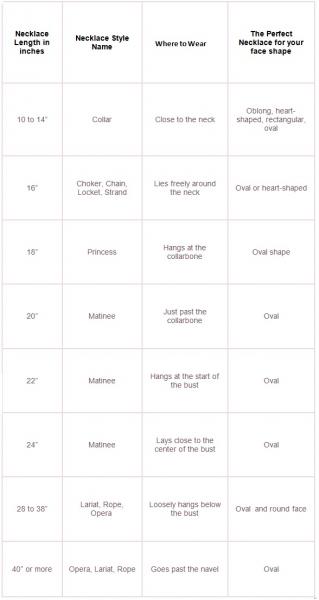 Face Shapes
While oval shaped faces can wear any size necklaces, different shaped faces look best with more specific styles including:
Heart-shaped, rectangular or oblong faces usually look best with shorter necklaces that help soften sharp and elongated features.
If you have a round face, long necklace may be your best option since they help lengthen your jaw line.
Height Matters
If you're on the short side, it's best to stick to the collar, princess necklace or choker style.
The taller you are, usually the longer the necklace can be If you're tall, go for the lariat style necklace or the classic opera length.  If you're between 5'4" to 5'7", you're in luck, any length necklace should work great!
The Art of Necklace Layering
Looking for a fun way to show off your unique style?  Try layering. Experiment with varying sizes to get the perfect look. For a minimalist style try thinner chains, 2 or 3 should work with varying lengths between 10 to 18" in length. For a louder, bolder look try chunky necklaces together, stacked to create real dimension and pizzazz.
Accentuate your own style and compliment your face and body type with the perfect necklace, or necklaces. Go to town and create a style that's yours alone.
When it comes to wearing necklaces, there are no rules…just guidelines. Experiment with different lengths and styles to find the ones that work best for you!

About Allurez
Allurez is the premier designer and retailer of high quality fine jewelry with a brand name known to royals as well as to the rich and famous. We are committed to providing you with the largest and the finest selection of engagement rings, wedding bands, bridal jewelry, fine fashion jewelry, and certified loose diamonds. Go ahead, browse our store, and find your perfect jewel!