---
Gemstone Jewelry
Bet you knew that garnets are the January birthstone and are given to commemorate the 2nd wedding anniversary. Did you also know that a piece of garnet jewelry makes a great gift to profess your loyalty and affection with? Now read on for some interesting, lesser known, fun facts about garnets.
Luscious like Pomegranate
The most common color of the garnet gemstone is deep red. It's named so, due to its color and shape, after the Greek word 'granatum,' which means seed of pomegranate.
Garnets are true grit
Garnet coated sandpaper is used in woodworking due to the gemstone's natural abrasive property. Commercial production of garnet coated sandpaper was started by Henry Hudson Barton of Barton Mines in 1878.
Garnet Types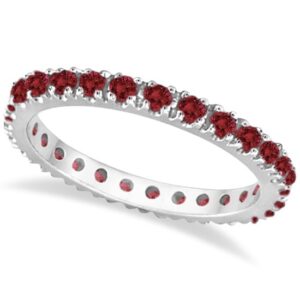 Garnet comes in six types that are used for gemstones: almandine, andradite, grossularite, pyrope, spessartine and uvarovite. Uvarovite, a rare, bright emerald-green color garnet is named after a Russian statesman and amateur mineral collector Count Sergei Semenovitch Uvarov. Tsavorite is another green garnet that is popularly used in jewelry.
Official State Gemstone
Bet you didn't know that many states in the U.S. have designated garnet as their official state mineral.
Idaho designated the star garnet, the dark purple color garnet
New York picked the wine red garnet
Connecticut chose almandine Garnet, the deep violet, red garnet
Vermont has the grossularite garnet, the green garnet
Coincidentally, Connecticut joined the union in January a few centuries ago, making garnets its unofficial birthstone as well!
Garnets for Life & Death
Through the ages, soldiers have carried garnets onto the battlefield to protect themselves from injury or death. Ancient Greek sailors would carry along garnet as good luck talismans, and legends abound that a garnet carbuncle fixed on the mast of Noah's Ark, provided light for its voyage.
While garnets were historically considered a handy life insurance policy, in 1892, the Hunzas in Karakoram region (In Pakistan) used garnet bullets to fight off imperial British forces. They believed garnet bullets were more effective than lead bullets!
Garnets for Good Health
Garnets are believed to have healing powers that cure illnesses like heart palpitation to heart disease. Garnets are also thought to alleviate depression and ward of evil spirits.
Birthplace of Garnet
Igneous and metamorphic rock formations produce the highest quality garnets. Garnets are abundantly found in Africa, India, Brazil, Sri Lanka, Central America, South America and the United States.
However, historically, Bohemia, a region in central Europe, that's now in modern Czech Republic, was an important source of quality garnets.  Pyrope garnets, the deep, blood red garnets were abundantly found in Bohemia and were known as Bohemian garnets.

About Allurez
Allurez is the premier designer and retailer of high quality fine jewelry with a brand name known to royals as well as to the rich and famous. We are committed to providing you with the largest and the finest selection of engagement rings, wedding bands, bridal jewelry, fine fashion jewelry, and certified loose diamonds. Go ahead, browse our store, and find your perfect jewel!