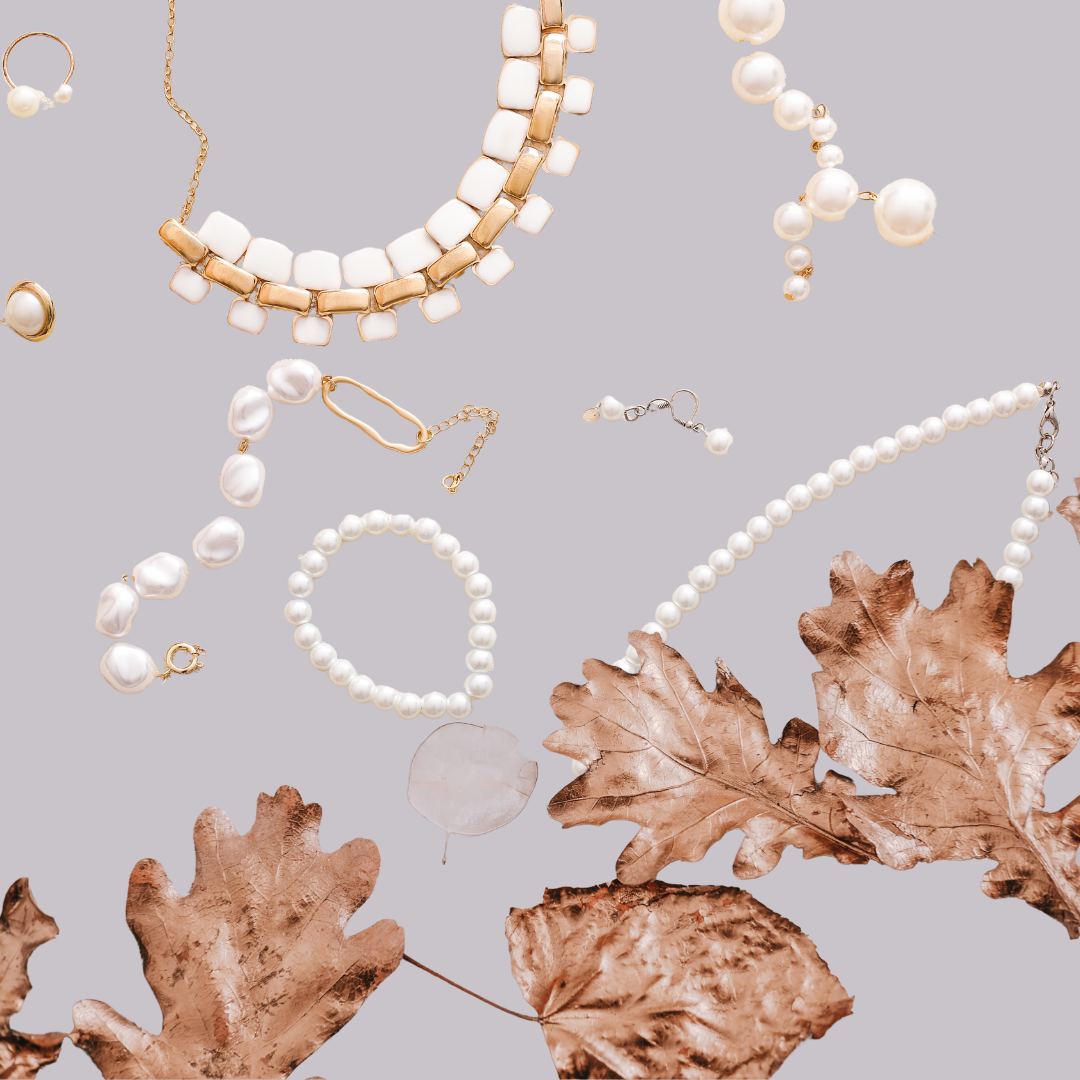 Fall 2023 Jewelry Trends
Fall is finally here. Aside from pumpkin spice, apple picking, and gorgeous foliage, the best part about fall is the fashion. Bring on all the dark jewel tones, warm nudes, and bold prints! But no fall outfit is complete without stunning accessories.
2023 Autumn jewelry trends are all about oversized earrings and pendants, chunky metal, and classic gems. Give your perfect fall outfit an upgrade with these fall jewelry pieces!
Jewelry Trend #1 Statement Earrings
It's time to turn up the volume! Fall 2023 jewelry trends call for oversized earrings that steal the focus of every outfit.
Bold Chandeliers
Iconic fashion house Bottega Veneta put bold chandelier earrings back on the fashion map. Their large drop earrings went viral, and now dangling statement earrings are a must-have item for Fall 2023.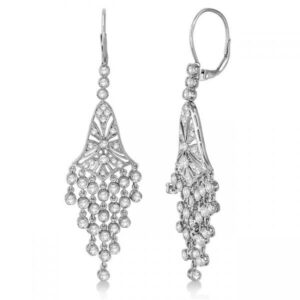 Add major sparkle to your outfit with these impressive Diamond Bezel-Set Chandelier Earrings. Eighty-two brilliant-cut diamonds are arranged in an elegant design that drops two inches to rest just above the shoulder. Add these handcrafted chandelier earrings to a simple sweater, or pair them with a stunning evening look.
Mismatched Earrings
Asymmetry continues to be in style for Fall 2023. Give each of your ears a unique look with a mismatched pair of earrings. Unlikely pairs tell a story from ear to ear like this romantic, Cupid-inspired set.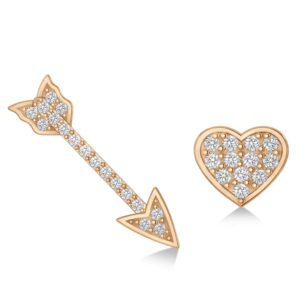 Heart & Arrow Diamond Mismatched Earrings are available in 14k white and rose gold. Each stud has a gorgeous diamond inlay, making this set both charming and fashion-forward.
Extra-Large Studs
Studs are the perfect everyday jewelry piece. Available in a variety of styles and gemstones, there is a statement stud earring for every preference. For example, these Oval Blue Sapphire & Diamond Accented Earrings feature the trendy XL design for Fall 2023.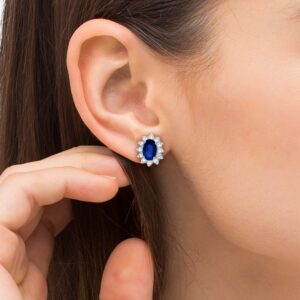 A ring worn by Lady Diana inspired these elegant studs that include an oval-cut sapphire stone surrounded by a halo of 24 diamonds. Extra-large studs sparkle from every angle and complement everything from a power suit to a cocktail dress.
Massive Hoops
The resurgence of 90's and early 2000s fashion has put oversized hoop earrings back into the spotlight. Whether you choose a chunky style or an elegant diamond-encased loop, hoop earrings can be easily worn from day to night.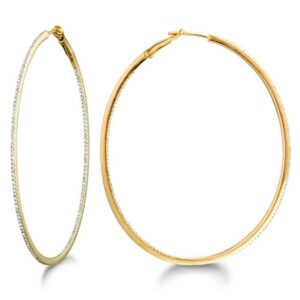 The Inside-Outside Pave Oval Diamond Hoop Earrings give the illusion of a continuous circle of diamonds. These simple hoops elegantly fall along the side of the face and instantly provide a touch of glam to a casual jeans and sweater combo. Available in classic yellow gold and contemporary 14k white gold, there is a version of these oversized hoops for every fashion style.
Jewelry Trend #2: Chunky Metal Bangles
Add some glitz to a classic little black dress with an on-trend chunky metal bangle. Bold metal bracelets have been a staple accessory for millennia, and this iconic symbol of strength has stolen the hearts of runway fashionistas. Whether you choose to wear a single metal bangle or stack a pile up to your elbow, there is no wrong way to wear this Fall 2023 jewelry essential.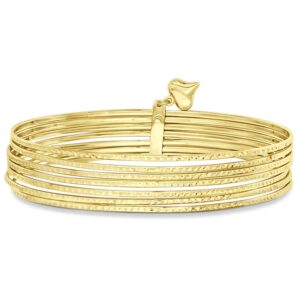 The Diamond-Cut Slip-On Seven Bangle Bracelet in 14K Yellow Gold is the easiest way to accessorize your favorite autumn outfit. The seven metal bracelets are held together with a matching gold band and heart charm. Each slim metal band features diamond-cut details that add sparkle to this piece. Wear this chunky bangle on its own or pair it with an oversized watch.
Jewelry Trend #3: Power Pearls
Pearls are making an epic comeback! As the oldest known gemstone, pearls are an iconic symbol of luxury and class. But despite their unique qualities, pearls had fallen off the fashion map for several decades. However, recently, pearls have solidified their well-deserved place in the spotlight thanks to the viral style trend, Power Pearls.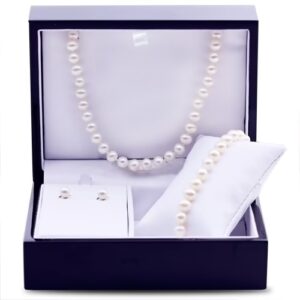 There are so many ways to wear these iridescent gems. Cover all the bases with this Freshwater Pearl Jewelry Set. This perfect pairing includes a strand necklace, bracelet, and stud earrings in cream-colored freshwater pearls.
Jewelry Trend #4: Mixed Metals
Every precious metal is beloved this fall season! A top jewelry trend for 2023 is layering gold tones. One of the most popular combinations is yellow and white gold. Stay in style by layering necklaces or bracelets in different metal colors, or keep it simple and wear a jewelry piece like this Tanzanite Diamond and Opal Ring.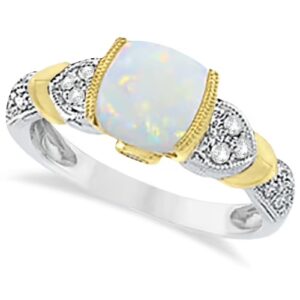 Opal is one of October's birthstones, making this ring the perfect fall jewelry item! The band is designed with white gold, while 14k yellow gold accents give the ring a vintage vibe. This particular piece is the perfect anniversary or birthday gift and doubles as an engagement ring for brides inspired by art-deco fashion.
Jewelry Trend #5: Floral Inspiration
Nature themes have a strong presence in Fall 2023 fashion trends. As a result, it is no surprise that floral jewelry designs are a top pick for autumn accessories.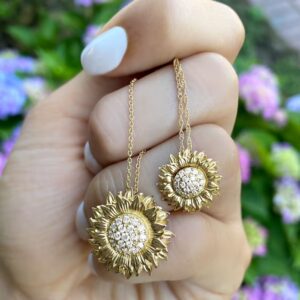 Look for jewelry pieces that feature floral pendants like the Sunflower Diamond Pendant Necklace. This vibrant necklace looks stunning in yellow gold and features intricately designed petals around a circle of pave diamonds. Layer the Sunflower necklace with other chains for a uniquely curated look.
Jewelry Trend #6: Return of the Brooch
Brooches aren't just for grandmas! Fall 2023 is all about outerwear accessories, and that includes jewelry. Pin a jeweled brooch to your favorite trench or wool coat for an elevated autumn look.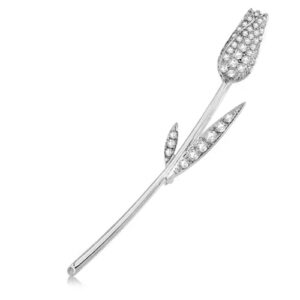 The Vintage Rose Brooch is the perfect investment piece for fall because it hits on so many 2023 jewelry trends!
Brooches are back
Outwear jewelry is a must-have
Inspired by nature
This delicately designed rose flower brooch is covered with diamonds and is an elegant addition to any suit jacket, sweater, or outerwear. Pair it with darkly colored fabrics for the ultimate pop of style.