---
Diamonds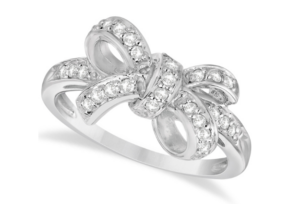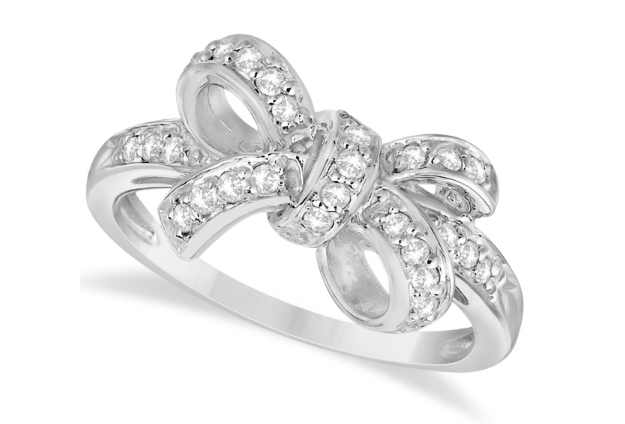 Diamond Rings: Everyday Wear
Whoever said diamond rings only need to be worn on special occasions don't know what they're saying. Obviously wedding and engagement rings are worn every day, but we're talking about stackable and fun diamond rings that you can wear on a daily basis to spice up an outfit or just to make you look a bit more glamorous as you go about your day. For example rings in funky shapes – like a diamond "X" ring with criss cross bands or an infinity loop ring – or nature-inspired rings could be fun to wear!
Stackable rings (in various colors even) are also good for everyday and colored diamond rings add a pop of color to any outfit. Royal bride-to-be Meghan Markle is often seen wearing stacking rings and to be honest, stackable rings are fairly popular among brides. According to one report in early April, the online marketplace Etsy revealed in its annual Etsy Wedding Trend Guide that the term "stacking rings" garnered over 131,000 search results and view for these pieces are up 68 percent since last year.
Another fun idea is a multi-tone (yellow gold, rose gold and white gold) Three Piece Diamond Heart Ring Set. Just like your clothes, your jewelry should speak to who you are and what your style is. Stick to classy simple rings or go a little crazy with the stones and designs. Whether you like to wear many rings at once or your more of a minimalist, whatever look you decide, don't be afraid to wear diamonds on a daily basis.
Late actress and fashion icon Elizabeth Taylor was a big fan of diamonds and had one of the most talked about jewelry collections in history. She was always seen with jewels and once said, "Big girls need big diamonds" and "you can't cry on a diamond's shoulder, and diamonds won't keep you warm at night, but they're sure fun when the sun shines." Taylor, who had a few failed marriages, also once joked, "My mother says I didn't open my eyes for eight days after I was born, but when I did, the first thing I saw was an engagement ring. I was hooked."
Diamond Engagement Rings
"Diamonds are a girl's best friend," said Marilyn Monroe, and she was right! No matter your birthstone or the pop of color some other precious stones offer, diamonds are the classic, clear choice for most women when it comes to timeless pieces of jewelry, like wedding rings and engagement rings.
Diamond rings were not the universal symbol of marriage until 1947, when the the company De Beers released an advertising campaign where they associated the diamond ring to engagement with the now-famous slogan, "Diamonds are forever." Since then, a diamond ring has become the standard ring used for a marriage proposal. Diamond rings never go out of style, they are never not "trendy" and their beauty is everlasting. Everyone looks good in diamonds, doesn't matter your age or skin color.
While diamond are the stone of choice for most engagement rings, there's a lot that goes into picking the right diamond. The process can take several months to get right. The most important part of picking a diamond engagement ring is paying attention to the 4 C's: Cut, Clarity, Carat and Color. Cut represents the shape of the diamond and describes the design of the facet. The are oval diamonds, a round stone, cushion cut, emerald cut, asscher cut stones, princess cut, radiant, pear cut, marquise, rose cut and a heart-shaped cut. Deciding on the clarity of the stone is a personal choice (it tremendously affects the price of the ring, so it depends how much you wanna spend) and a carat equals the weight, not the size, of the diamond.
If those not looking for an engagement ring, you can instead get a diamond eternity ring (in more styles that we can count) and also a diamond anniversary ring.
Sometimes there's a personal story behind the ring, and that was just the case recently for a celebrity couple. People magazine reported in early April that the fiancé of Destiny's Child singer Michelle Williams, pro-sports chaplain pastor Chad Johnson, saved up for 11 years to buy the "Say My Name" singer her 5-carat engagement ring.
"On my 30th birthday, everybody came and celebrated me. The next day, I woke up alone. I was so lonely. I had a little pity party. My personal life was lacking so much, and I was living so single," Johnson, who turns 41 in July, told the magazine. "So as a response to that moment, I opened up a ring account, and for 11 years, I put $150 into a ring account. Every month I'd put money into that account; I would just say, 'My wife's coming; this is for my wife.' I did that for 11 years."
He added, "At six, seven, eight years in, I wanted to pull that money out and spend it on a sports car!" But he didn't. He added, "When I had the moment that I knew Michelle was it, I was so excited to get that money and go buy that ring. There's so much in that ring. That's 11 years of my belief in my wife coming for me."
Diamond Ring Costs
There is no set amount when it comes to how much to spend on an engagement ring, but with all the expectations to get it right and regarding the cost of the ring, it can be overwhelming and confusing. There are also lots of different opinions on the matter.
According to a Brides.com report that cites experts, a purchaser should spend about three full months' salary on the ring. But, the report added, if the person buying the ring is "heavily in debt or concerned about job security," he or she might want to hold back a bit on the spending. The more common rule of thumb on the subject is that a person should spend about a month's salary on the ring.
The cost of a diamond ring varies depending on numerous factors but a recent survey conducted by Google Surveys, on behalf of website CreditDonkey.com, revealed that one in three respondents think engagement rings should cost less than $1,000.
More than 1,000 Americans were surveyed in the poll, in 26 percent of respondents also said they think an engagement ring should cost at least $1,000, 17.3 percent think it should cost at least $3,000, and 19 percent think it should cost more than $5,000. The survey also revealed that three out of five women don't expect a ring of more than $3,000. Only 28.5 percent of the women aged 25 to 34 that were questioned think an engagement ring should cost less than $1,000.
For those looking to save a little on the cost of a diamond ring, experts suggest checking out vintage stores (where you can sometimes find good quality rings at a fraction of the price), and focusing on the cut of the ring over the clarity. Also be cautious of local jewelry stores that can scam buyers that don't know much about diamonds or jewelry. Such stores also up the price of an item because they have to play employees, rent, security fees, and all kinds of insurance. So do your research! Another thing to keep in mind is your budget: don't put yourself in debt over the ring. Know what you can afford and what you can't.
Diamond Ring News
This is not a drill! A Costco located in Canberra, Australia is in fact selling a diamond ring for half a million Australian dollars. Sky News politics reporter Jennifer Bechwati saw the ring at the store and shared a photo of it on her Twitter page. She said the 6.55 carat solitaire ring was just sitting in "the aisle between bulk AA batteries and dustpans." The ring retails at AU $499,999.99, which comes out to USD $378,272.49. That's still a lot for a Costco purchase!
A spokesperson for Costco confirmed to Yahoo! that the diamond ring was a "WOW" item being sold in the store's jewelry department, and that similar designs are available in all nine Costco warehouse locations in Australia.
"Each one is unique to that warehouse, but in each Australian warehouse the wow item is around that price," the spokesperson said. "We pride ourselves on selling the highest quality products at the best possible price, across a huge scope of departments, including high-end jewelry."
And while some struggle to afford a diamond ring, others give it away – for free. A woman in Concord, New Hampshire donated her diamond ring to a waiter she had just met at a restaurant so he could propose to his girlfriend, The Sun reported. Following the grand gesture, the waiter right then and there proposed to his girlfriend, who was also working at the eatery.
The woman who gave up the ring, Sharon Heinemann, said, "I just did it, you know. He loved her, and he didn't have a ring." Her sister, Rita Blanchette, added, "We all were so touched by it. Sharon didn't hesitate at all. She just took the ring right off her finger."
Watch the video below to get a short lesson from National Geographic on how diamonds are formed.