---
Diamonds
A recent consumer poll found out that a fifth of women (engaged, married, divorced) were disappointed by their man's proposal. Topping the list of reasons for a proposal gone wrong is that the engagement ring was too small. If your budget is small, don't sweat. Use our bag of tricks to cheat that budget and make that diamond ring look larger.
Mind your C's
So if a proposal's been on your mind for some time, we're pretty sure you are, by now, the local expert on the 4 C's of diamond quality.
But, we bet you didn't consider this…all other things being equal, visually there's little difference between a 0.99 carat diamond and a full carat. But behind these innocuous numbers can hide a significant price difference. Diamonds in "magic sizes" – half carat, three-quarter carat, and a carat – are popular. Aim for that sweet spot lower than these "magic sizes" and you may be able to reduce that price tag.

Center Diamond Shape
Elongated shapes like the marquise, pear, oval or the right angles of the square princess cut create an illusion of a larger diamond for the same carat weight. Also princess cut stones involve minimal waste during shaping because the shape lends to the natural lines of the crystal. This translates into a better overall price for the princess shaped diamond engagement ring.
Engagement Ring Settings
Cheat your budget by picking the most efficient setting. Go for a smaller center stone in a halo setting. The smaller diamonds encircling the center rock in the halo setting spell opulence in comparison to a simple solitaire with a larger diamond. Another option to explore is the cluster setting that groups many smaller diamonds to magnify the brilliance and overall size. Another clever innovation to consider is the illusion setting where the diamond is mounted onto a mirror like plate before being set into the band, making it look larger with more brilliance.
The Sidekicks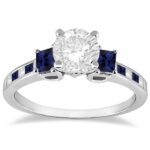 Nothing enhances your center diamond than side stones or a thin pave set diamond band. Gemstones make alluring additions to the 3 stone engagement ring too while bringing down the price. You may also consider a thin white band of pave set diamonds to accompany that smaller solitaire to create an aura of luxury minus the hefty price tag.
Bands of white
Set your diamonds in a pure white metal band in platinum or white gold to reflect the color-less diamond's brilliance to the hilt. White metal creates an optical illusion of a larger stone, in the same way mirrors lend space to a small room.

About Allurez
Allurez is the premier designer and retailer of high quality fine jewelry with a brand name known to royals as well as to the rich and famous. We are committed to providing you with the largest and the finest selection of engagement rings, wedding bands, bridal jewelry, fine fashion jewelry, and certified loose diamonds. Go ahead, browse our store, and find your perfect jewel!