---
Engagement Rings
In Hollywood, celebrity brides-to-be are wearing classic and vintage engagement rings. Some prefer white diamonds, others colored diamonds and gemstones. The bands are simple or unique, but one thing is for sure. Everyone has a different style, and they are taking the time to personalize their ring to fit their own style.
Some celebrities prefer a simple, classic ring. Singer Ciara wears a timeless emerald-cut white diamond engagement ring. Kimberly Perry, lead singer of the band Perry, also rocks this trend. Kim Kardashian is fashioned in an elegant square-cut white diamond ring. Kelly Osbourne was inspired by her father's earrings growing up and has a modern round white diamond solitaire ring.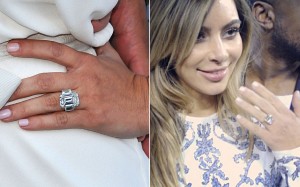 Colored diamond engagement rings have become increasingly popular. Kelly Clarkson wears a stunning canary yellow diamond. Carrie Underwood rocks a beautiful yellow diamond band with a halo of white diamonds. Mariah Carey has a flawless pink diamond emerald-cut halo ring. Holly Madison wears an extravagant cushion-cut yellow diamond surrounded by pink and yellow diamond flowers.
Vintage engagement rings inspired by the roaring 20's are showing up on the hands of celebs as well. Behati Pinsloo, Victoria's Secret model and fiancé to Maroon 5 singer Adam Levine, struts a vintage round white diamond engagement band. Scarlet Johansson took inspiration for her ring from the roaring twenties era. She wears three large round diamonds surrounded by small round diamonds in a rectangular setting. This is Fergie's style as well. She wears a white and cognac diamond cigar ring.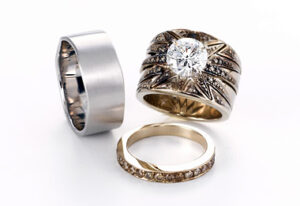 Celebrities love their gemstone rings. Princess Kate Middleton wears Prince William's Mother's oval sapphire and diamond halo ring. Elizabeth Hurley has a square-cut sapphire hugged by 2 trillion-cut white diamonds. Halle Berry wears an emerald and diamond engagement ring. Olivia Wilde rocks a round white diamond hugged by an emerald halo engagement ring. Jessica Simpson struts a ruby and pear shaped diamond ring in honor of her birthday in July.
There is even a new trend with engravings. Couples can choose to have a small graphic engraved on the inside shank of the ring. Or they can choose to have the stone itself engraved. This is sort of a secret message between the two of you.
At Allurez Jewelers you can personalize your engagement ring to fit your style. We carry diamonds, colored diamonds, moissanite, and gemstones in vintage, antique, and contemporary settings. To view our collection visit Allurez.

About Allurez
Allurez is the premier designer and retailer of high quality fine jewelry with a brand name known to royals as well as to the rich and famous. We are committed to providing you with the largest and the finest selection of engagement rings, wedding bands, bridal jewelry, fine fashion jewelry, and certified loose diamonds. Go ahead, browse our store, and find your perfect jewel!