---
Bridal Jewelry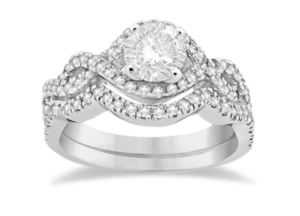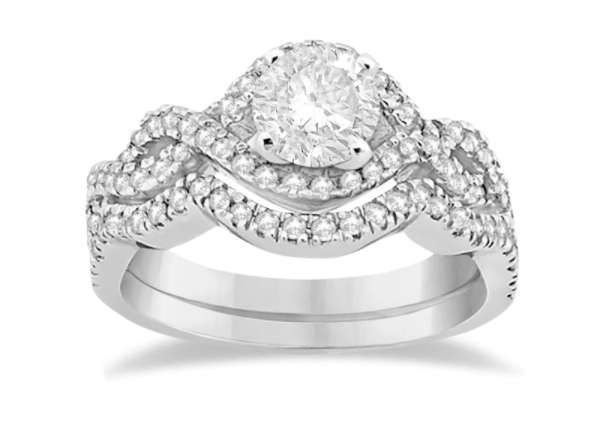 Deciding on an engagement ring style is hard enough for some people, when you have so many options to choose from, and then there's the wedding band. Many people look at it as an afterthought in the ring buying process but once you're married you'll be wearing it practically every day so it is in fact a big deal. Next, you have to make sure your two rings go well together. It all can be quite a challenge for some people.
Here's your answer: a bridal set is a combination of both an engagement ring and a wedding ring, expertly matched and created to go perfectly together. The engagement ring and the wedding ring are paired by pattern, precious metal and design. When buying a bridal set, also known as wedding ring sets, you cut out the difficult process of trying to find a separate engagement ring and wedding ring that go well together. This is a 2-in-1 that leaves you with one less thing to worry about.
First off is deciding whether you want an all diamond bridal set or if you want colored gemstones added in as well. The traditional look is to stick with all diamonds, but some people like to add a pop of color to their jewelry. Once you've decided on the stone of choice and the band (yellow gold, white gold or rose gold) you then have the fun of deciding on the style.
One super romantic option is to have a heart shape diamond engagement and wedding ring set.
Depending on your personal taste and favorites, you'll for sure be able to incorporate it somehow into your bridal set. For example if you love butterflies, heck why not get a bridal set that features a butterfly design! What's your birthstone? Or do you have a favorite color? How about adding that into the set as well? The options are endless.
Some people are all about being unique. They want an avant-garde shape for their stone, an interesting band and maybe some colored gemstones thrown in the mix. For those people, perhaps consider stones in a contrasting cut or pattern, or pick a band in the opposite metal as your engagement ring for some juxtaposition. It's your ring, you decide. Maybe pick an unexpected band to offset your stone. Or think about complimentary shapes that will look cool in contrast, or share similar design details.
Happy shopping!