---
Birthstone Jewelry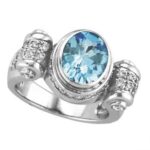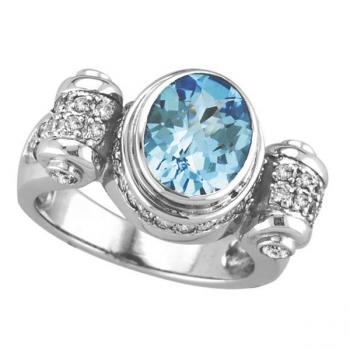 "Cool blue" is a phrase often used to describe bodies of water, but it is also an entirely apt phrase to use when speaking about blue topaz jewelry. This is even more significant or true when you realize that the gem is also known as December's birthstone – which is one of the coldest months of the year in many parts of the world.
While blue topaz is definitely a richly colored, cool blue stone, it is also extremely vibrant too. This is the reason it is used so often in a wide array of jewelry designs and birthstone jewelry.
Interestingly enough, though topaz is a somewhat common gem (available in an enormous range of color variations) the truly natural blue topaz is quite rare. Often it is the colorless or the pale topaz stones that are treated with a special heating technique in order to alter their colors into the poplar blue shades. Like so many other gemstones, the blue topaz can have a somewhat dull and lifeless appearance in its natural state, but when it has been cut and polished it can have a diamond like quality, and this frequently accounts for its popularity in all kinds of jewelry as well.
Just consider that an enormous number of blue topaz rings will also include diamonds or diamond chips because the stones all have such a remarkable luster and glimmer. This ability to pair nicely with precious gems such as diamonds accounts for the blue topaz being so frequently used in high-end, luxury, and extravagant jewelry.
For instance, many jewelry design houses are now creating very opulent blue topaz earrings that rely on the "crown" design. This usually means that there are at least two to three tiers of stones dangling down from the ear lobe, and that they will rely on stones of several sizes to make their impact.
Of course, a blue topaz diamond ring is another popular way to wear this delicately hued stone as well. In fact, birthstone rings made of large and flawlessly cut blue topaz are among the hottest jewelry and gift items available. This has to do with the beauty of the stones, but it also has to do with the trendiness of a cool or icy blue stone worn during the winter fashion season.
If you know someone with a December birthday coming up, and you want to present them with the ideal gift, why not consider one of the many blue topaz rings or the sparkling earrings that are available where the best designer jewelry is sold!

About Allurez
Allurez is the premier designer and retailer of high quality fine jewelry with a brand name known to royals as well as to the rich and famous. We are committed to providing you with the largest and the finest selection of engagement rings, wedding bands, bridal jewelry, fine fashion jewelry, and certified loose diamonds. Go ahead, browse our store, and find your perfect jewel!