---
Diamonds
Simple question…complicated answer. What is the best diamond shape….for what?  What is the best shape for your hand?  What's best for light performance? What diamond works best with a particular setting?  Unfortunately there are no definitive answers…what matters is finding the best diamond shape for you and your partner.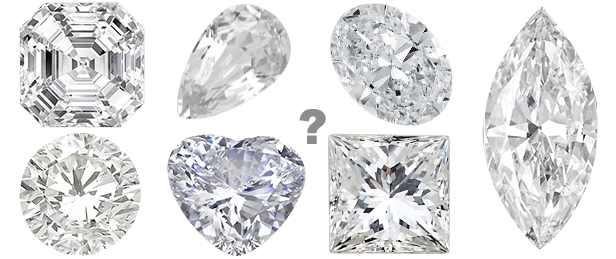 Shedding some light on diamond shapes
A complete diamond shape education section is available, explaining what the individual qualities of each particular diamond shape are. This article will focus on helping you decide what diamond shape is best for what:
What diamond shape will provide the best color?
Color is king when it comes to radiant cut diamonds. It takes the prize for best color retention thanks to their rectangular to square shape with trimmed corners.

What is the best shape for light refraction?
The beloved round shaped brilliant diamond takes the cake for providing us with more light and fire, making this shape brilliant indeed!

What shape has stood the test of time?
Again, hats off to round shape diamonds. By far, round is the most popular shape for diamond jewelry with 75% of diamonds sold today being round. Round diamonds are also considered the most versatile shape for diamond engagement rings and earring studs as well.

What will look best on my hand?
Thumbs up for marquise shapes….they make even short fingers look longer. And those who are blessed with long lean fingers tend to look amazing in princess cut diamonds.
A big round of applause for heart and round shapes to thin down a larger hand. Delicate ring settings and thinner diamond shapes work best on smaller hands.

What diamond shape makes the best investment?
The romantic in all of us wants to say it's not about intrinsic value, but the value placed on it by its owner. Truth be told, although no diamond is a bad financial decision, the more popular a shape is, the better the investment when it comes to resale.

What shape diamond looks the biggest?
The most bang for your buck winner is the marquise or pear-shaped diamond. They seem to be larger because of  their elongated appearance.

Bottom line – Let's be honest, choosing a diamond, especially for an engagement ring is one of the most important decisions of your life. Choosing the best shape diamond really comes down to personal taste. From trending halo engagement rings to trusty solitaires, the setting for, and the shape of the diamond, is completely up to you….and it can't be wrong.

About Allurez
Allurez is the premier designer and retailer of high quality fine jewelry with a brand name known to royals as well as to the rich and famous. We are committed to providing you with the largest and the finest selection of engagement rings, wedding bands, bridal jewelry, fine fashion jewelry, and certified loose diamonds. Go ahead, browse our store, and find your perfect jewel!