---
Engagement Rings
Valentine's Day: 9 Perfect Engagement Rings for Your Forever Valentine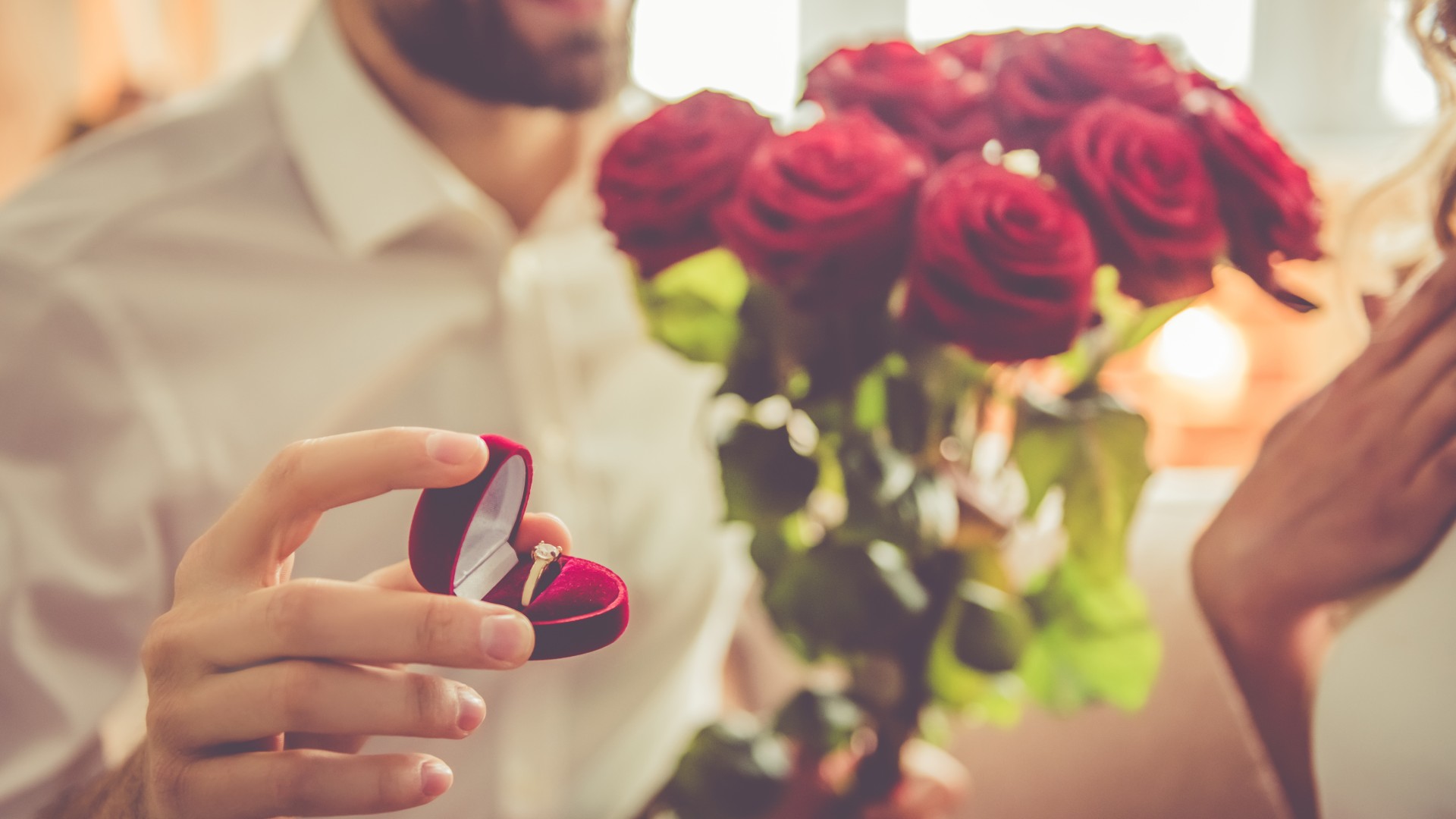 What says "Be Mine" more than popping the question? If you're looking to make the biggest of romantic gestures this Valentine's Day, the right ring in your pocket is all you need. Check out our picks for some of the perfect engagement rings for a Valentine's Day proposal below.
1. Butterfly Diamond and Pink Sapphire Engagement Ring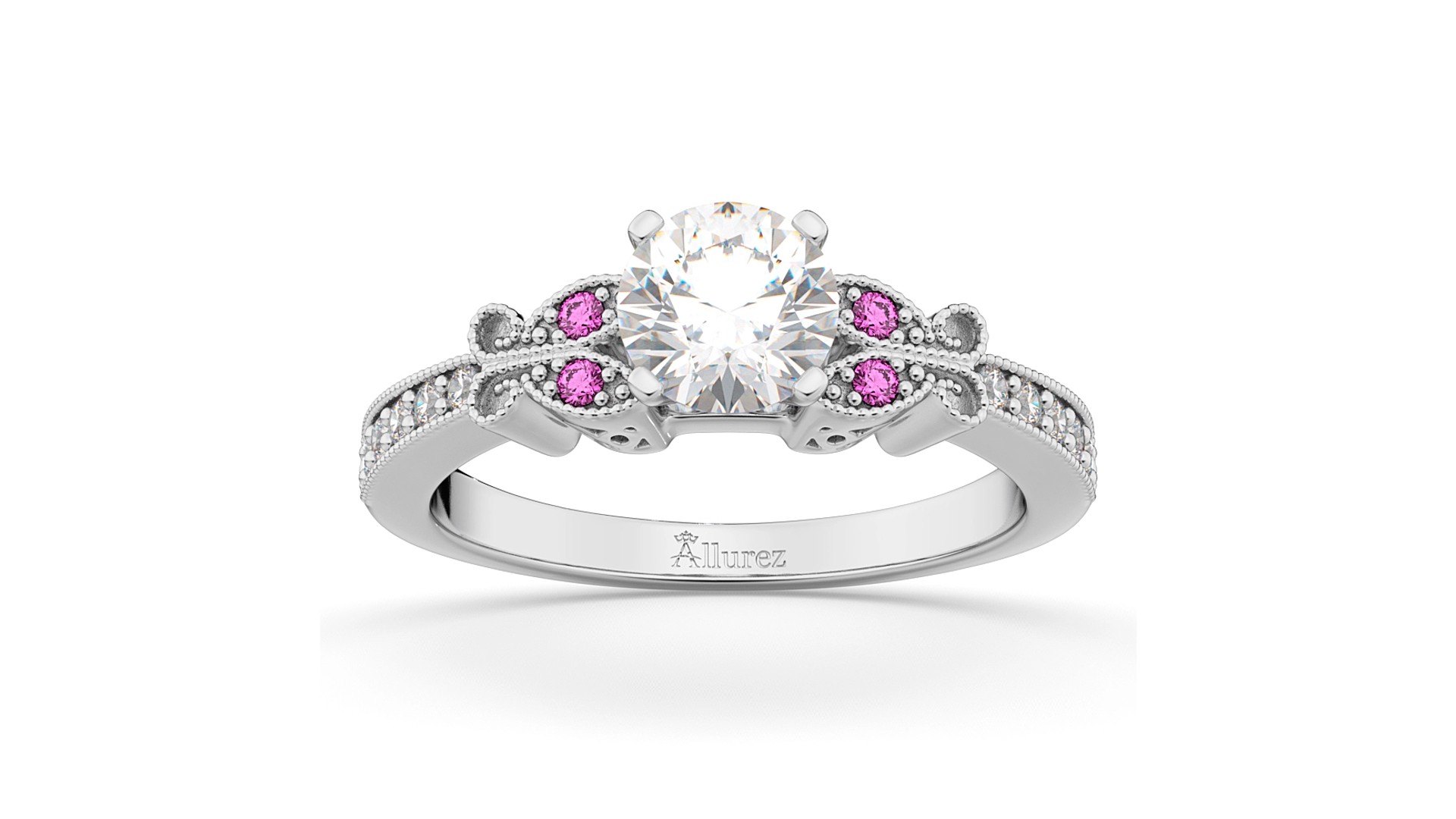 Sophisticated, sweet and everything a Valentine's Day proposal needs, this butterfly diamond and pink sapphire engagement ring features pave stones to bring more sparkle. Delicate metal and setting work create two butterflies near the rising centerpiece of the round diamond, which is set with four prongs.
This elegant ring will elicit excitement and gasps from your special someone, but she'll continue to find unique details the longer she looks, letting the adrenaline run all evening. And if pink, diamonds and white gold don't live up to your expectations for an engagement ring, you can customize the ring with metal and stone choices to ensure your darling will love it.
2. Twisted Infinity Palladium Diamond Ring With Accent Stones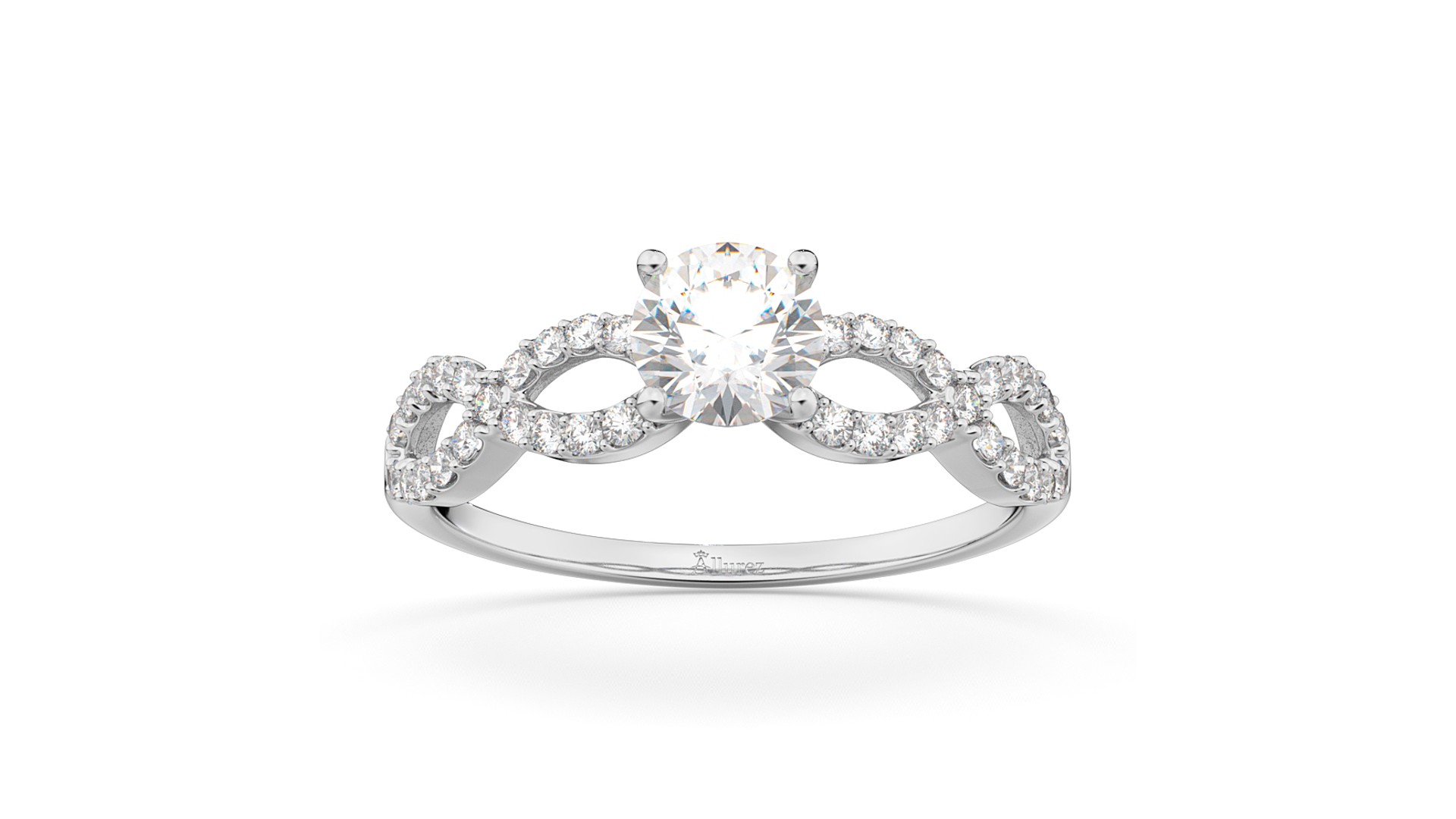 Want wow factor without too much color or the shape of butterflies on the band? We've got plenty of choices for your Valentine's Day engagement, including this twisted infinity diamond ring with accent stones.
The palladium band and around 24 diamonds set into the infinity pattern create plenty of supporting sparkle for the center stone, which shines well all on its own. Break out the fairy lights and decorate the space where you plan to ask the question in twinkling brightness, especially if you're looking at an evening proposal. You and your lover can stand in the embracing light while you bring out this lovely ring and hope for an embrace of your own.
3. Channel Diamond and Ruby Engagement Ring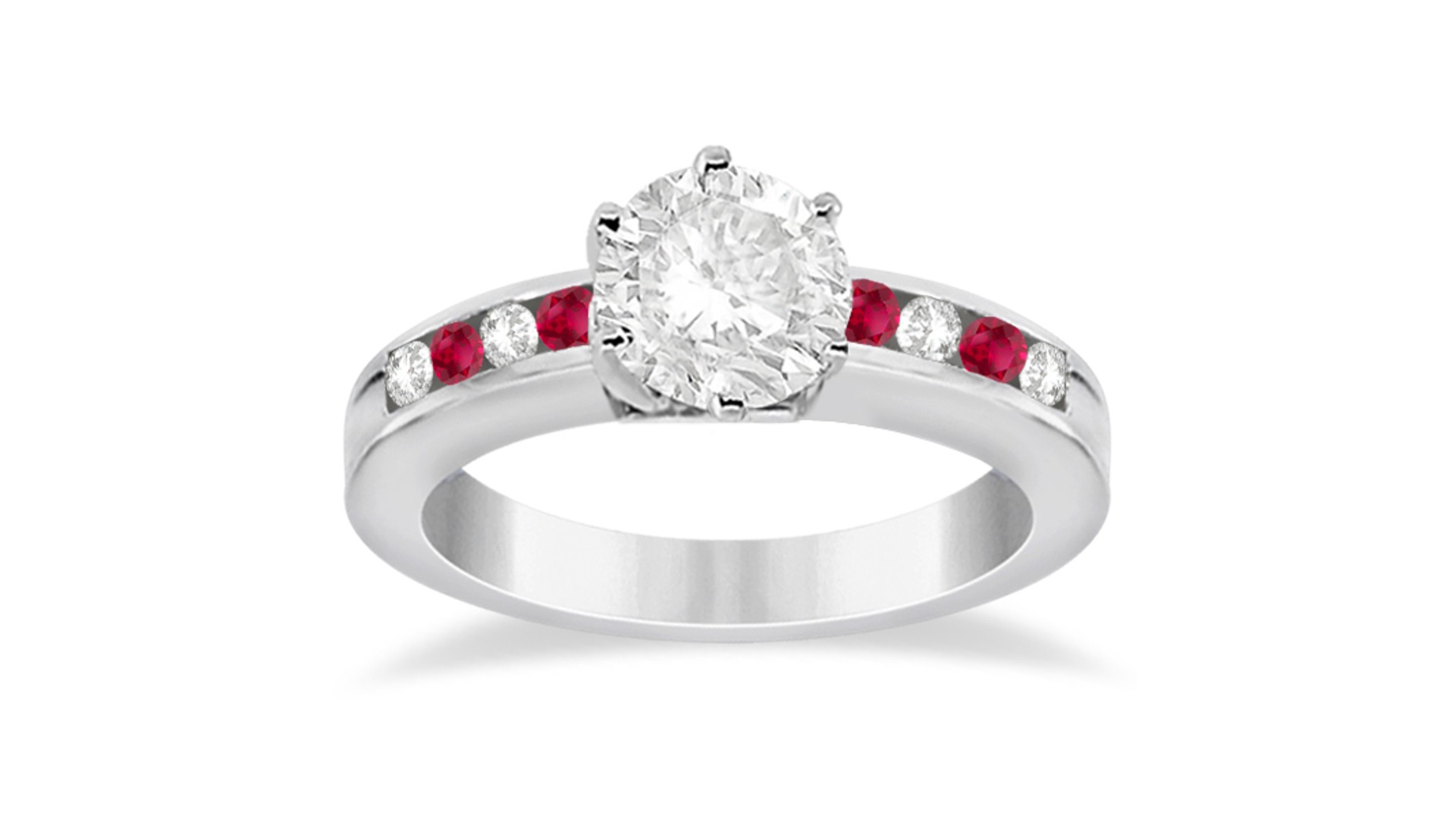 It's not officially Valentine's Day without at least a pop of red, right? Why not bring it yourself with a few rubies set alongside companion diamonds? This channel diamond and ruby engagement ring elegantly adds a bit of bold personality to a traditional concept.
Always keep your special someone in mind when picking out an engagement ring, though. Red may be the traditional choice for February 14, but it's not the best option for every woman's finger. Find out if your lover has a penchant for a different gemstone or hates red or rubies in general.
Love this channel design but need to eschew the gorgeous cherry hue? As with all the other rings on this list, you can make choices to create the ring of your dreams. Swap out the rubies for another gemstone or more diamonds or select a different metal for the band for a unique look that lives up to the individual love you share with your sweetheart.
4. Floral Diamond and Sapphire Ring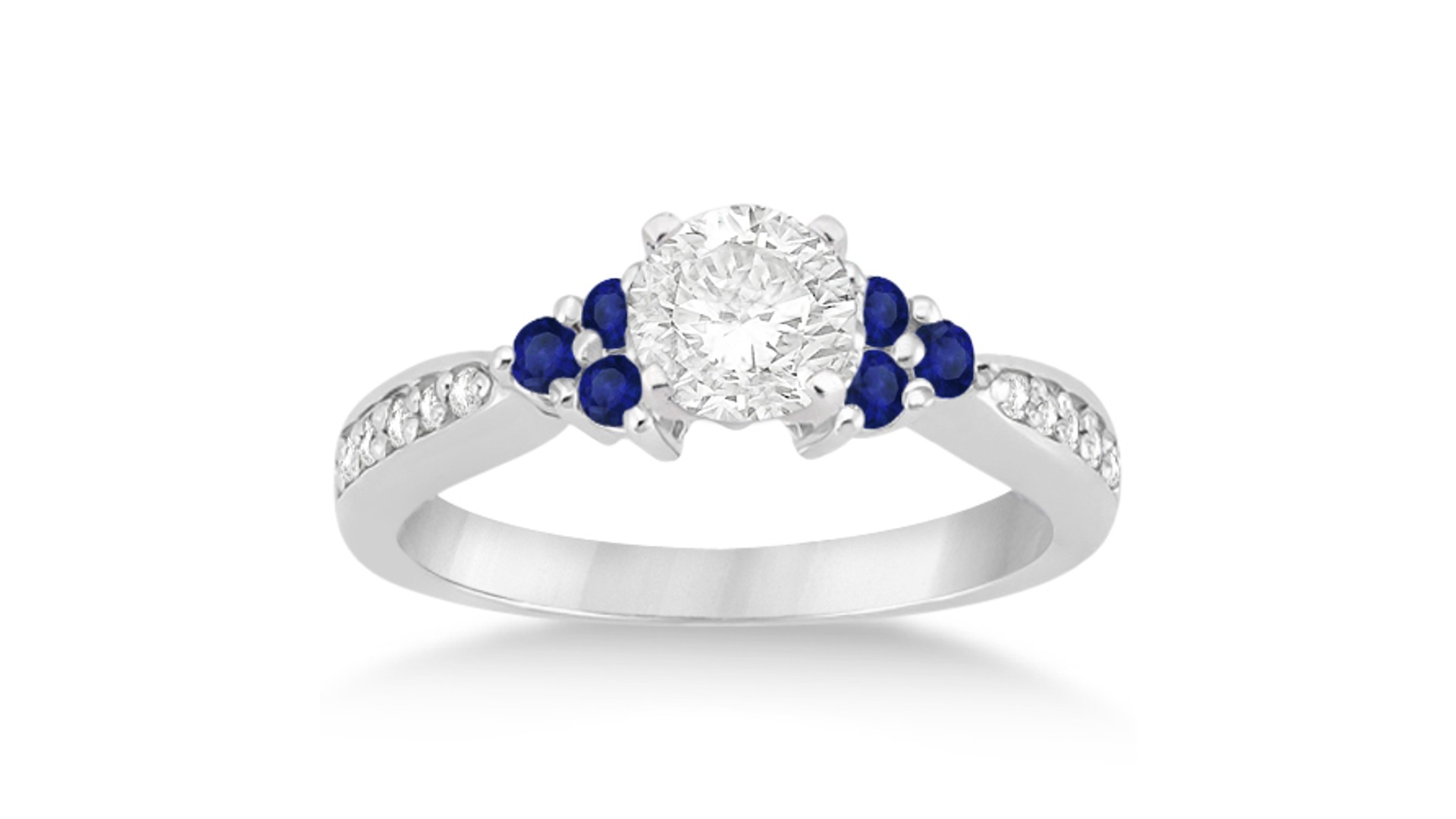 This floral diamond and sapphire ring features a lovely bead setting for three sapphires on either side of the center stone. Diamonds along the band and your choice of center stone in a prong setting ensure a breath-taking ring that's sure to capture attention when you open the box as you ask the all-important question.
Want to create a floral color theme? Surprise your sweetheart with six blue flowers at the beginning of your Valentine's date. They can act as a secret foreshadow of the ring to come, and at the end of the magical night, your lover can look back to see how carefully you planned the entire event.
Are you or your significant other not into blues or sapphires? No worries. Swap out the accent stones for emeralds, rubies, pink sapphires or diamonds. Don't forget to swap out those blue flowers for another detail if you want to include a little secret nod to what you have planned for later.
5. Diamond Solitaire Engagement Ring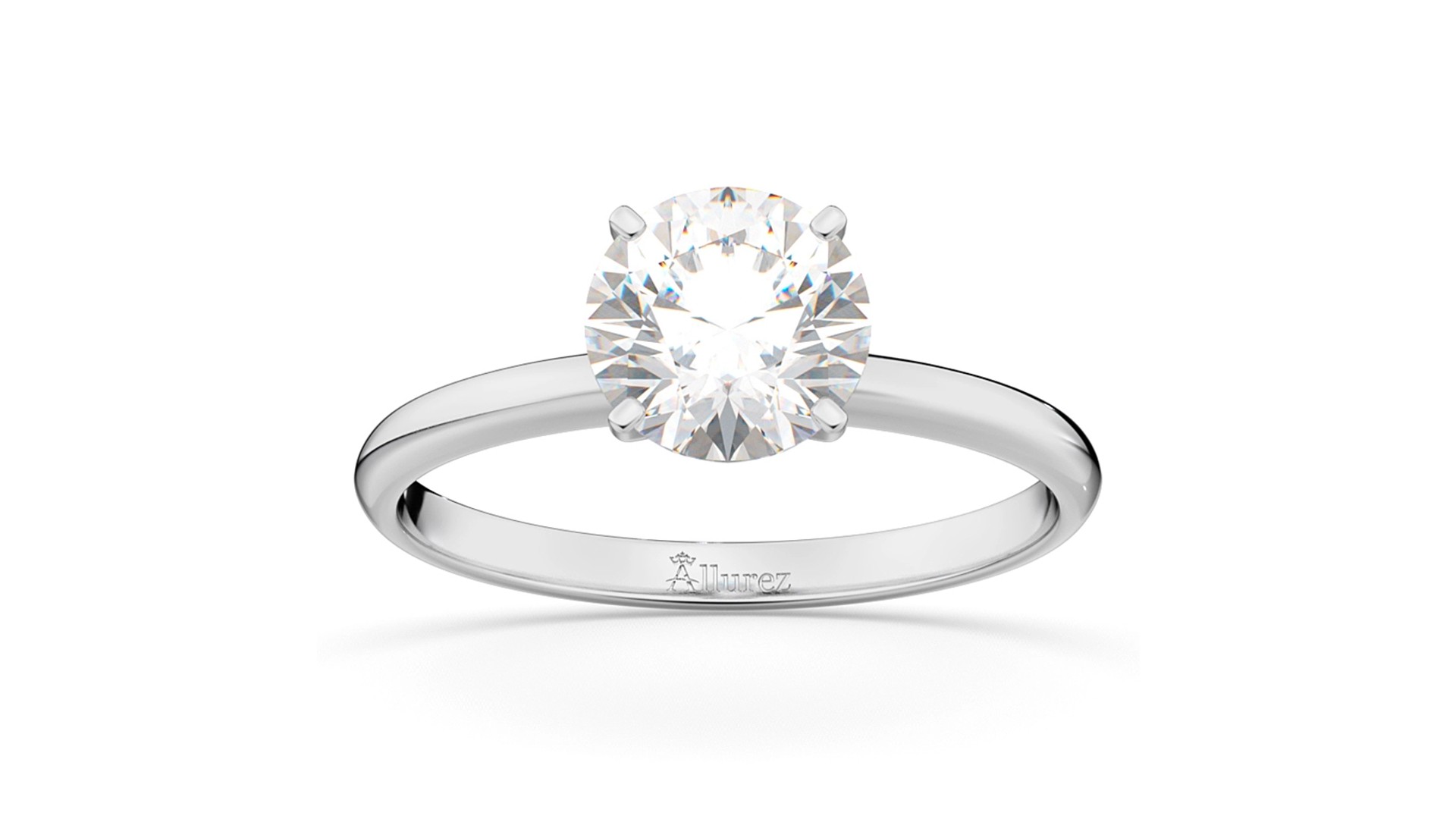 Proposing on February 14 may sound a bit traditional, but it's tradition of the best kind! So is a diamond solitaire engagement ring.
Depending on who you ask, the most traditional of rings may be a yellow gold band with a lovely diamond standing to attention on top. But we give you the option of customizing even a simply sophisticated solitaire ring to ensure you can pop the question with a personal touch.
Start by choosing the metal for the band. Select from 14K or 18K white, rose or yellow gold or opt for palladium or platinum for added strength. Next, decide on the shape of the center stone. Round, princess, marquise and pear are just some of your options.
While a diamond is as traditional as you can get for an engagement ring, don't be afraid to buck tradition for one element in your night and consider a gemstone if your sweetheart isn't really into diamonds.
6. Swirl Diamond Solitaire Ring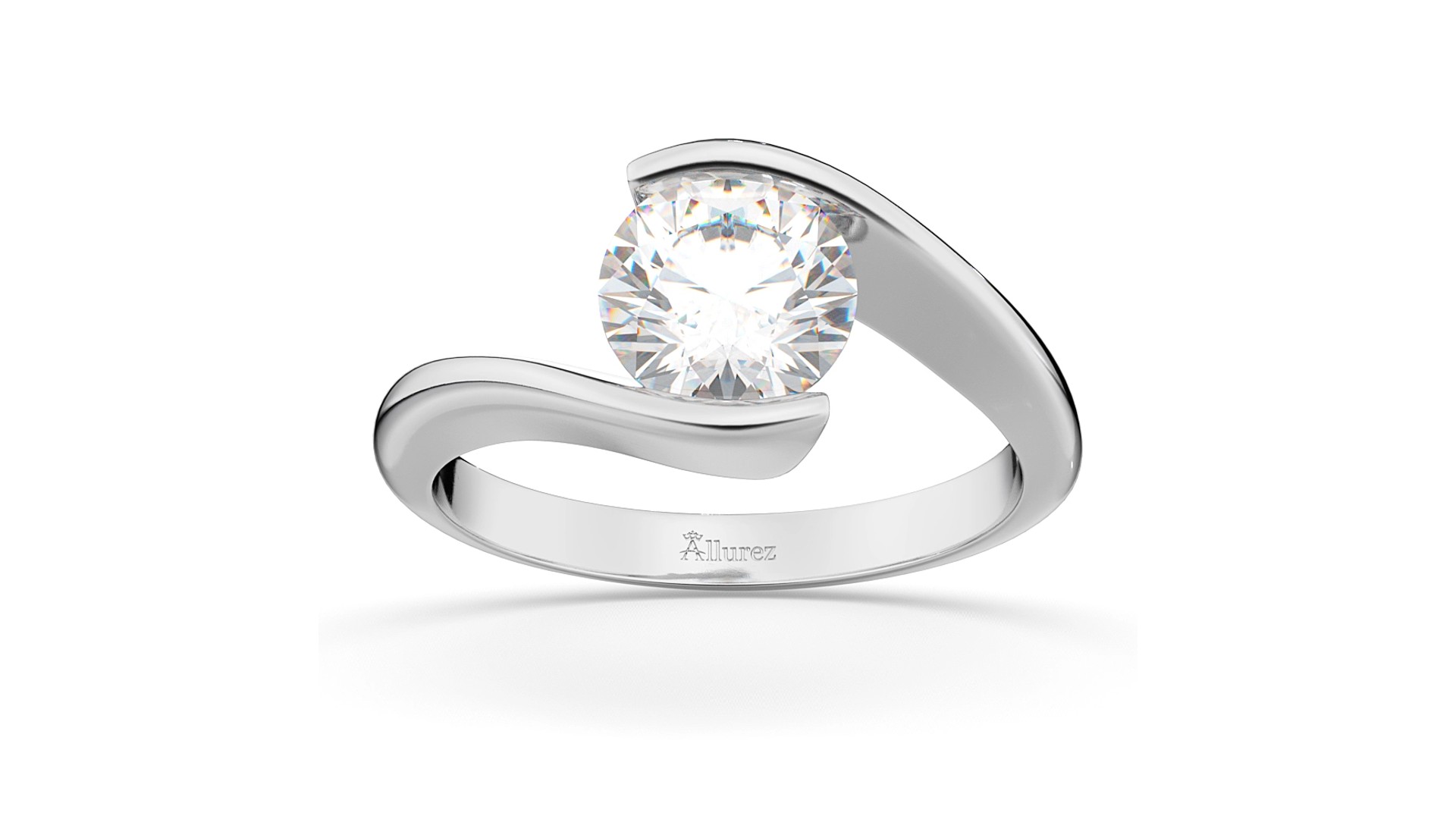 Love the idea of tradition and simplicity, but want something just a little more unique than a normal solitaire setting? Consider this swirl solitaire engagement ring. The sleek band seems to swirl like liquid around the center stone, capturing it and holding it with a tension setting. The effect provides utmost elegance and a stunning piece that's sure to catch the eyes of anyone who sees the sparkle on your lover's finger.
Because of the setting's design, this ring can only be set with a round stone. You can, however, choose from different metals for the band. The unique shape of this ring does mean you may want to purchase a matching band at the same time to ensure you'll have a ring ready when you arrive at the moment where vows are exchanged.
7. Heart-Shaped Diamond Solitaire Engagement Ring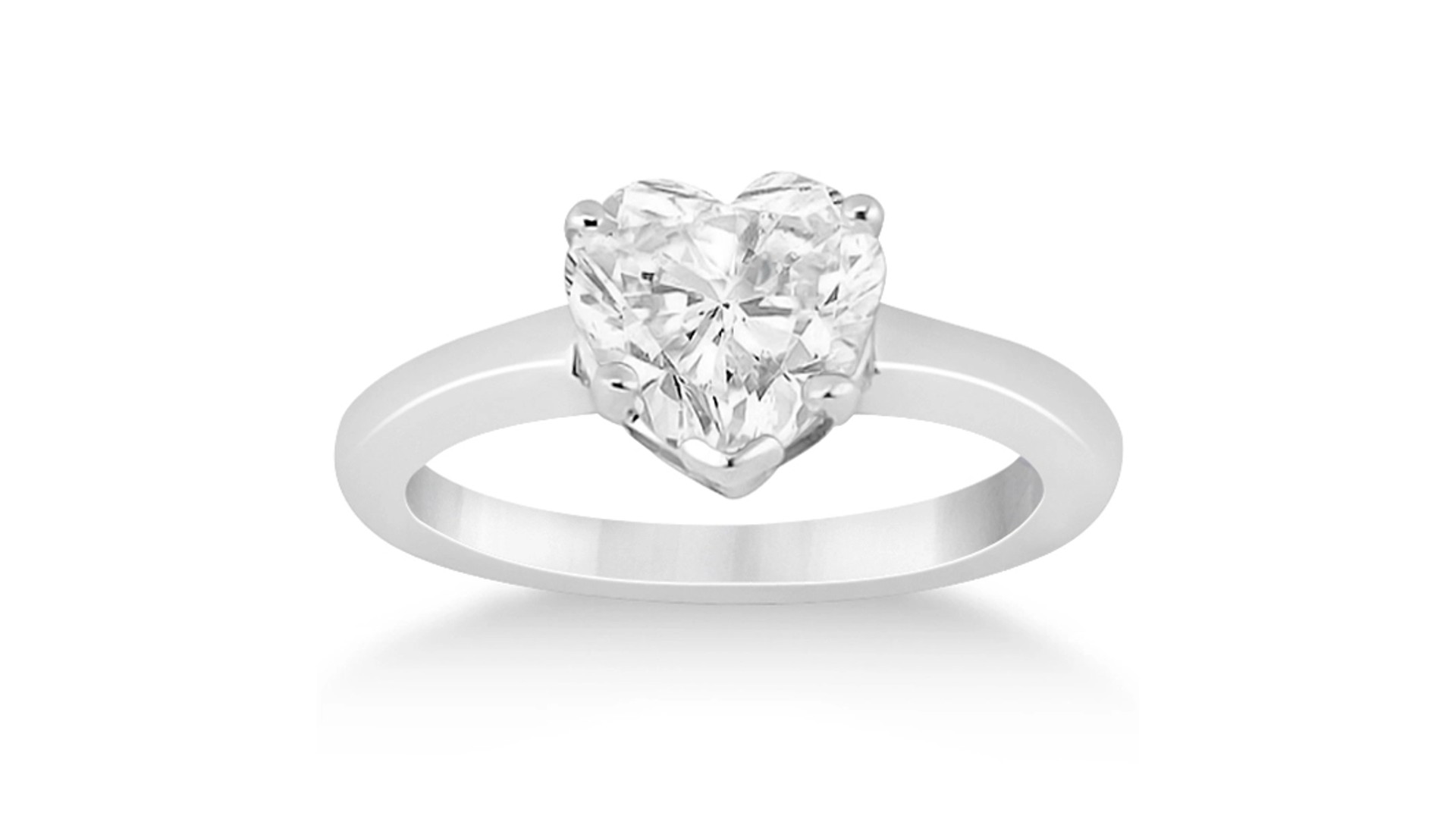 Diamond solitaire rings come in a surprising number of configurations and choices. Consider what might be the most perfect choice for a Valentine's Day proposal: a heart-shaped diamond solitaire engagement ring.
This ring says it all. It says you're handing your heart over when you ask the question. Your sweetheart can choose to keep it, cherishing it always and wearing it for all to see. Options for this ring include your choice of metals for the band and engravings, so you can even add a message of love to go along with the heart you're giving away.
8. Carved Eternity Flower Solitaire Bridal Set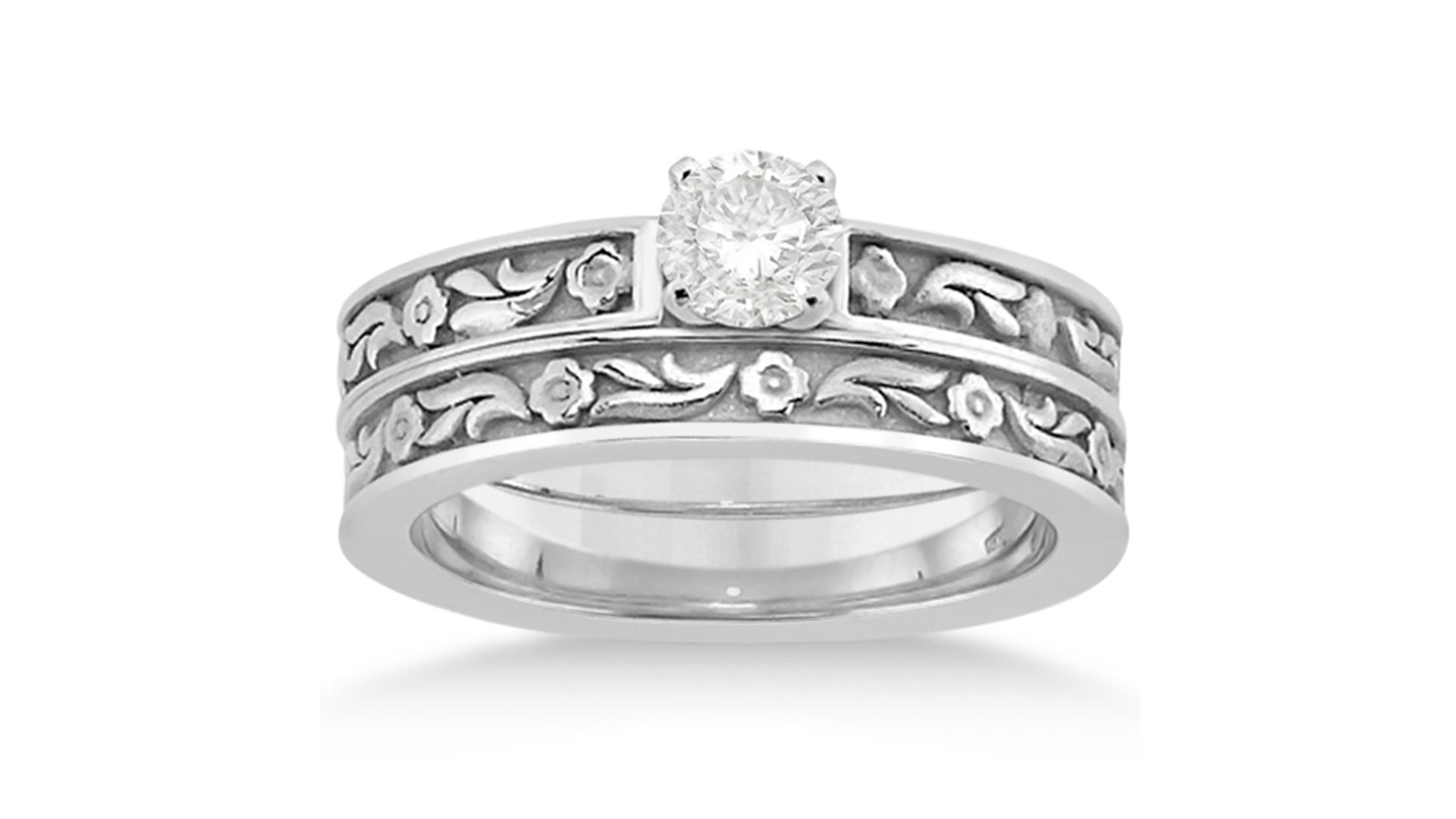 Jewelry is a common gift on Valentine's Day. Another popular option is flowers. With this carved eternity flower solitaire bridal set, you can give both!
This antique-style ring includes carved floral elements in the band. They lead up to a single, four-prong-set center stone. This is a bridal set, so you get a matching wedding ring with the same floral elements carved into it. Your darling could wear the wedding ring after you're officially wed without the engagement ring during times when a diamond might become damaged by work or other activities. The carved elements make it enough of an eyecatcher to stand on its own.
9. Cathedral Pave Diamond Engagement Ring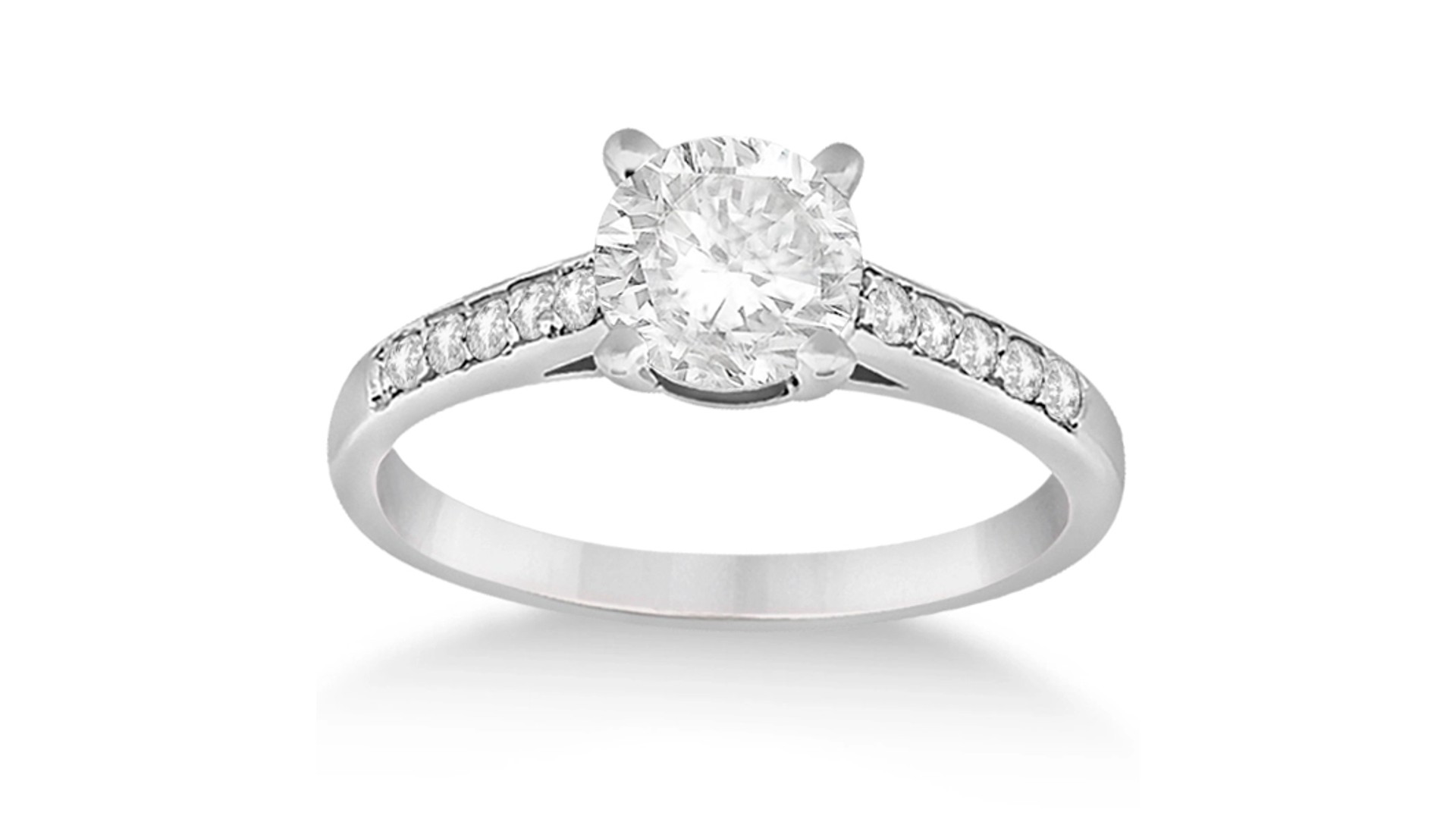 Simplicity meets elegance in this cathedral pave diamond engagement ring. Choose side stones from a variety of gemstone options and pick a metal for the band to make this ring a unique expression of your love.
Already engaged or married and want to wow your lover with jewelry for Valentine's Day? Not sure if a February 14 engagement is your style but love the idea of gifting your special someone diamonds? We've got plenty of other options. Check out our Valentine's Day gift guide.

About Allurez Tech

Twitter •