---
Rose Gold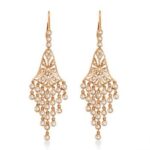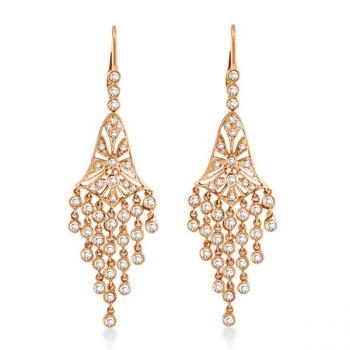 If you take a look at vintage or antique gold jewelry you might notice that it has a very distinctive "glow" to it. This is usually because it has a higher carat count in the metal that makes it softer and more prone to a duller reflection than some of the more modern gold jewelry. Modern gold blends contain several metals which make them easier to wear on a daily basis, and much easier to maintain. This "trade off" in the coloration is totally acceptable to most consumers because it means the gold cannot being easily bent or damaged, but many people would still love to find jewelry with that old-fashioned warmth.
Fortunately, there is a huge amount of interest in 14k rose gold (a.k.a 14k pink gold) that allows someone to get gold jewelry with that glamorous glow of the days of old, and yet also remarkably durable too. This is one of the reasons that so many modern women are opting for a rose gold wedding band or a rose gold engagement ring. Naturally, it isn't just wedding jewelry in which rose gold is found, and there are all different kinds of popular rose gold jewelry items too.
The greatest thing about this sort of metal is that it can have that delicate, old-fashioned charm, and yet be made of remarkably high-quality 18k rose gold. This means that someone who was exploring their options in rose gold rings could know that their ring would have a somewhat vintage appeal, but that they would not have to worry about wearing it on a daily basis and harming it easily. This is another of the main reasons behind the surge in popularity of rose gold in wedding and diamond engagement rings.
Consider too, that the pink hues of the metal coordinate beautifully with a range of gem stones, including diamonds of all colors, and also with other metals. For example, a rose gold ring might also feature 18k gold, silver, or even platinum. It could contain white diamonds, but might also complement yellow, brown, or pink ones too.
Another unique thing done with rose gold jewelry is to use it in heavier designs. For instance, it is not unusual to find a pink or rose gold ring that has a large floral design or a woven texture that relies on more than one color of gold. Clearly, if you are looking for a very unique piece of jewelry, it is a great idea to start with rose gold options.

About Allurez
Allurez is the premier designer and retailer of high quality fine jewelry with a brand name known to royals as well as to the rich and famous. We are committed to providing you with the largest and the finest selection of engagement rings, wedding bands, bridal jewelry, fine fashion jewelry, and certified loose diamonds. Go ahead, browse our store, and find your perfect jewel!