---
Designer Jewelry / Rings / Rose Gold / Unique Jewelry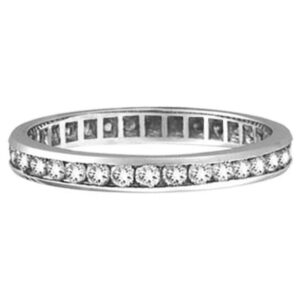 When you want to look your best and highlight your hands, fingers, or just your nails, a new ring can really be the thing you need.  The choices that face you when looking for the perfect new circular addition to your jewelry box can seem endless in the beginning.  Once you narrow your selections in order to fit a certain style, an exact element of your personality, or a dream outfit, things will become clearer and even start to restrict you in a corner if you let it.  What you really need to to is to check out diamond rings that fit all your needs and knocks out all other competitors for allure and attention!
Diamond bands are an almost limitless variety of special finger adornments.  However, the selection can be honed in once you pick out one of the precious metals into which your brilliant diamond will be set.  A 14k rose gold diamond band is a great addition to your jewelry collection if you are lacking something entirely unique that not everyone owns or even knows about but is still breathtakingly beautiful with the prismatic glow of a clear diamond as its centerpiece.  On the other hand, a 14k white gold diamond band can be a great way to show off your elegance, allure, and clear heart as well as mind.  Diamond bands do not mean that only diamonds are included in the ring setting.  A diamond and sapphire band can be a great way to show your love for diamonds as well as bringing out the depth of the sapphire blue that everyone can enjoy—especially you!

About Allurez
Allurez is the premier designer and retailer of high quality fine jewelry with a brand name known to royals as well as to the rich and famous. We are committed to providing you with the largest and the finest selection of engagement rings, wedding bands, bridal jewelry, fine fashion jewelry, and certified loose diamonds. Go ahead, browse our store, and find your perfect jewel!