---
Rings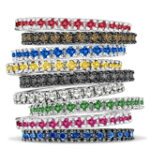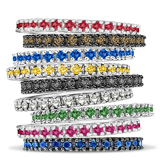 Fine jewelry is always changing and evolving.  Looking into the needs and altering styles of fashion, personal adornment in the form of precious metals and jewels has to look deeply into the past and to current ideas for inspiration.  Wearing more than one band on a person's fingers is not a new thing, but it has recently surged back onto the fine jewelry scene.  Since multiple rings on a single finger can elegantly draw special attention and add a unique twist onto a simple outfit, stackable rings are incredibly popular.
A stackable ring set can be simple in its overall design, featuring only a precious metal like gold or silver.  They can also embrace gemstones whether elegant and special cuts or simple circular or rectangular shapes.  Stackable gemstone rings are probably the most popular form of these rings though since they add an extra bit of sparkle and shine to these stylish rings.
The choice of gemstone is primarily up to you though.  Stackable birthstone rings can help express a part of who you are while decorating a larger span of your finger when compared to a traditional ring set.  If you are looking for an ideal gift for someone's birthday, this piece of jewelry is an ideal present.  Birthstone rings stackable sets can show how much you care by looking into which precious gem represents their birth month (whether emerald, diamond, pink ice, or opal) all the while contributing to their personal jewelry collection.  If you want a gift that has a bit more punch to it, a stackable diamond ring will show extreme glitter and shine while making sure the clear sparkle gets noticed by having the bright metal spread to just under their knuckle from the base of their finger.  Be sure to remember that stackable rings tend to be a bit more flexible in their sizing because of the finger's tendency to taper in its natural size.

About Allurez
Allurez is the premier designer and retailer of high quality fine jewelry with a brand name known to royals as well as to the rich and famous. We are committed to providing you with the largest and the finest selection of engagement rings, wedding bands, bridal jewelry, fine fashion jewelry, and certified loose diamonds. Go ahead, browse our store, and find your perfect jewel!