---
Rings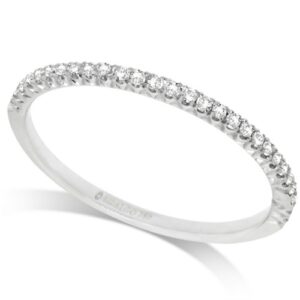 If you are fashion conscious woman who is always updated on her ingenious fashion trends thanks to the latest issues of Vogue and Elle, then you will truly understand the legitimacy of the fact that fashions change – every alternative day. This proclamation might seem farfetched but it stands true in the realm of fashion. Not for the faint hearted, fashion trends are meant to come up with all things unique and exclusive. However, just like the eternal low black dress, there are also a few items in the world of jewelry that has withstood the test of time. Stackable rings are one of the latest innovations in the world of exclusive jewelry and created nearly two decades back, it has remained in vogue with the celebrity brigade of fashion and movies.
Just like this name suggests, stackable rings are an assortment of similar or different types of rings. Stackable rings offer a unique amalgamation of unity in diversity. Usually, these stackable rings combine various types of rings with a selection of designs, or are used as ring guards. If you want to find out a good one from a wide collection, take a trip to the reputable jewelry store in your locality. The varied and exclusive range will sweep you off your feet. However, if your heart wants more of exclusivity and amazement, then go ahead and let your creative juices flow. Put your thinking cap on and design some of the most exotic and unique stackable ring.
These sorts of unique rings can be created out of various precious metals such as platinum, gold or white gold. Or else you can employ silver or bronze to get an astoundingly different look. Incorporate semi-precious or semi-precious gemstones in the mix and voila, you can lay your hands on an innovative and completely original piece that will create statements easily. Just ensure that you do not overdo on your jewelries. Too many statement pieces will clutter the look and in the process, the key characteristic of the particular stackable ring will be lost in the melee. Perhaps try keeping it simple with a diamond stackable ring.
Some of the most well known and trendy stackable rings are the Hidalgo rings and the eternity bands. Hidalgo is the brand name to be reckoned with at every corner of the world. Reputed for their vast, colorful, and enamel rings, Hidalgo is one of the finest examples of stackable rings. So, wait no more and pamper yourself with an adorned look for the upcoming festivities.
If sapphire jewelry is your favorite, shop online with us at Allurez.com. We carry a full line of sapphire rings and jewelry. You can trust us because, at Allurez, we only sell natural, genuine and untreated stones. None of our stones are artificial or lab created. If you would like to know more about Allurez, visit us at: http://www.Allurez.com.

About Allurez
Allurez is the premier designer and retailer of high quality fine jewelry with a brand name known to royals as well as to the rich and famous. We are committed to providing you with the largest and the finest selection of engagement rings, wedding bands, bridal jewelry, fine fashion jewelry, and certified loose diamonds. Go ahead, browse our store, and find your perfect jewel!