---
Gift Ideas / Rings / Unique Jewelry / Wedding Bands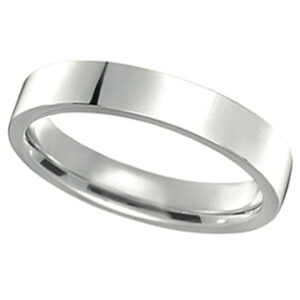 When it comes to finally sitting down with your future spouse and picking out your perfect wedding ring set for your beloved and yourself, it can almost seem as though choosing the precious metal base for the foundation of the ring  should be an easy and split second decision between the two of you with a final product ready within a matter of seconds.  Yet, there still exist many more selections out in the realm of jewelry offerings than the majority of couples know about.  Silver is the least expensive and oldest precious metal element that humans have utilized for personal adornment and jewelry, but unfortunately the metal has a fatal flaw in being one of the weakest and least durable option used for jewelry in addition to being very prone to losing its shine and luster over a long  amount of time and exposure, making people get a strong negative signal if they are hoping for an eternal love and forever partnership.  Gold on the other hand, whether it is yellow or white in coloring, tends to be the classical and obviously more traditional option as it is acknowledged to be more precious and more prone to holding onto a more extended shine than silver.  However, why should you settle for the tried and true precious metals for your special wedding band when you have metals in the platinum group to choose from?
Still, since there are other options for your wedding band, you should not have to settle.  Palladium is one of the most affordable and of course best selection for a great wedding ring that works in any situation.  Durability, strength, luster, and outstanding shine combine to make palladium wedding rings a highly sought after commodity although knowledge of this unique metal is still having to grow in terms of common learning.  The simply amazing silvery-white shimmering allure of palladium wedding bands is wonderfully exceptional.  Observing how exactly they will also last through even the roughest abuse day after day, you can still wear this type of ring all the time.  The strength against even the hardest form of wear and tear means that palladium wedding rings for men especially are an ideal choice as they will not have to take off the band for difficult and intensive hand labor work processes.  With palladium's trait of being able to easily shape to many forms with the processes of high heat and talents of skilled jewelers, the band can still be applied to the woman's option in the form of a creatively special and ultimately delicate wedding ring.  Do not be anxious about looking into this wonderfully fashionable and still very functional metal choice for your own alluring wedding ring!

About Allurez
Allurez is the premier designer and retailer of high quality fine jewelry with a brand name known to royals as well as to the rich and famous. We are committed to providing you with the largest and the finest selection of engagement rings, wedding bands, bridal jewelry, fine fashion jewelry, and certified loose diamonds. Go ahead, browse our store, and find your perfect jewel!