---
Designer Jewelry / Engagement Rings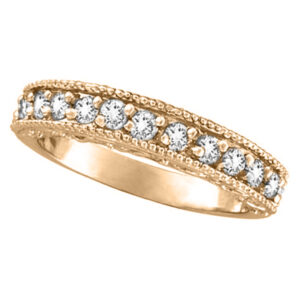 Diamonds are constantly thought to be the classic shimmering precious stone that easily exudes allure, style, and pure elegance.  Therefore, it is easy to understand why exactly diamond jewelry is so unbelievably popular and considered to be an absolute must-have for all different types of style and fashion conscious people across the world.  Who could ever possibly blame them though?  That stunning shimmer, that faint worthy shine, and that astounding durability pulled together into a single diamond make them all seem like anyone wishing to make a strong statement with their personal jewelry collection needs to have a foundation of the boldest and brightest diamonds.  Any jeweler who is truly honest with you will freely admit to the sheer dominance of the diamond ring among all of their pieces.  With the almost innumerate selections for your own alluring diamond band though, it is easy to become lost in the middle of a shimmering pile of options.  To solve this issue, the easy to remember "4 C's" philosophy of diamonds can be used to narrow the field—carat, clarity, color, and cut.  You do not have to be an expert in precious diamonds to understand these words, but they can really be of great assistance once you pick the overall carat sizes you want, the level of clarity in the diamond, what shade of coloring from the whole spectrum of diamonds, and of course your favorite cut for the diamond.
Diamond rings for women very much require these primary baselines and the generally easy to remember guide as a way to trudge through the almost endless basic options, styles, and designs.  As women's diamond bands are normally linked with wedding and engagement rings, the diamond eternity ring that features a circle band with small, perfectly cut diamonds squished onto every last centimeter of the ring to basically create a row of diamonds neatly wrapped around your entire finger have become great favorites for the strongly purposed rings or even fun anniversary options.  Still, it may come as a surprise to many people that a right hand diamond ring can also be the perfect accessory for your jewelry collection as well as help to bring a sense of allure and prestige to even the most basic of outfits.  A five stone diamond ring has become one of the most fashionable of the right hand options.  It is exactly what its name describes—five breathtaking diamond stones placed right next to each other that cover the entire top portion of your finger but still allow for mobility of your chosen finger as a thin base band flows along the underside of your finger!

About Allurez
Allurez is the premier designer and retailer of high quality fine jewelry with a brand name known to royals as well as to the rich and famous. We are committed to providing you with the largest and the finest selection of engagement rings, wedding bands, bridal jewelry, fine fashion jewelry, and certified loose diamonds. Go ahead, browse our store, and find your perfect jewel!