---
Designer Jewelry / Unique Jewelry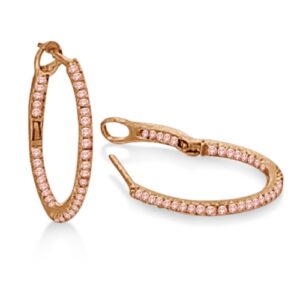 When people think of the high fashion jewelry designer known as Hidalgo, their minds generally jump to Hidalgo's wide selection of stylish rings.  However, many individuals can forget about the amazing designs of a different type of "ring" that the jeweler produces—Hidalgo earrings.  Any type of earring that you are looking for to properly accent the sides of your face and complete your clothing wardrobe selections, you can easily find with this wonderfully versatile jewelery designer.
Hidalgo hoop earrings are some of the most widely known pieces as they have turned the standard hoop into something truly special.  Hidalgo hoops bring in beautiful and intricate designs that make the earrings stand out even more than normal.  Their micro pave integration into this type of earring has really started to turn the heads of customers and jewelry critics alike since they can make hoops look as though they have been entirely encrusted in various gemstones to shine across even the most crowded room.  Diamonds tend to be perpetual favorites for this popular bejeweled style.  However, do not feel as though you are constrained by hoops if you want diamonds in your ears or even restricted by the traditional clear diamond when picking out earrings for yourself.  This fashion jeweler has all its bases covered when it comes to Hidalgo colored diamond earrings.  The bestsellers in this arena tend to be more of the high style favorites of the past several years though.  Hidalgo fancy yellow diamond earrings can be a lovely look for those who have darker shades of hair color as they stand out without much effort against the deeper coloring.  If you are all about pink though, do not worry as Hidalgo fancy pink diamond earrings come in a wide variety of cuts and in numerous settings to show off the glistening coloring to have high shimmer and shine.

About Allurez
Allurez is the premier designer and retailer of high quality fine jewelry with a brand name known to royals as well as to the rich and famous. We are committed to providing you with the largest and the finest selection of engagement rings, wedding bands, bridal jewelry, fine fashion jewelry, and certified loose diamonds. Go ahead, browse our store, and find your perfect jewel!