---
Designer Jewelry / Proposal / Rings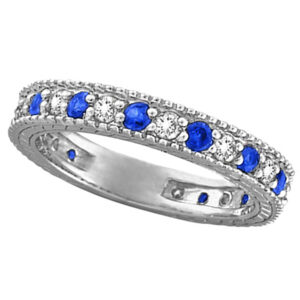 Whenever the truly amazing and special day of the year comes around the corner for both you and your beloved spouse or partner, anniversary gift ideas are probably popping up all over the place.  For those who are among the really lucky people, you might already have a unique gift idea in your thoughts, which can become a very valuable asset in your search.  Still, if you do not have a specific present already pre-wrapped or picked out for your soul mate, there is no need for you to free fall into a state of panic.  When you think about your lifetime partner in even a general way, it will help with your decision.  Does their smile seem to glisten?  Do their eyes practically sparkle?  Does their heart light up with love?  These questions can then gently and easily lead you to the idea of an anniversary gift of jewelry pieces—a forever classic that everyone loves.  Now, all you have to consider is what kind of brightly shining personal jewelry adornment you want to hand off to your true love.  Jewelry items in themselves are always a fashionable and popular choice.  Still, it is bands in particular that can be very wonderful and downright perfect in expressing your never ending love and overwhelming joy from the past years that you both have been able to share as well as the exciting and joyous future that is about to come into being.  What kind of alluring and stylish ring should you pick out though?  For the occasion of the steady and easy coming annual anniversaries, a few bands have been created just for the special event.
The best kind of anniversary ring though should be a physical manifestation which can represent all the past times that you two have experiences together while still being able to act as an honorable promise for standing at their side for all future times too.  Since diamond stones are the primary sparkling addition of choice when you want to purchase an alluring representation of eternal love, diamond rings are naturally the standard answer for an anniversary gift idea.  While diamonds can very easily bring about a sense of prestige and class to any type of jewelry, the diamond band is generally believed to be the only jewelry creation that can embrace both world renowned fashion and a sense of forever love at the same time.  Therefore, an eternity band which is famous for being an alluring ring which is completely encircled with a never ending row of perfectly shaped and fitted diamonds that are made to press right against each other is a spectacular anniversary gift since it is actually made to fit perfectly against existing wedding bands.  All of the stunning women's diamond rings are great choices for anniversaries though.  Just know that a diamond band for ladies' can get complicated if you widen your selection options too much!
At Allurez we have the largest selection of high quality designer anniversary rings. Visit http://www.allurez.com/rings/cid/23 to start shopping

About Allurez
Allurez is the premier designer and retailer of high quality fine jewelry with a brand name known to royals as well as to the rich and famous. We are committed to providing you with the largest and the finest selection of engagement rings, wedding bands, bridal jewelry, fine fashion jewelry, and certified loose diamonds. Go ahead, browse our store, and find your perfect jewel!