Man and Nature Working Harmoniously Together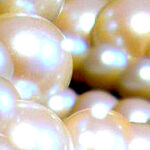 Mysterious and iridescent, pearls have entranced people of all cultures since antiquity. Pearls are created when mollusks (oysters) secrete nacre (a shiny substance) around a foreign object that has become embedded in their shell, either naturally, or for cultured pearls, by human intervention.
The ancient Egyptians and Romans prized pearls as symbol of affluence. Greeks not only valued them for their beauty, but for their association with love and marriage. To this day, pearls are given as anniversary gifts for the 1st, 12th and 30th anniversaries, and they are also a June birthstone. And Medieval Europeans believed pearls would protect them from harm in battle. In 1916, jewelry designer Cartier was able to buy an entire building in Manhattan with two pearl necklaces.
A Glowing Rainbow of Shades…
Pearls come in many varieties, including Akoya, South Sea, Tahitian, Mabe and Freshwater. Shapes of pearls include round, drop, button, oval, semi-round, circle — or ringed, baroque, and semi-baroque, with perfectly round pearls generally being the most valuable. Akoya pearls are the most common and lustrous of all pearls.
Akoya pearls come in rose, silver/white, cream, gold, and blue/gray. South Sea pearls have a thicker nacre, as they take longer to develop. They are also more rare, and larger than Akoya pearls.
The luster of South Sea Pearls appear more satiny and less mirror-like than that of Akoya Pearls, with a softer iridescence. South Sea pearls most commonly  come in white, silver/white, pink, and gold, but a wide range of other colors as well.
Rarest of all, Tahitian pearls are cultivated off the shores of Polynesia. They are most commonly a blackish gray metallic color. But they also come in a shimmering array of hues such as peacock, eggplant, aborigine, green, olive green, blue, magenta, parchment, lemon and golden orange. Peacock and cobalt blue are the most valuable Tahitian pearls.
Mabe pearls or 'half pearls' are ideal for earrings or rings due to their flat back. Their flat back is due to them growing on the inside shell of the oyster, instead of inside its body, like other pearl varieties. They come in a rainbow-like array of beautiful, brilliant colors, the rarest being pink with gold swirls.
Fall in Love with the Magic of Pearls
Whether worn as earrings, in rings, or as a classic pearl necklace, pearls are adaptable and can suit many outfits. Pearls are stately, yet timeless, feminine and fresh. Celebrities known to sport pearls include Rihanna, Heidi Montag, Ashlee Simpson, Princess Kate Middleton and Michelle Obama. In addition Jackie-O and Marilyn Monroe lived in pearls.