---
Wedding
Allurez – The Ultimate Men's Guide to Buying the Perfect Wedding Ring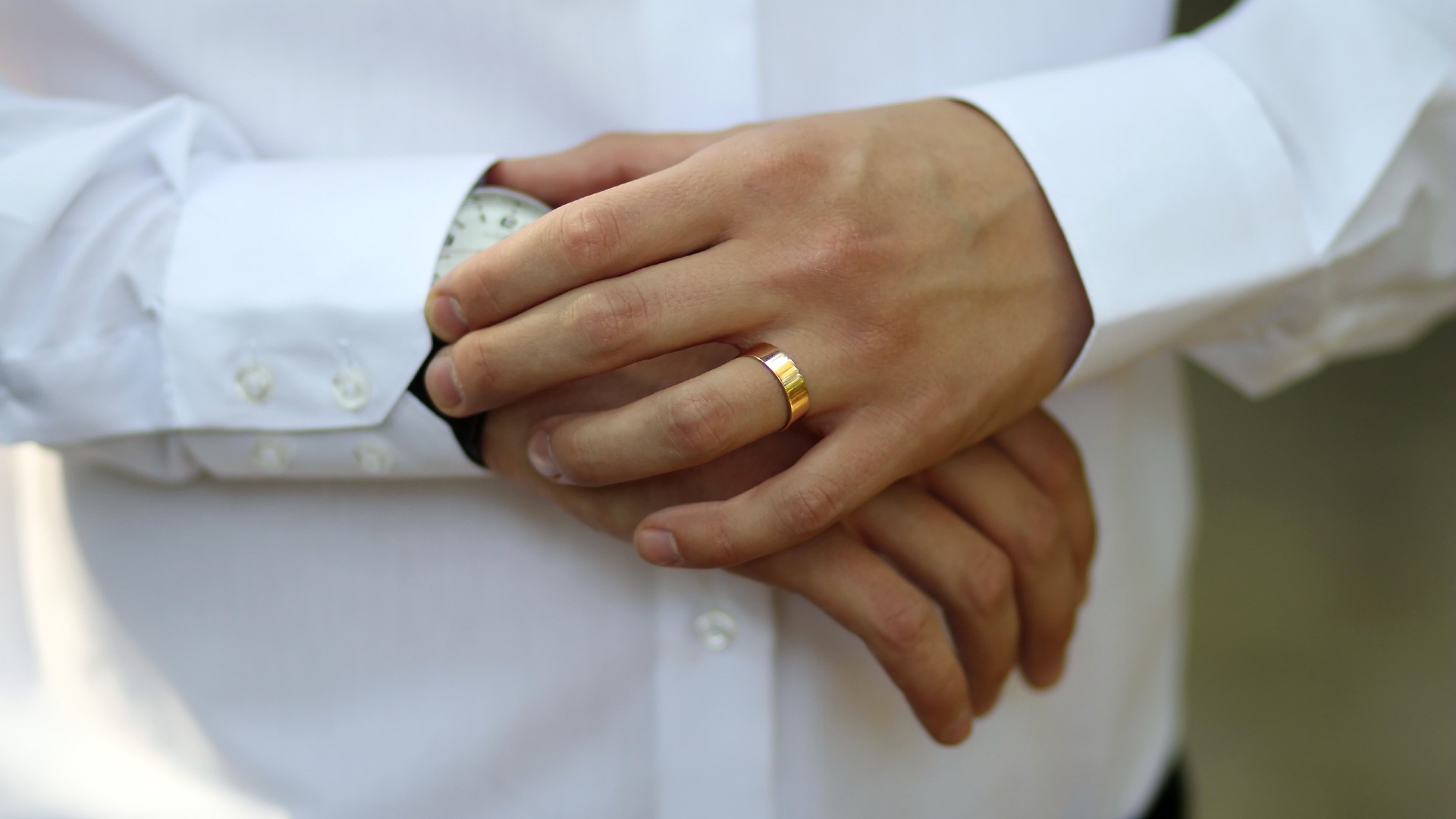 Look to the internet for advice on buying an engagement ring or a wedding ring for a woman and you'll find hundreds of resources just brimming with expert tips. But where is all that valuable info when it comes to men's wedding rings?
We've put together this ultimate men's guide to buying the perfect wedding ring so dudes from all walks of life can find the life-long piece of jewelry that best fits their aesthetic, lifestyle and relationship. Use pointers from the pros to buy for yourself or your partner — after all, this ring is the ring of all rings, and you deserve something as unique and memorable as you.
Decide on a Budget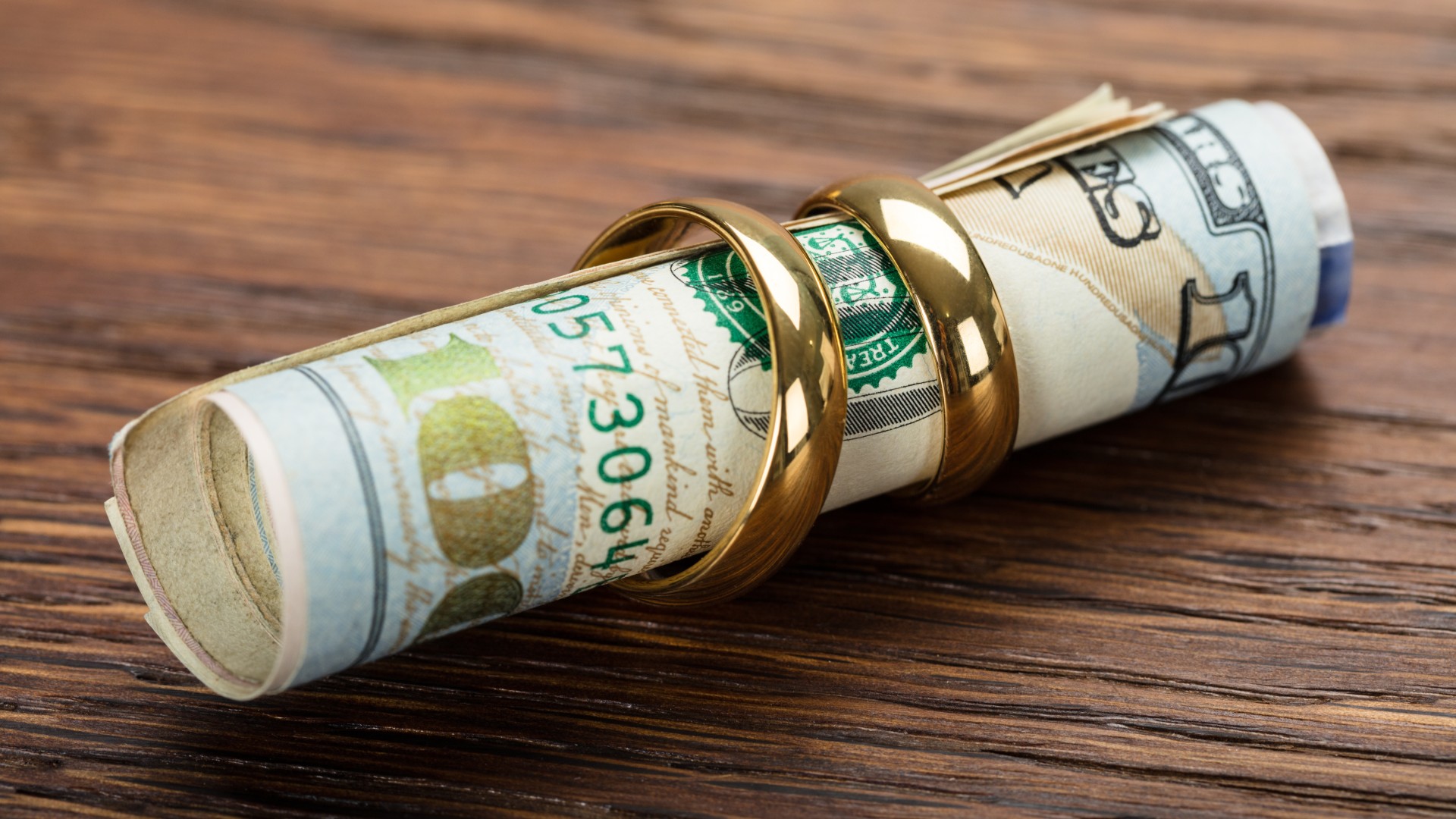 Wedding ring budgets are deeply personal and depend on a variety of factors including overall income and how much of your wedding budget you want to funnel over to jewelry purchases. Couples spend an average of $491 on the groom's band versus $1,126 for the bride's wedding ring. But that's just the average — some men might splurge on a high-value ring that will last for decades without tarnishing or opt for a bigger price tag so they can accommodate extras like engraving, a more ornate band design or gemstones. For luxury men's wedding bands, the average price tag jumps to $731.
Sizing and Width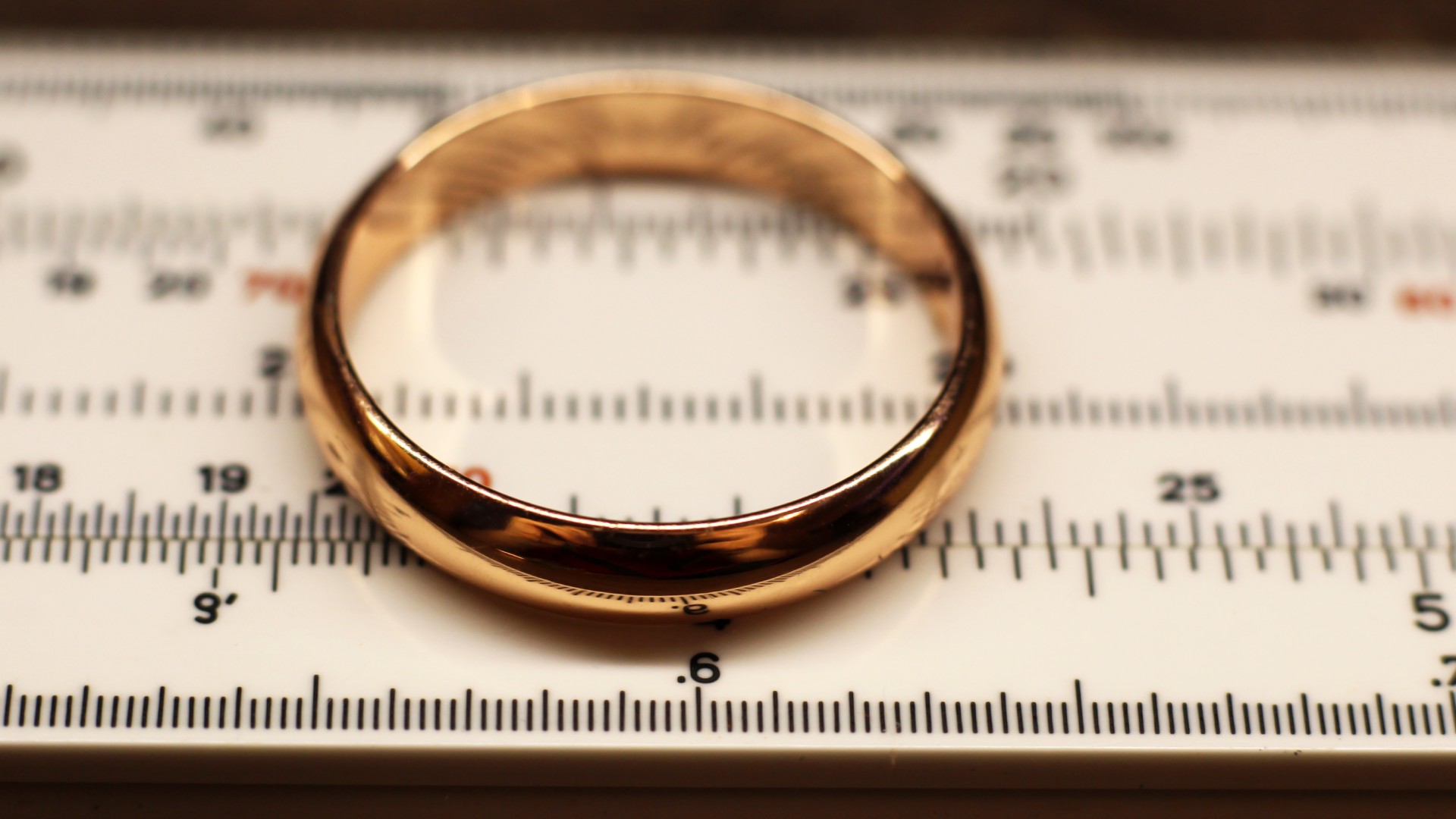 Sizing is usually easy enough to figure out, and if you need help, there are some expert tips for how to discreetly discover another person's ring size. But with wedding bands, there's also the issue of width. Men's wedding bands are available in a wide variety of widths, but most fall into three categories: slim (4mm wide), medium (6mm) or wide (8 mm).
The general rule is that ring width should complement the wearer's physical attributes, meaning someone with a slim build or shorter fingers would most likely gravitate toward a slimmer ring and someone with a larger build or particularly long fingers might like a thicker band.
But ultimately, it's completely up to you or your spouse to decide what feels and looks best. If you can, try on a few widths to see what's comfortable. A wider band might feel bulky if you're not used to wearing jewelry, and a thin band could seem flimsy if you're a guy who's used to statement pieces like oversized watches or large class rings.
Take Personality Into Account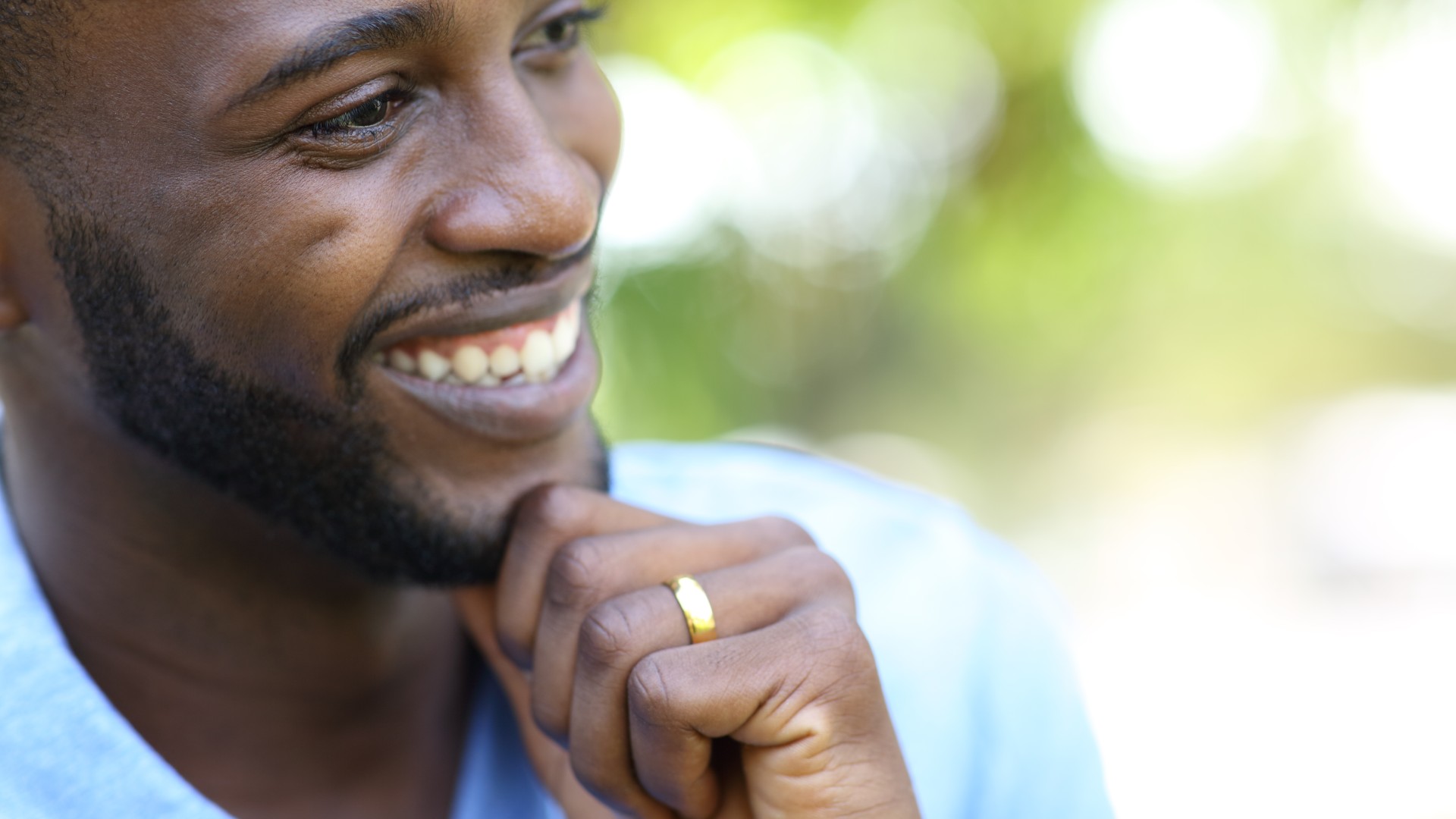 A man's wedding ring should be in sync with his personality and personal preferences.
Does your guy like to dress up? Is he always suited and booted even if he's just running errands? Or are you marrying someone who prefers to dress down and opts for less flashy adornments, like a gem-free watch or embellishment-free cufflinks? If he already wears jewelry, does he lean toward gold-hued metals, or do you notice more silver-toned pieces in his collection?
The answers to all these questions will help you determine where to start your ring search and how far to go in terms of style and "flash."
Behold: All You Ever Want to Know About Men's Wedding Bands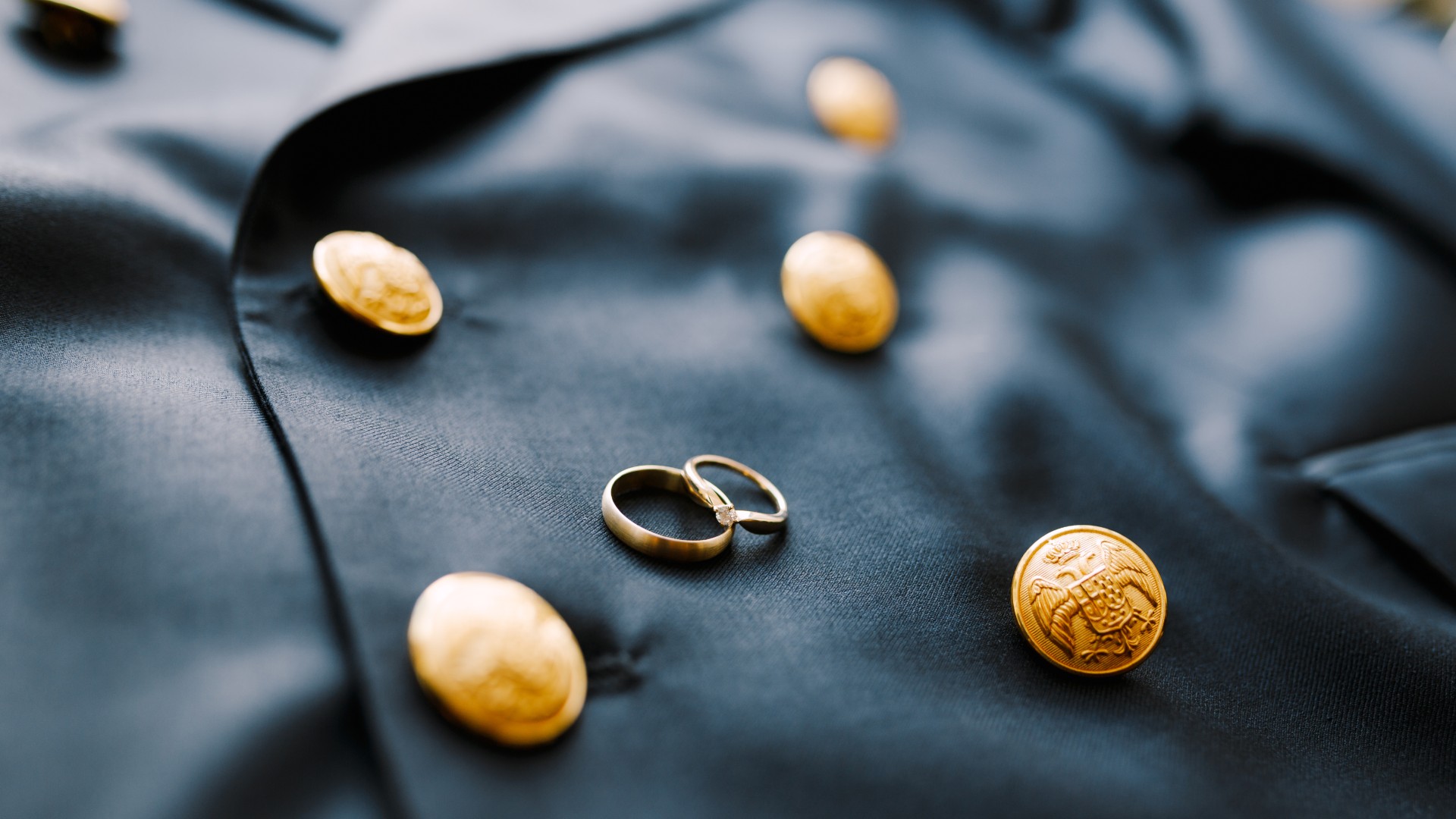 While it's absolutely fine and increasingly common for men's wedding bands to feature some kind of glittering embellishment or even wall-to-wall gemstones, for many people, the heart of a man's wedding ring is still the band itself. But that doesn't automatically mean you'll be stuck with a plain Jane piece of jewelry — far from it!
There are so many options for band styles these days. Here are a few of the most popular:
High polish: Classic, straightforward and easy to wear, high-polish rings are basically straight metal with a smooth, mirror-like finish.
Matte: Matte bands are finished in a way that minimizes reflection for less shine and a more understated overall design.
Satin: Satin-finished rings split the difference between high-polish and matte bands, offering the wearer a less shiny finish that still has a bit of a glimmer to it.
Hammered: A hammered band is a ring that's been literally hammered with a jeweler's tool to add purposefully abstract divots to the surface of the ring. There are different types of hammering depending on the tool used (for instance, some divots are round and shallow while others might be very close together with a pointier center) and the patterns might be very pronounced or so subtle the hammering is only noticeable when you're up close.
Sandblasted: This technique creates a surface that sparkles almost like a pave-set band thanks to a ton of tiny divots that look like diamond chips. Sandblasted rings are rough to the touch but not so much that they're uncomfortable.
Domed: A domed ring has a flat back for comfort, but the top has a gentle dome shape that makes the ring appear softer and more rounded. The opposite would be a flat or squared-off ring that has a more geometric feel.
In addition to finishing types, there are different ways to complete the edge of a wedding band:
Straight: This type of edging is simple, clean and classic. Depending on the thickness of the band, a straight-edged ring might look squared off.
Rounded: Another simple and classic style of edging, this option is rounded and softer compared to the sharper sides of a straight-edged ring.
Beveled: Beveling shows up on all kinds of jewelry, giving the edges an angled, architectural appearance and adding another dimension to the overall design.
Stepped: Stepped rings actually combine several edging styles into one, such as incorporating multiple beveled edges for a stair-step effect.
Milgrain: This type of detailing adds a very tiny string of beads to the edge of the wedding band for a more vintage-inspired look.
Study Up on Precious Metals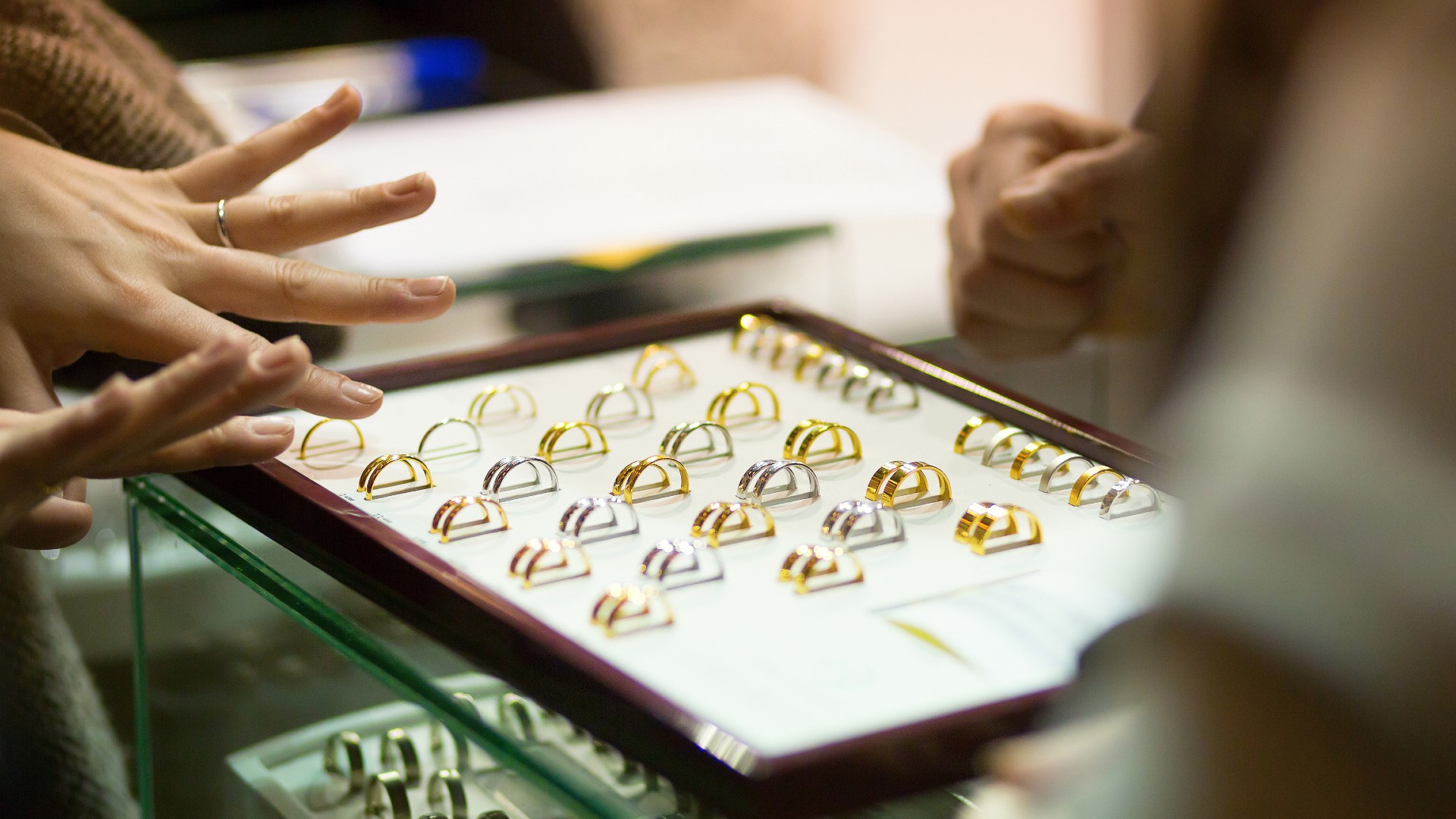 You'll have your choice of precious metals when selecting a wedding band, and there's more to these metals than meets the eye. It's tempting to choose a metal based purely on appearance — perhaps you absolutely love yellow gold or want platinum to match the bride's engagement ring — but there are other factors to take into consideration.
Here's a list of popular metals for men's wedding bands and some of their key characteristics that you'll want to keep in mind while you compare potential purchases:
Yellow gold: Yellow gold has long been the traditional choice for wedding bands, but many people don't realize there are many types of gold. Pure gold is listed as 24-karat gold. While that sounds great, pure gold is actually so soft it would get destroyed if you tried to wear it on a daily basis. Gold alloys like 18k gold (75% gold mixed with another metal like silver, copper, zinc or all of the above) carry the same esteem as pure gold but offer more durability.
White gold: White gold is an alloy that contains a mixture of gold and a white-hued metal such as platinum or palladium.
Rose gold: Rose gold is also an alloy, this time combining pure gold with copper to achieve that tell-tale blush hue. Rose gold is also the sturdiest type of gold.
Silver: Sterling silver is very popular because it's affordable but still looks nice. The drawback to this type of metal is that it's prone to tarnish, making regular upkeep a requirement if you want a ring that looks polished and clean. It's also more likely to show wear and tear such as scratches, scrapes and dents.
Platinum: Platinum is a highly coveted, very valuable metal with the price tag to match. It's often the choice of wealthy shoppers interested in the prestige that comes with wearing a platinum band, but the metal is also wonderfully durable and hypoallergenic, so it's an excellent choice for someone who works a lot with their hands or who might have sensitivities to other metals.
Palladium: Palladium is considered to be a kind of cousin to platinum thanks to a similar silver-white coloring, lots of shine and the same hypoallergenic properties, but palladium is not quite as durable as platinum. That can be a bummer in terms of longevity and/or maintenance, but the fact that palladium is a bit softer also means it's easier to shape into more ornate band designs or engrave — and it's less expensive, too.
Titanium: It's lighter than steel but still super strong and has a natural silver-white coloring that's both modern and elegant. You can also get black titanium for an edgier vibe or have the band etched or engraved for more personalization.
Tungsten: Another top choice for highly active guys, tungsten is wonderfully scratch-resistant and won't tarnish. It's a no-muss, no-fuss option that looks beautiful, but there's a major caveat: Due to their strength, tungsten rings can't be resized.
Know Your Gemstones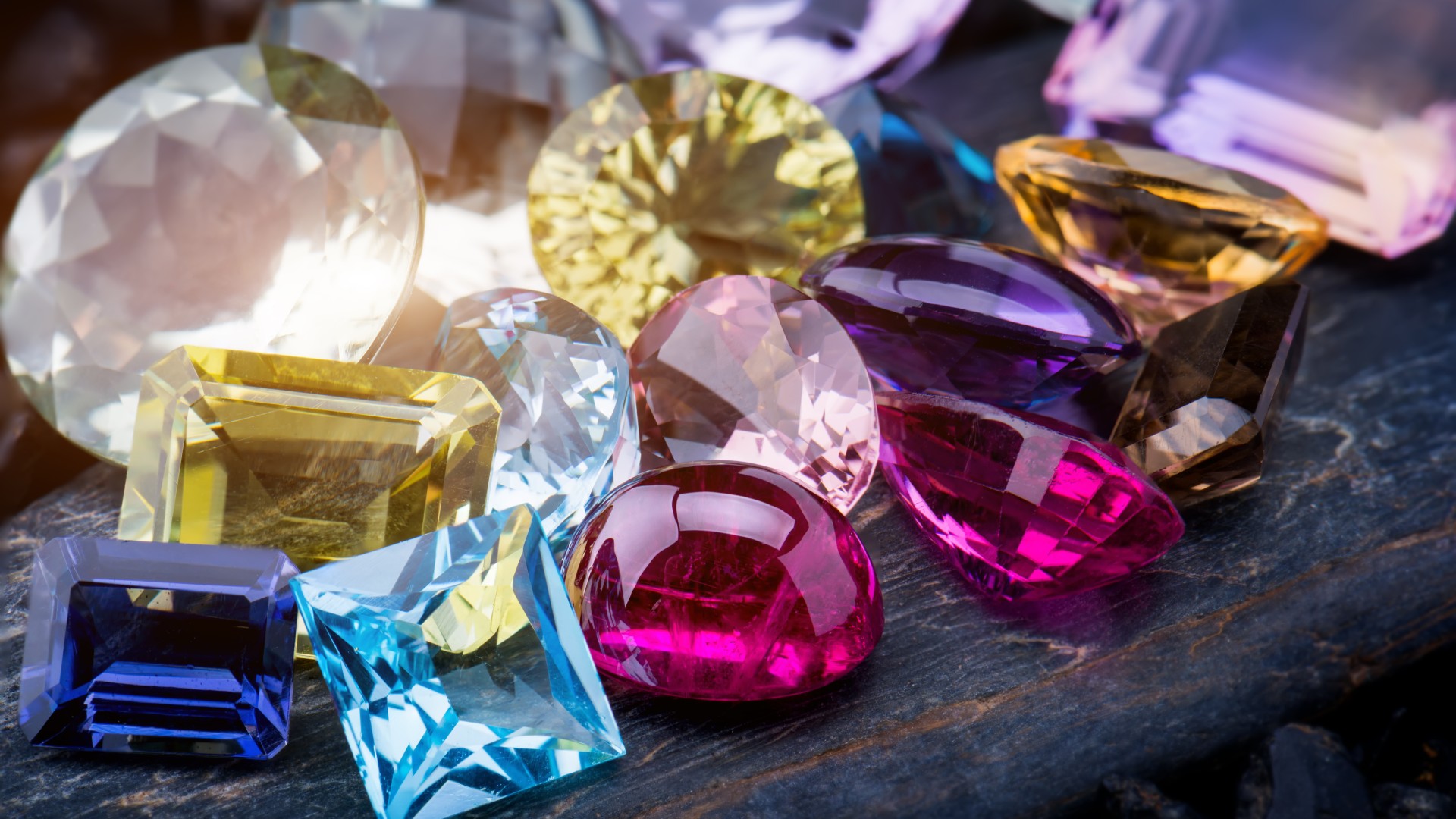 Gemstones are definitely not just for the ladies, nor is adding a diamond or emerald to a men's wedding band a modern-day concept. Quite the opposite, in fact. Open up a history book, and you'll see legendary male figures as far back as the 1600s wearing rings studded with precious gems. Today, men might decide to embed a single stone in their band so that it sits flush with the metal — a smart choice if they're worried about snagging the stone on clothing or work materials during their day. Or, they might choose a band encrusted in stones for the ultimate in eye-catching bling.
While diamonds are still the top choice for engagement and wedding rings, diamond alternatives are gaining ground. Options include:
Moissanite
Opal
Garnet
Blue topaz
Aquamarine
Alexandrite
Emerald
Ruby
Morganite
Blue sapphire
Moonstone
Tanzanite
Amethyst
Color is the most obvious characteristic to look at when choosing a gemstone, but you'll also want to look at the strength and durability of each gemstone and check out how prices differ from stone to stone. Read up on the factors that influence gemstone value, such as color, clarity, cut, size and any treatments or enhancements the gem may have been subjected to.
Diamonds have their own method of evaluation that revolves around the 4Cs: carat weight, cut, clarity and color.
Study up before you buy and always ask the jeweler for documentation such as a certificate of authenticity from a respected authority like the Gemological Institute of America (GIA) or American Gem Society Laboratories (AGSL) to make sure you know exactly what you're getting before you sign on the dotted line.
Do Rings Need to Match?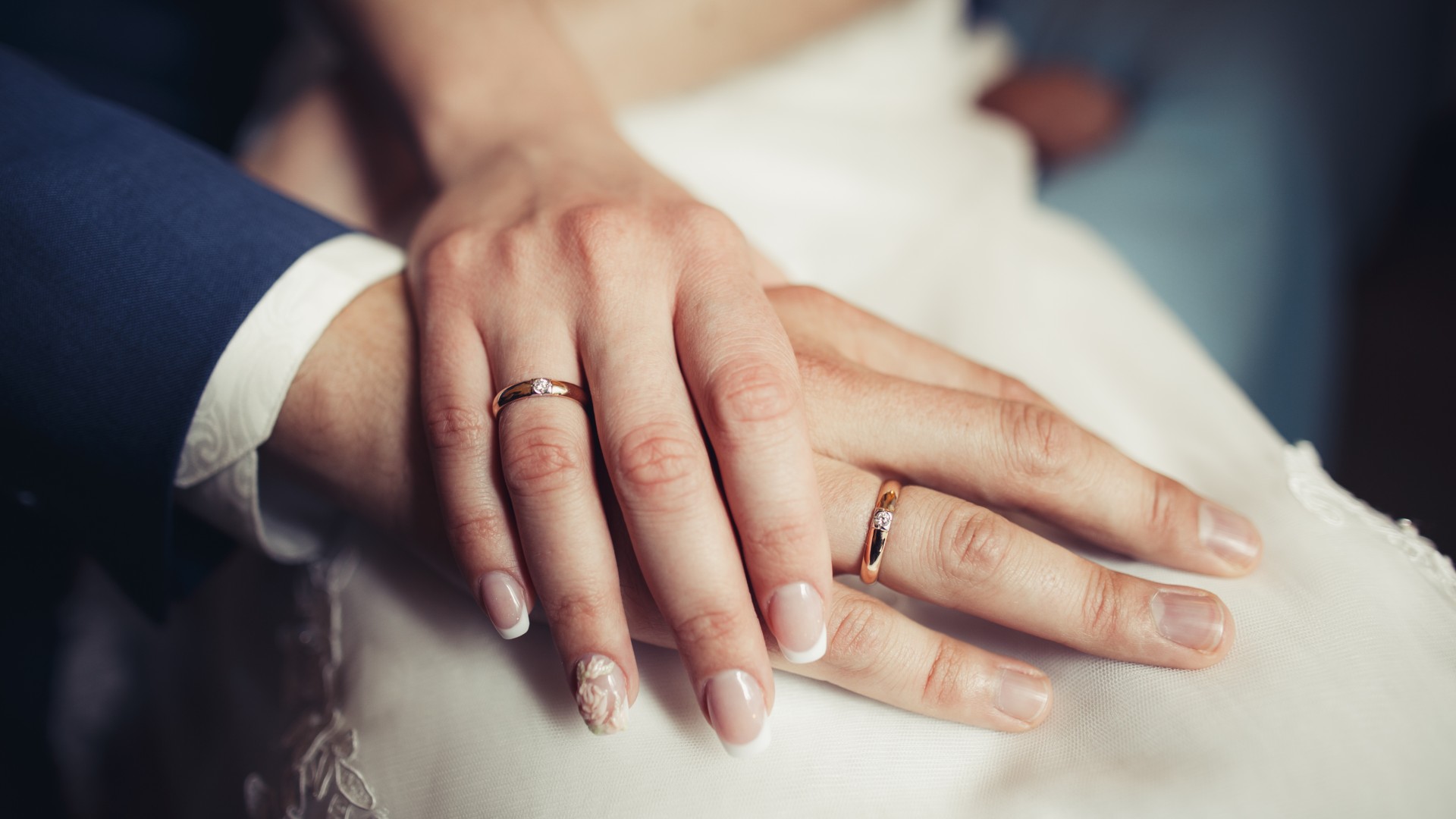 Some couples choose rings that are as well-matched as the couple themselves, but other people would rather choose rings that reflect their own personality and preferred aesthetic. There's a middle-ground option, too: Choose bands that are mostly different and in line with each individual's go-to look, but then select one element to include in both rings as a sort of unifier. This might be a gemstone in a similar shape and color or interweaving a thin piece of metal that matches your soon-to-be spouse's ring as a contrasting accent to your own.
Research Jewelers Before You Buy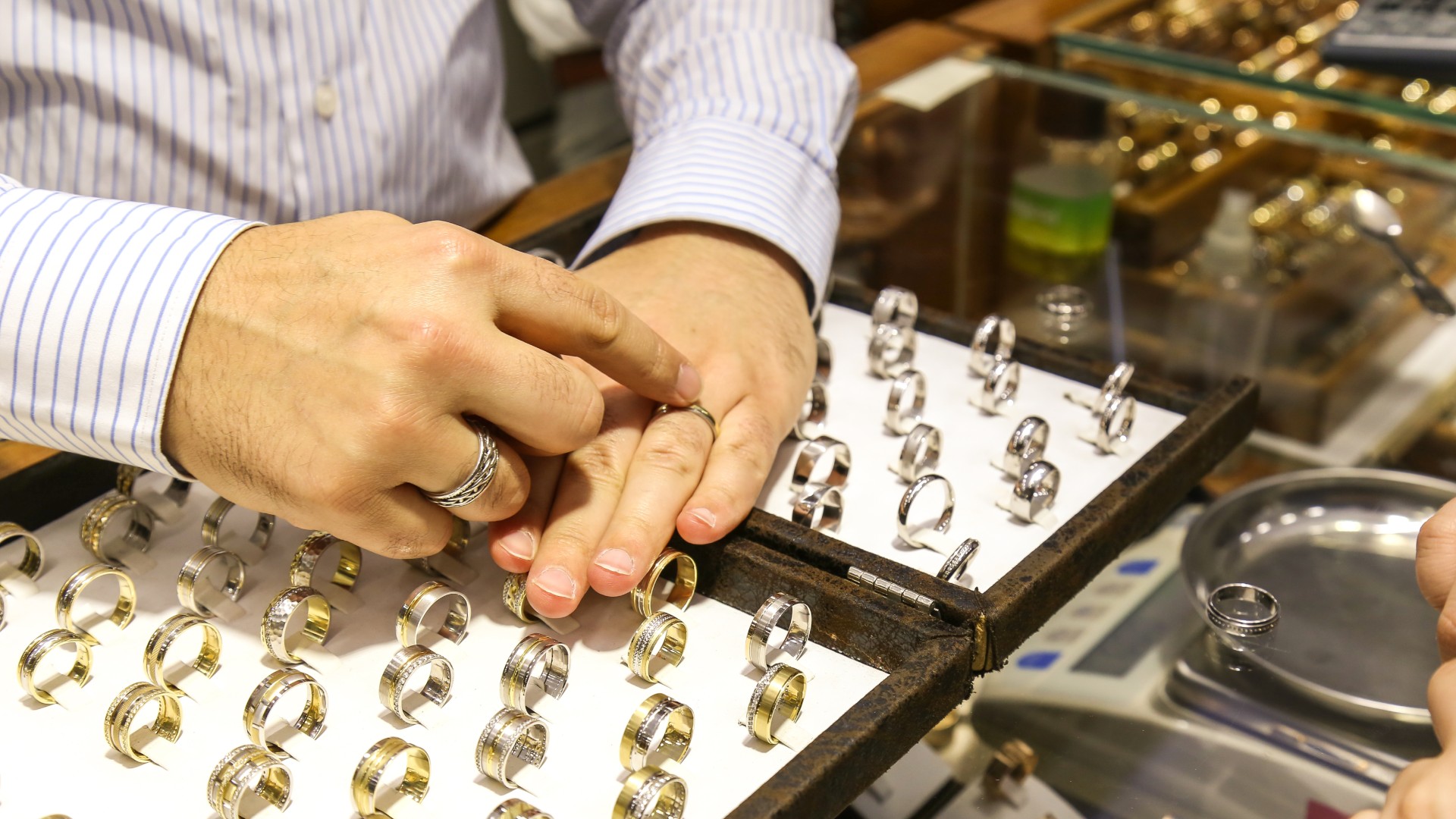 Lastly, understand that who you buy from is every bit as important as what you buy. Shopping with a reputable jeweler comes with the peace of mind that you are getting what you pay for and that if there's an issue, customer service will be happy to help out.
Allurez offers an incredible array of genuine jewelry that's made in the USA using responsibly sourced gemstones, including conflict-free and lab-created diamonds. Our reviews speak for themselves, but if you have any questions or would like help selecting the men's wedding band that's perfect for you, please feel free to schedule an appointment with one of our knowledgeable team members today.

About Allurez Tech

Twitter •