---
Designer Jewelry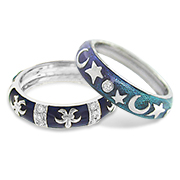 Have you caught on to the incredibly popular trend in Hidalgo stackable and pave set rings? If not, you may be slightly overwhelmed when you check out what this company has to offer. These trendy and stylish rings are available in a huge range of designs and can be worn as formal wedding jewelry as well as everyday fashion statements too.
What makes Hidalgo designer jewelry so incredibly popular? It is the fact that it relies on an innovative technique that incorporates enamel and finely cut and inlaid micro pave diamonds and stones to create an impressive array of designs and styles. It allows someone to display a minimal amount of gold or silver in the jewelry, if that is what they want, and it is truly unique in its all around good looks.
What does this mean? Well, if you perused the current catalog of their rings, you would find that there are enamel and micro pave rings and ring jackets, earrings, bracelets, and more. The rings are really among the most fascinating pieces, and they rely on tiny diamonds and gemstones to make designs and patterns across the surface of the ring. The micro pave settings might allow the designer to incorporate a tiny pattern of moons and stars, a spider web, a gentle swirling line, or any number of geometric patterns under which the glossy enamel surface or the rows of pave stones then peek out.
Though there has been a sincere interest in micro pave jewelry for over a decade, it seems that Hidalgo jewelry has taken any of the styles and technologies to the farthest degrees currently available. As already mentioned, there are the diamond pave ring jackets, and these can slide over bands with very basic micro pave settings of pink, black, brown, gold, or any other color of stones desired. They can also fit easily over the solid enamel bands too, and this creates an impressively regal and opulent look too. There are few other outlets for such a customized and yet trendy piece of jewelry to be found, and the high quality of Hidalgo's techniques means that the pieces are well worth the investment.
There are many contemporary as well as organic patterns and styles of Hidalgo rings too, and it would be very easy to find floral, nature, hearts, names and initials, leaves, and many other designs suitable to nearly any fashion style or personal statement.

About Allurez
Allurez is the premier designer and retailer of high quality fine jewelry with a brand name known to royals as well as to the rich and famous. We are committed to providing you with the largest and the finest selection of engagement rings, wedding bands, bridal jewelry, fine fashion jewelry, and certified loose diamonds. Go ahead, browse our store, and find your perfect jewel!