---
Category 2 / Designer Jewelry / Gift Ideas / Rings / Stackable Rings / Unique Jewelry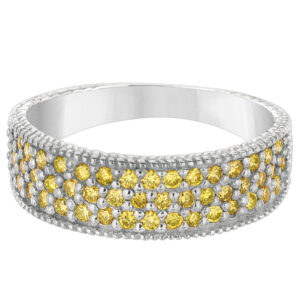 At Allurez jewelers, we know that when it comes to diamonds, everyone is in love and obsessed with their shimmer. The bold and brilliant sparkle of a tried and true white diamond is a pretty ancient concept throughout the human experience. Since the original discovery of the diamond stones and the following methods which were formulated to make certain that they were properly cleaned up to really bring forth the depth of their innate shine. Allurez jewelry items are centered around the fact that these rare but still naturally created gems can be utilized in multiple areas of personalized adornment. While this expansive and closely intertwined history between humans and shimmering diamond stones shows just how amazing diamond jewelry can be no matter the era of history or the fundamental construction of the bedazzled item, the high style realm has long been an area where new and improved styles are the standard. At Allurez, you don't have to feel trapped by the classical white diamond since we offer naturally colored diamond stones that have been found in the Earth and then tugged into popular jewelry pieces with a rather expansive trendy surge over the past few decades.
Any individual who has started to follow the modern style trends of today has probably noticed the fact that colored diamonds have literally blossomed to a whole new level due to the fundamental idea that colored gemstones in general have become increasingly popular as they can easily prove to be the best accessories in that they can more properly accent your favorite outfits. Then, the addition of the diamond factor in terms of prestige and elegance to the colored gemstone equation implies that the bejeweled item still can possess a stunning status while acting as a very durable piece which demonstrates your personal sense of style. Still, yellow diamonds have especially started to take on a new life of their own due to their innate qualities. With the color yellow's natural feel of joy and happiness, a yellow diamond ring has become one of the fashion world's favorite accessories. Yellow diamond fashion rings seem to be some of the trendiest as of late because of their optimistic feel provided by the color yellow itself. As a yellow diamond right hand ring looks alluring and stylish with almost any kind of clothing, it can truly fit with the vast majority of outfits within your wardrobe so that you can wear the ring no matter what! Also, a fun and flirty fashion has been to embrace as many yellow diamonds as possible. This fact means that a stackable yellow diamond ring can really be the way to go.

About Allurez
Allurez is the premier designer and retailer of high quality fine jewelry with a brand name known to royals as well as to the rich and famous. We are committed to providing you with the largest and the finest selection of engagement rings, wedding bands, bridal jewelry, fine fashion jewelry, and certified loose diamonds. Go ahead, browse our store, and find your perfect jewel!