---
Designer Jewelry / Rings / Romantic Tips / Stackable Rings / Unique Jewelry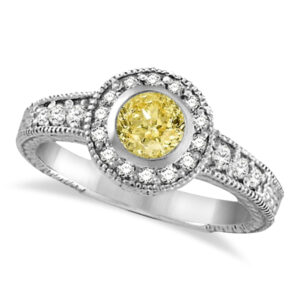 Ancient jewelry creators of some of the oldest civilizations knew about the existence of colored diamonds, but they also knew how incredibly rare those amazingly precious gemstones were and how very difficult to find the colored diamonds could be in comparison to the already elusive clear diamonds.  Yet, our modern age has come with numerous perks in a variety of areas such as better mining tools and techniques to allow for the discovery of more colored diamonds to create special and alluring jewelry designs!  A huge number of various colors and associated shades exist for these unique diamonds when you are needing something truly unique for your personal jewelry collection.  Since diamond rings are not just for showing off your marital status or promise to someone else anymore, fashion diamond rings that bring attention to your delicate hands and help to show the world how stylish your personality is would not truly be complete without the addition of a colored diamond.  Putting real precious stones into fashion rings adds a sense of high fashion and fine jewelry that will let everyone know how classy and poignant your taste is—which is where having a few colored diamonds comes in handy.
The colored diamonds which feature yellow tend to be the first in many minds when delving into diamond centerpieces that need to be shaded rather than clear, and most jewelers feel that this is largely in part from the alluring and radiant yellow that the stones often exhibit which makes almost all individuals think of the gem as a small representation of the glorious sun.  For this rather exceptional reason and common association, yellow diamond rings make wonderful gifts to your close loved ones or even for yourself!  Yet, it is the different shades of yellow diamonds which are what truly makes them a favorite when searching for pieces that act as their own brand of allure.  Fancy yellow diamond rings can be spectacular fashion statements all on their own, such as fabulous canary diamond rings especially.  Named for the canary bird of brilliant yellow plumage, these diamonds are some of the rarest in the world but well worth the effort if they are found due to their outstanding appeal, high shine, and heavenly shimmering qualities.  Canary diamond bands tend to be a bit more on the expensive side for colored diamonds because of the fact they are rather difficult to find in their natural state but the fact that the gem itself truly does look like a piece of the sun safely held to your finger makes them positively irresistible to the modern fashionista or any real lover of fine jewelry.
At Allurez we carry a large selection of high quality designer Fancy Yellow Diamond Rings. Visit http://www.allurez.com/rings/colored_diamond_rings/pcid/24

About Allurez
Allurez is the premier designer and retailer of high quality fine jewelry with a brand name known to royals as well as to the rich and famous. We are committed to providing you with the largest and the finest selection of engagement rings, wedding bands, bridal jewelry, fine fashion jewelry, and certified loose diamonds. Go ahead, browse our store, and find your perfect jewel!