---
Category 2 / Trending Jewelry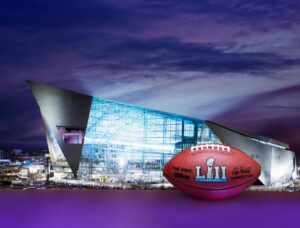 It's that time of year again – when Super Bowl is right around the corner.  The 52nd Super Bowl, which is also the 48th modern-era National Football League championship game, will take place on February 4th and feature the New England Patriots going up against the National Football Conference champion Philadelphia Eagles at the US Bank Stadium in Minneapolis, Minnesota and the game is bound to be a nail-biting one. This will also be the eighth Super Bowl appearance for Patriots quarterback Tom Brady and coach Bill Belichick.
While Philadelphia prepares to prevent New England from winning back-to-back Super Bowls (the Patriots are also heading to the Super Bowl for the fourth time in the last six years) fans of both teams are gearing up for Super Bowl Sunday. Most people concern themselves with attending or throwing a great Super Bowl party (something fun where you can watch the game and snack on great food, surrounding by friends) but at the same time a lot of people ask themselves – what should I wear on Super Bowl Sunday?
Well we won't tell you which team to root for, but we can suggest some ways to bling up your Sunday football experience with some great pieces. Wearing your favorite team's colors (and even painting your face with them) is a given, but what if you want more? Well for the men, if you're going for a more formal look, why not spice up your button down shirt with football sports cuff links?
You can also try a sports band ring, which Allurez has in yellow gold, white gold and rose gold. And for the ladies? One option is wearing white, red or blue jewelry in the colors of the Patriots logo, or wearing midnight green (emerald will also do) to support the Eagles.
A beautiful pair of emerald earrings or an emerald pendant necklace both scream "Go Eagles!" while blue sapphire stackable bands show your support for the Patriots.
Whoever you end up supporting for the big win, is seems like most people are already rooting for the underdog to score a victory at the Super Bowl. The Kansas City Star reported that fans around the football world are not too thrilled to see the Patriots head to the Super Bowl – again.